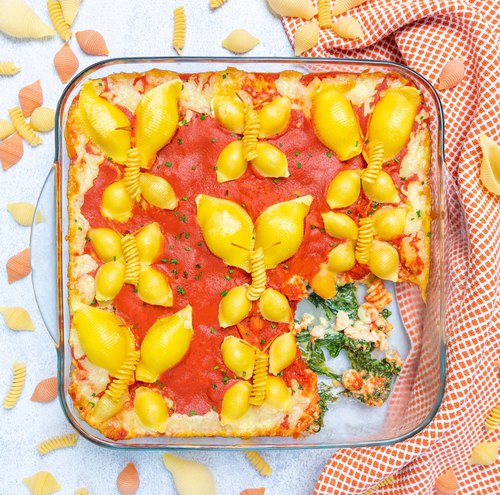 Butterfly Pasta Casserole
Pasta for the butterfly lovers in your family 🍝🦋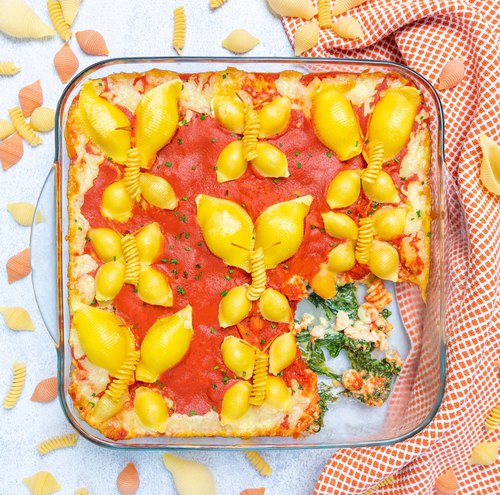 ---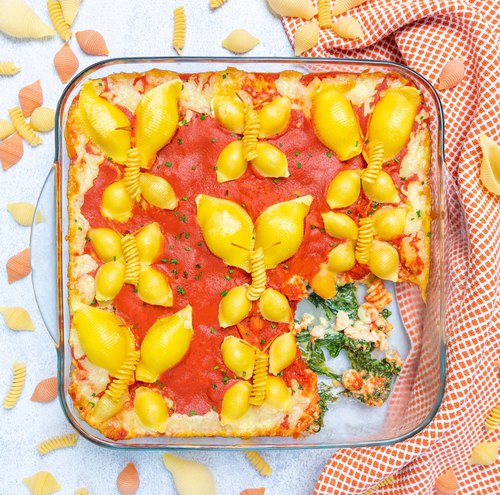 ---
Total time: 20 minutes
Prep time: 20 minutes
Ingredients for 6 people
10 large pasta shells
1/4 cup of butter
13 cups of spinach (14 oz)
1 cup of sour cream
2 cups of canned tuna
1 cup of shredded mozzarella
2 cups of tomato sauce
1 cup of ricotta cheese
small pasta shells
rotini pasta
chives
spaghetti
---
Tools
Square baking dish
---
Step 1/4
Pour 4 chefs water into a saucepan and bring to a boil. Season with salt and pepper and cook the pasta. Drain. Melt 1 mouse butter in the pan, then add the spinach. When it starts to cook, add 1 pig sour cream. Season with salt and pepper and set aside in a baking dish. Spread the spinach on the bottom of the dish.
Step 2/4
Divide the pasta between 3 bowls, separating the big and small shells from the rotini pasta. Return the rotini pasta to the pan and add 2 chefs canned tuna. Add 1 pig sour cream and stir. Place the tuna pasta on top of the spinach and sprinkle with 1 pig shredded mozzarella. Pour 2 chefs tomato sauce and spread over the casserole.
Step 3/4
Sprinkle 1 pig shredded mozzarella around the edges of the pan. Add 1 chef ricotta cheese, 1 pig tuna, salt, pepper, and 1 hen chives to a bowl. Stuff the small and large pasta shells with the filling and place them face down on the casserole to make 5 large butterflies and 4 small butterflies using the pasta as wings as seen in the video. Place the rotini pasta in the center of the shells to complete the butterflies and break off small pieces of spaghetti to make the antennas. Bake for 25 minutes at 350 °F.
Step 4/4
Sprinkle the casserole with chives, serve in portions, and enjoy!