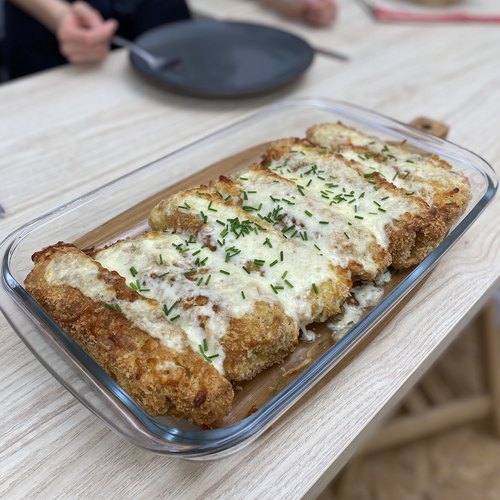 Egg Wrap Casserole
An egg-citing new brunch idea 😍🍳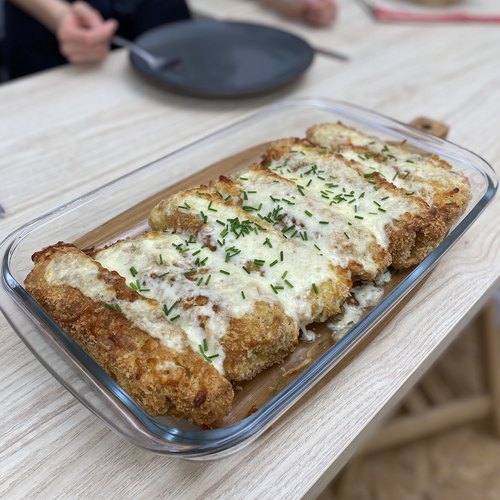 ---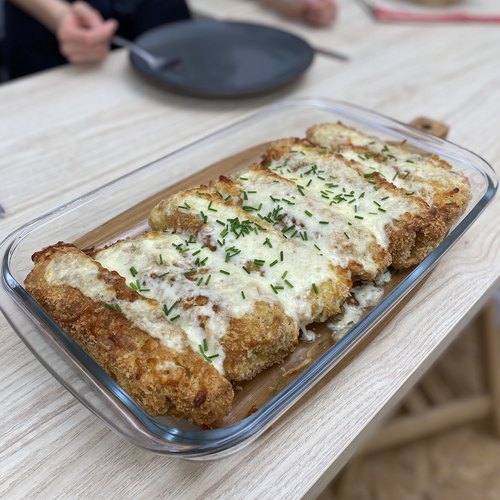 ---
Ingredients for 6 people
5 1/2 tbsp of butter
1 2/3 cups of flour
2 1/2 cups of milk
13 eggs
2 1/3 cups of mushrooms
2 garlic cloves
1 twig rosemary
1 chicken breast (3/4 lb)
olive oil
1 1/4 cups of breadcrumbs
1/2 cup of shredded mozzarella
1 tbsp of chopped chives
---
Tools
Wok pan
Skewers
Salad bowl
---
Step 1/4
Prepare the bechamel sauce: melt 3.5 tbsp butter in a saucepan and mix in 1/3 cup flour. Pour in the milk little by little and mix until the sauce thickens.
Step 2/4
Beat 9 eggs. Heat the wok over a flame and turn it over to heat all sides. Remove the wok from the flame and melt 1 tbsp butter. Then pour a ladleful of the beaten eggs into the wok and spread the eggs around to form a thin wrap. Cook over the heat for a few seconds and set aside on an overturned bowl to form a rounded shape. Repeat with remaining eggs until you have 6 wraps.
Step 3/4
Place the skewer in a stack of mushrooms and cut them into strips. Brown them in 1 tbsp butter and set aside. Slice the chicken breast and cook it in the wok with the garlic cloves, the rosemary sprig and a drizzle of olive oil. Add the mushrooms and ¼ of the bechamel sauce and mix.
Step 4/4
Place the cooked chicken and mushrooms in the center of each egg wrap and fold the crepes like tacos: fold in the sides, fold in the bottom side, and roll. Coat the egg wraps successively with the remaining flour, beaten eggs, and breadcrumbs. Fry in hot oil on all sides until golden brown and drain on paper towels. Place in a baking dish, add the remaining bechamel sauce and shredded mozzarella and bake for 15 minutes at 350 °F. Sprinkle with chives, serve and enjoy!