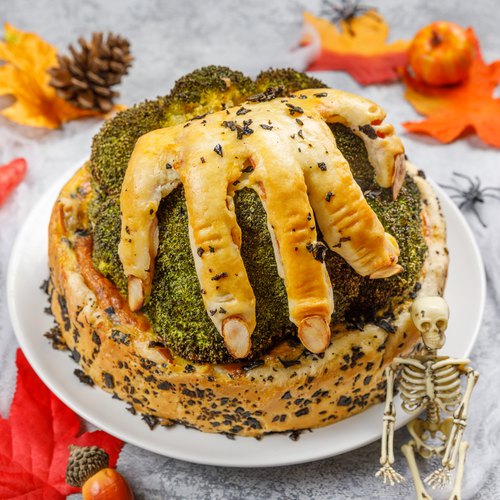 Death by Broccoli
Creep it real with this graveyard Halloween tart 🎃⚰️🥦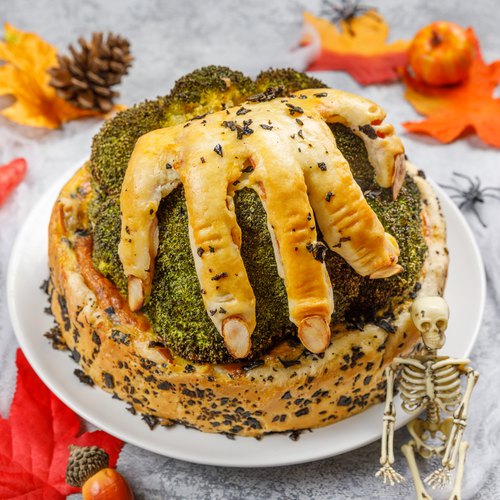 ---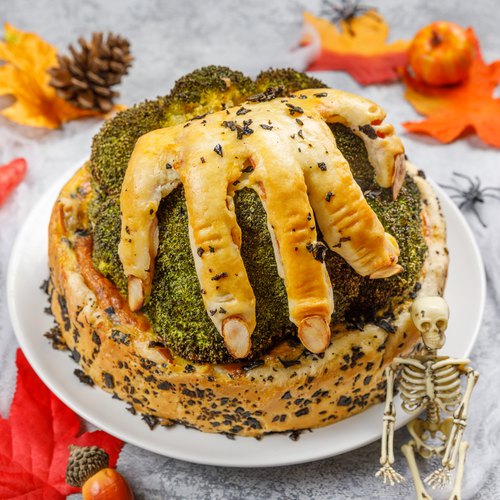 ---
Total time: 1 hour 55 minutes
Prep time: 35 minutes, Cook time: 1 hour , Rest time: 20 minutes
Ingredients for 4 people
2 whole heads broccoli
1/3 cup of melted butter
1 1/4 cups of grated cheddar
1/3 cup of heavy cream
4 eggs
salt & pepper
2 sheets of puff pastry
3 hot dogs
sliced almonds
3 oz of dried mushrooms
---
Tools
Parchment paper
Inch springform pan
Rolling pin
Small bowl
Blender
---
Step 1/4
Steam one whole head of broccoli for 15 minutes. Set aside. Roughly chop the second head of broccoli, spread onto a parchment lined baking sheet, sprinkle with salt and 1 tbsp melted butter, then bake for 20 minutes at 350 °F. Blend the roasted broccoli with cheddar, heavy cream, eggs, salt, and pepper. Keep cool in fridge.
Step 2/4
Cut out two hand shapes from the puff pastry. Lay one hand flat and place a hot dog half on top of each finger, then cover with the second hand, stretching the dough to fully cover the hot dogs. Make small incisions on the knuckles about half way through on all of the fingers as seen in the video, then use sliced almonds for the nails. Place on an upside bowl and freeze for 20 minutes.
Step 3/4
Finely chop the dried mushrooms, cover with boiling water, then drain and pat dry. Add the mushrooms to the second puff pastry sheet, press them into the dough with a rolling pin, and brush with melted butter. Place the dough mushroom-side down in a 7 inch springform pan and shape to the pan, folding over the excess dough to create thick edges.
Step 4/4
Pour the broccoli and egg mixture into the pie, then place the steamed broccoli head in the center. Make a large cut down the center of the head and insert the frozen hand in this incision. Brush the broccoli with melted butter and garnish with remaining mushrooms. Bake for 25 to 30 minutes at 350 °F. Serve and enjoy!