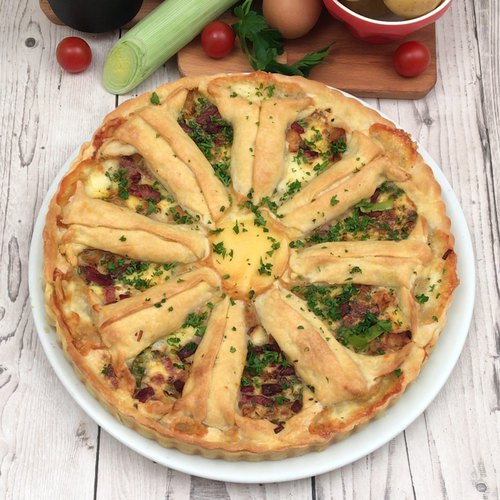 Floral Quiche
A perfect addition to your dining table 😍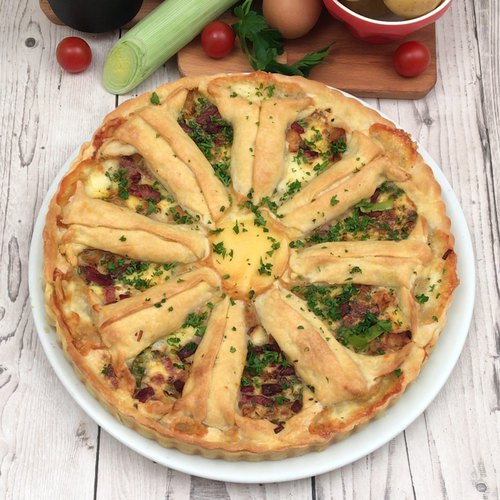 ---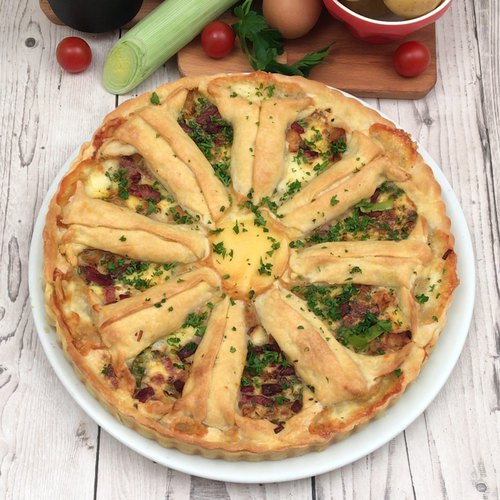 ---
Ingredients for 4 people
2 pie crusts
2 cups of bacon, diced
1 onion
2 cups of home fried potatoes
2 leeks
1 wheel reblochon cheese
4 eggs
4/5 cup of heavy cream
parsley
salt & pepper
---
Tools
Pie pan
Tall glass
---
Step 1/4
Lay 1 pie dough in the pie pan. Fry the bacon with the chopped onion. Add the potatoes and sliced leeks. Pour this mixture into the pie.
Step 2/4
Using the glass, cut a disc from the middle of the reblochon and cut the remaining cheese into 8 slices. Place the disc in the center of the pie.
Step 3/4
Place the glass in the middle of the second pie dough and cut 8 rays from the glass. Place this dough on the tart and remove the central circle on the cheese disc. Add the slices of reblochon cheese to the pie and fold the cut pieces of dough over the cheese slices.
Step 4/4
Mix the eggs with the heavy cream, chopped parsley, salt, and pepper. Pour this mixture into the holes formed by the folded dough and bake for 30 min at 350 °F. Remove from the oven, sprinkle with chopped parsley, and enjoy!