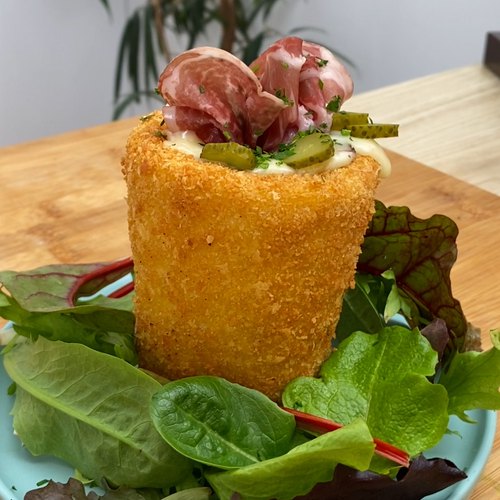 Comfort Food Cup
Now that's a meal we can cheers to👏🥤🥓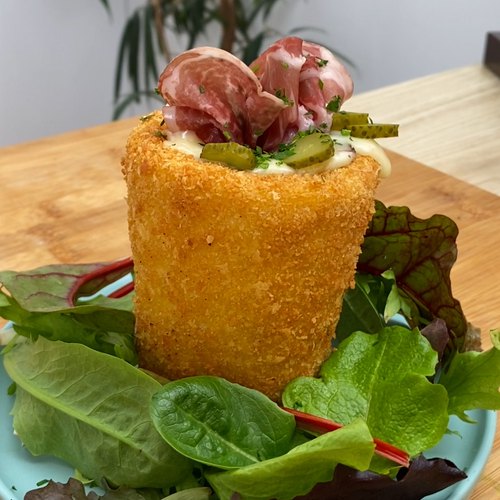 ---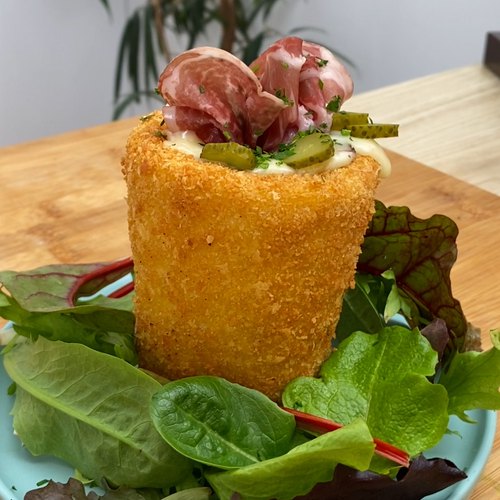 ---
Ingredients for 5 people
1 onion
3 oz of diced bacon
4 potatoes
1/2 cup of cornstarch
1 tbsp of butter
1 1/4 cups of flour
1 1/4 cups of breadcrumbs
4 eggs
cheese of choice
coppa (italian ham)
pickles
salad
olive oil
salt & pepper
---
Tools
Shot glass
Plastic or paper cups
Plastic wrap
---
Step 1/5
Place 1 sheet of plastic film on top of a cup and press 1 other cup on top. Roll one sheet of plastic wrap into a string and tie it around the protruding film to secure it. Remove the cup from the top and repeat to form 5 lined cups.
Step 2/5
Cook the potatoes and place in a bowl. Add salt, pepper, cornstarch, and butter and mash with a potato masher. Place 1 tablespoon of mashed potatoes in a lined cup and push the shot glass into the center. Fill the area between the shot glass and the cup with mashed potatoes as seen in the video. Repeat with remaining cups and place in freezer for 1 hour.
Step 3/5
In the meantime, dice the onions and cook with a dash of olive oil, salt, and pepper. Set aside. Cook the diced bacon in the pan and set aside.
Step 4/5
Remove the frozen potatoes from the cups and remove plastic wrap. Coat the potato cups with flour, beaten eggs, and breadcrumbs. Fry in hot oil until golden brown and serve on plates.
Step 5/5
Surround each potato cup with lettuce leaves, then top with the onions and cooked bacon bits. Melt raclette cheese or your cheese of choice and garnish the potato cups with the melted cheese. Fold 2 slices of Coppa into a flower and place in the center. Sprinkle with pickle slices and chopped parsley. Cut in half and enjoy!
Similar recipes from Chefclub
-
Our other recipes