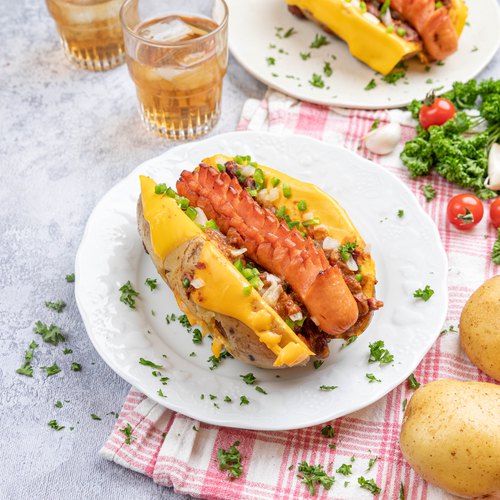 Loaded Hot Dog Potatoes
Part chili dog, part baked potato 🌭🥔🤤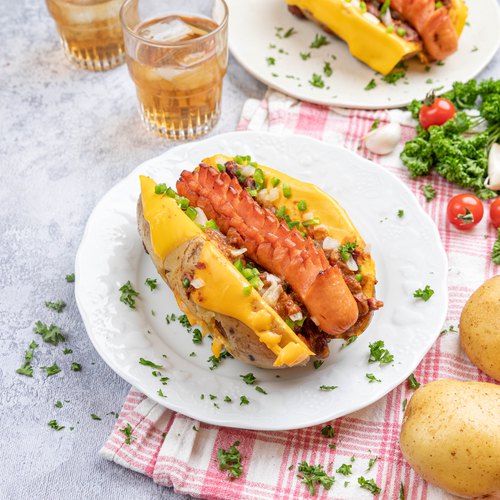 ---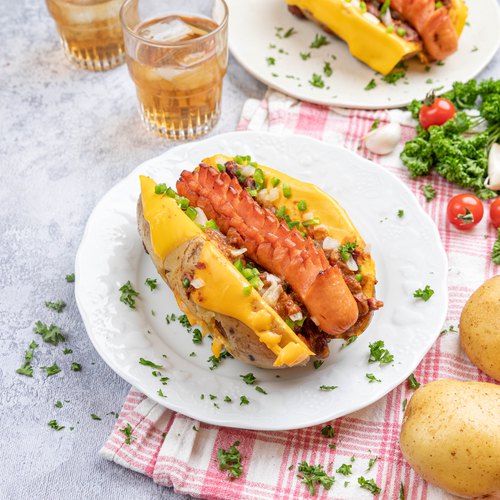 ---
Total time: 1 hour 50 minutes
Prep time: 35 minutes, Cook time: 1 hour 15 minutes
Ingredients for 6 people
6 potatoes
15 hot dogs
olive oil
salt & pepper
sunflower oil
1 pot of chili con carne
chefclub barbecue seasoning
24 slices of cheddar
1 white onion
1 jalapeño
ketchup
---
Tools
Apple corer
Foil
Sewing thread
Wooden skewer
Paper towels
---
Step 1/3
Use an apple corer to remove 3 hole from each potato. Place the removed potato tubes in a bowl with water. Cut 9 hot dogs in half and place one hot dog half in each hole. Place on a baking sheet lined with tinfoil, drizzle with olive oil, sprinkle with salt & pepper, and close with foil. Bake for 1 hour 15 minutes at 400 °F.
Step 2/3
Meanwhile tie sewing thread (about 3 ft in length) around a wooden skewer. Place 6 hot dogs closely together and thred the skewer through one end of the hot dogs so that the hot dogs hang on the thread. On each hot dog, make small slices half way through to make a gilled pattern as seen in the video. Then deep fry the hot dogs in hot sunflower oil at 350 °F until golden brown. Place on paper towels to drain excess oil.
Step 3/3
Drain the water from the potato tubes and fry in the hot oil for 7-10 minutes or until golden brown. Drain on paper towels and sprinkle with barbecue seasoning. Warm the chili in a sauce pan. Remove the baked potatoes from the oven and slice down the center. Add 4 slices cheddar to each baked potato followed by chili con carne and the deep fried hot dogs. Sprinkle with diced white onion and jalapeños. Serve with the fries, dip in ketchup, and enjoy!