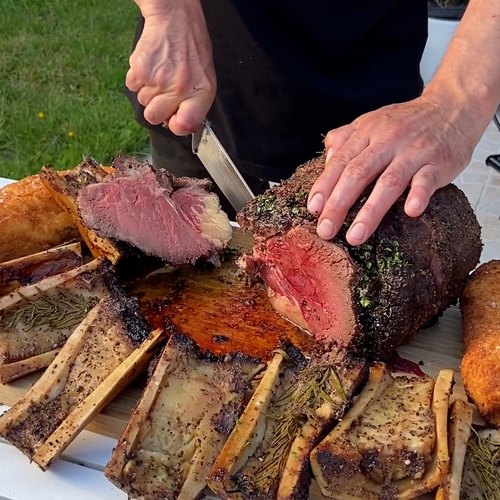 Barbecue Season
We've been waiting all year for this ☀️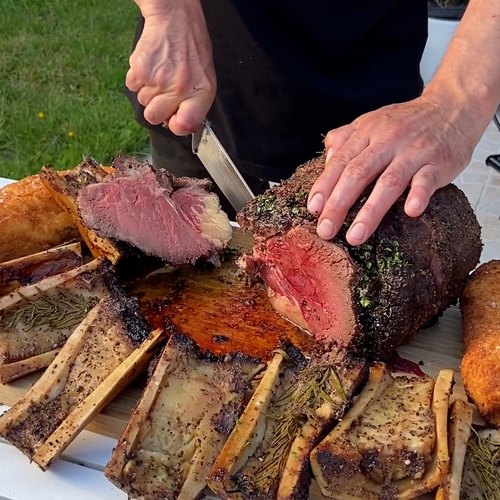 ---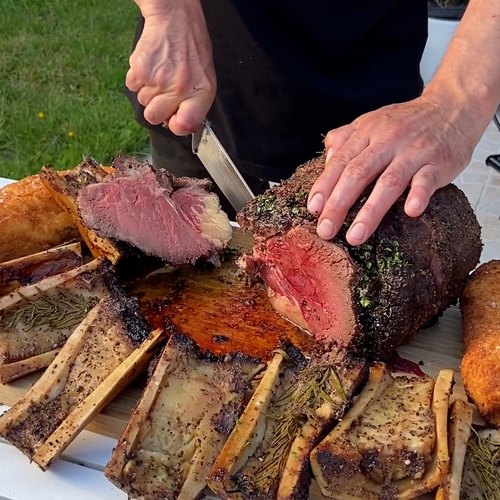 ---
Ingredients for 6 people
4 1/2 lb of prime rib
salt & pepper
8 marrow bone halves
4 sprigs of rosemary
1 1/2 lb of potatoes
2 tbsp of butter
7 eggs, divided
2 tbsp of cornstarch
10 slices of bacon
8 oz of cheddar
flour
panko
vegetable oil
parsley
---
Tools
Smoker
Hickory wood chips
Kitchen twine
Plastic wrap
Paper towels
---
Step 1/3
Set your smoker to 225 °F and fill with hickory wood chips. Coat the prime rib in salt & pepper. Surround the prime rib with bone marrow pieces, add the rosemary sprigs between the bone and the meat, and tie kitchen twine around them to secure. Place the meat in the smoker and cook for 3 to 3.5 hours, turning over halfway through. The internal temperature of the meat should read 145 °F.
Step 2/3
Meanwhile, boil and mash the potatoes. Mix with salt, pepper, butter, 1 egg, and cornstarch and set aside. Cook 10 slices bacon in a frying pan to the crispiness of your liking. Place the mashed potatoes in between two layers of plastic wrap and flatten into a rectangle. Add a long block of cheddar cheese the length of the mashed potato rectangle in the center of the mashed potatoes along with the cooked bacon. Roll up into a log with the help of the plastic wrap and place in the freezer for 30 minutes to 1 hour.
Step 3/3
Remove the potatoes from the freezer and coat in the remaining eggs, flour, and panko. Freeze for one more hour, then fry in hot vegetable oil at 350 °F until golden brown. Remove and place on paper towels to remove any excess oil. Remove the prime rib from the smoker and let rest 10 -15 minutes before serving. Then sprinkle with parsley, slice, serve with the cheesy mashed potato fritters, and enjoy!