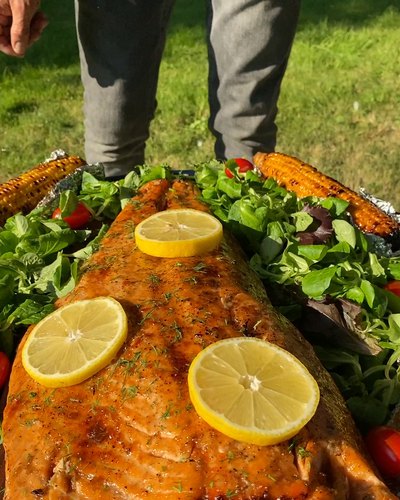 Plank Salmon & Corn On The Cob
Simply gorgeous :)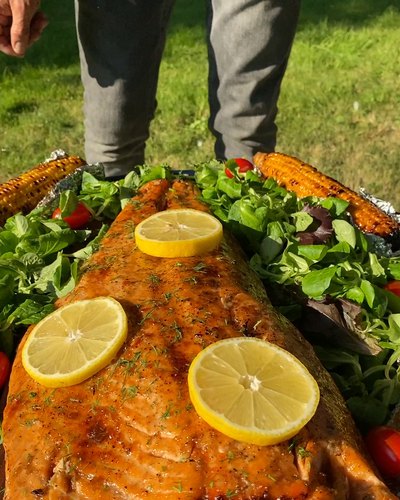 ---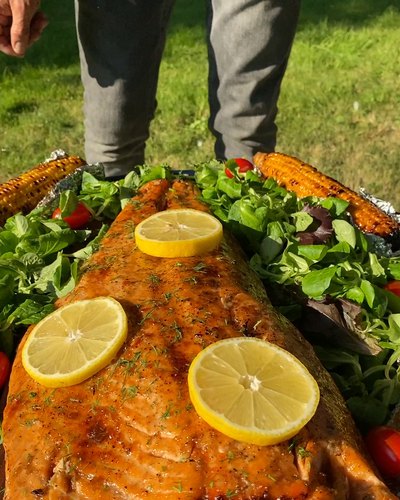 ---
Total time: 1 hour 30 minutes
Prep time: 1 hour , Cook time: 30 minutes
Ingredients for 6 people
olive oil
kosher salt
black pepper
1 cup of butter
sugar
honey
3 corn on the cob
mixed greens
cherry tomatoes
lemon
---
Tools
Wooden plank
Non-galvanized nails
Foil
Wood for fire
Tongs
Oven mitt
---
Step 1/3
Make your fire. Place the salmon on a clean wooden plank, drizzle with olive oil, and sprinkle with kosher salt, black pepper. Massage into the salmon and hammer in 6 non galvanized nails to hold the salmon in place. Then place the salmon plank next to the edge of the fire using whatever you have available to hold it upright. Let the salmon cook 15 minutes on one side, then flip the board to cook the other half and let cook another 10-15 minutes.
Step 2/3
Place the butter on a sheet of tinfoil, sprinkle with a pinch of kosher salt and sugar, and drizzle with honey. Place a corn on the cob on top and wrap in the foil. Repeat 2 more times, then roast in the fire for 15 minutes each, turning occasionally with tongs.
Step 3/3
Carefully remove the salmon and corn on the cobs from the fire. Open the corn on the cobs and place around the salmon. Dress the plank with mixed greens and cherry tomatoes. Remove the nails from the salmon fillet using a napkin or oven mitt. Garnish with dill and lemon slices, serve, and enjoy!