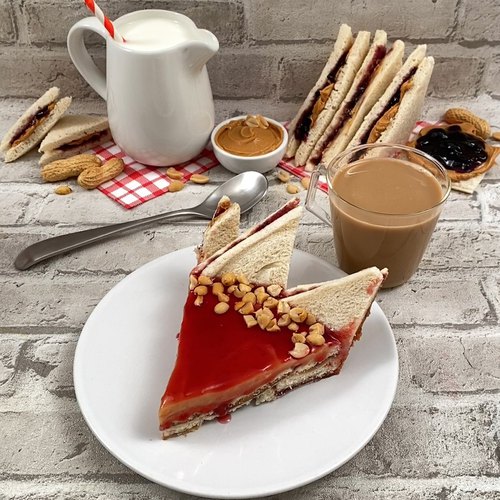 Peanut Butter & Jelly Pie
A childhood classic gets a grownup makeover! 🍇🥜😋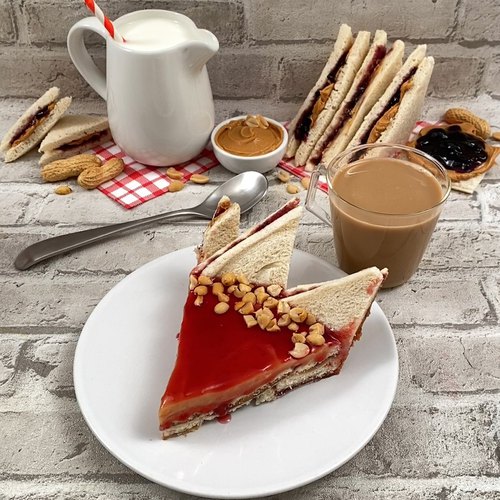 ---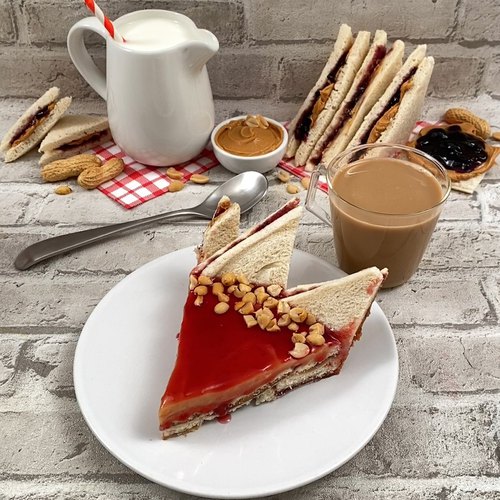 ---
Ingredients for 4 people
2 jars of smooth peanut butter
2 jars of grape jelly
sandwich bread
2 tbsp of butter
1 tsp of vanilla extract
3/4 cup of powdered sugar
8 oz of cream cheese
1 tbsp of lemon juice
2 gelatin sheets
1/2 cup of peanuts
---
Tools
Rolling pin
Tart pan
---
Step 1/4
Cut off the crusts from the bread and roll flat using a rolling pin. Spread 12 slices with peanut butter and the other 12 slices with jelly. Place the halves together to make sandwiches. Cut circles out of four of the sandwiches. Set aside. Cut the rest of the sandwiches diagonally. Place the triangles overlapping in the tart pan. Place the 4 circles overlapping to cover the center of the dish. Set aside.
Step 2/4
Over medium head melt together the 1/2 cup of peanut butter, butter, cream cheese, and vanilla. Cook until smooth. Remove from the heat and whisk in powdered sugar. Chill for 30 minutes. Spread a layer of the peanut butter cream in the tart pan.
Step 3/4
In a medium saucepan, combine 1 jar of jelly, with gelatin sheets and lemon juice. Mix until smooth. Add the gelatin and whisk until it dissolves. Set aside to cool for 10 minutes.
Step 4/4
Pour the jelly glaze on top of the chilled peanut butter cream. Chill until set. Garnish with chopped peanuts. Enjoy!