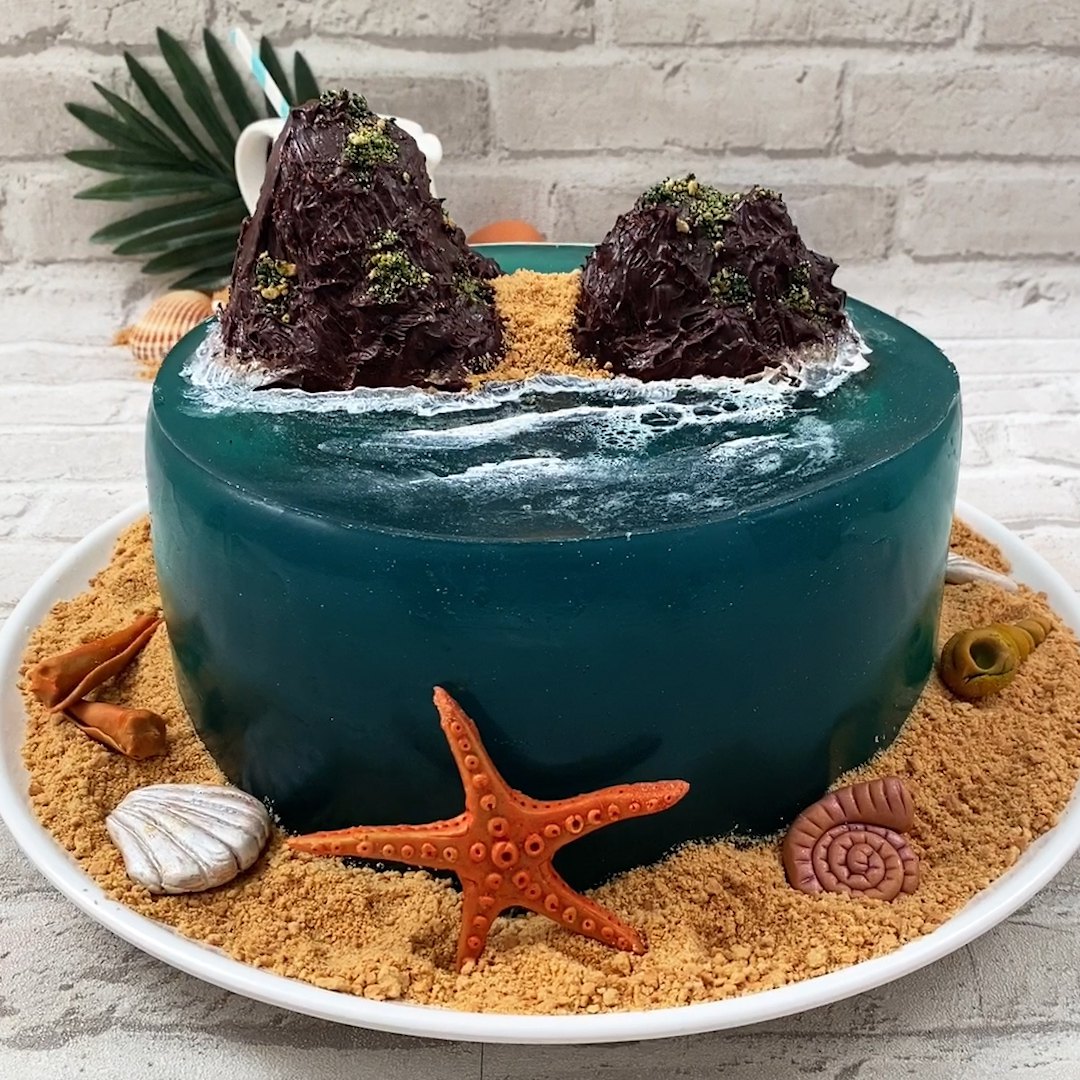 Edible Tropical Paradise
No beach vacation? No problem! 🏖🎂☀️
Made by you!
Ingredients
1 cup butter
1 1/2 cup sugar
1 1/2 cups buttermilk
4 egg whites
1/4 cup vegetable oil
1 tbsp vanilla extract
1 tbsp almond extract
2 1/2 cups flour
4 tbsp cornstarch
1 tsp salt
3/4 cup rainbow sprinkles
White frosting
Melted white chocolate
Melted dark chocolate
Berry Blue Jello
2 cups gelatin powder
2 cups boiling water
2 cups cold water
Fondant shells
Graham crackers
White food coloring
Green food coloring
2 tsp baking powder
Tools
Serrated knife
Baking ring
Acetate
Tape
Paint brush
1. Cream the butter and sugar. Then add egg whites, vanilla, buttermilk, oil, and extracts. Mix in the dry ingredients. Fold in the sprinkles. Pour the batter into three greased cake pans and bake for 25 minutes at 350 ° F.
2. When the cakes are baked and cooled, frost and stack the layers of the cakes then cover the entire thing in frosting. Let chill for 2 hours.
3. Use a knife to carve the shape of an island. Crumble the leftover cake and frosting together and form it into mountains on top of the cake island. Cover any exposed cake with more frosting. Cover the cake island with white chocolate and the mountains with dark chocolate. Let harden.
4. Mix Berry Blue Jello powder with the gelatin powder and boiling water, then add 2 cups cold water. Place shells around the cake island. Place a baking ring around the cake, then acetate. Tape to seal the edges. Pour the Jello into the cake ring. Refrigerate overnight.
5. When the Jello has set, remove the cake ring and acetate. Surround the bottom of the cake with crumbles graham crackers. Paint white coloring onto the Jello to create waves. Add green food coloring to crumbled graham crackers, then sprinkle over the tops of the mountains. Place more shells in the sand. Enjoy your beach vacation!
Similar recipes from Chefclub