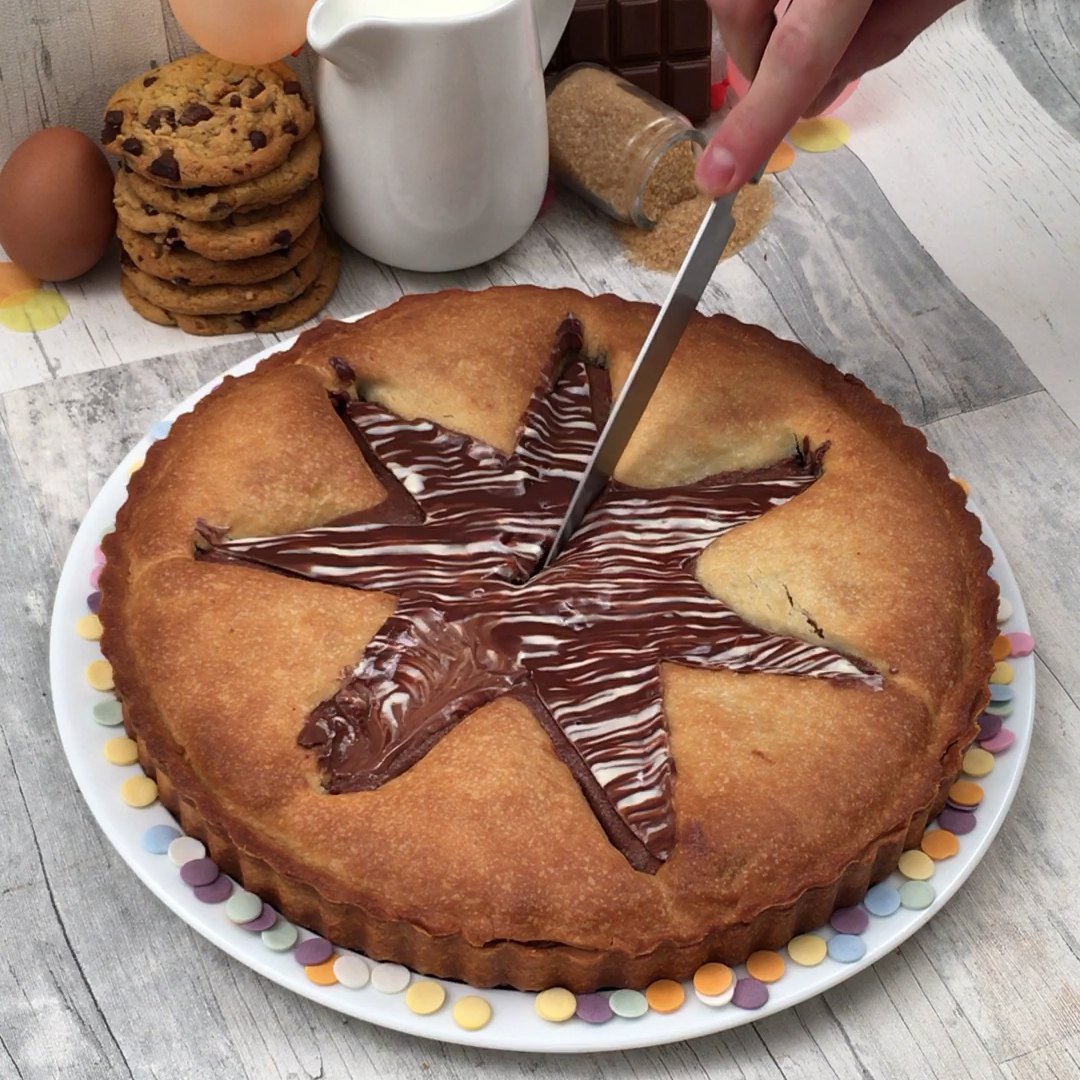 Chocolate Chip Cookie Star
It's easy to reach for the stars when it's a cookie!!
Total time: 40 minutes
Ingredients for 8 people
1 1/4 cups butter
1 1/8 cups sugar
3 eggs
2 1/3 tsp baking powder
3 1/8 cups flour
1 cup chocolate chips
2 portions shortcrust pastry
1 1/2 cups dark chocolate
1 cup milk chocolate
1 cup white chocolate
1 tart pan
Parchment paper
---
Step 1/4
Beat 1 cup butter with 3/4 cup sugar, 1 egg, baking powder and 2 3/4 cups flour to make a cookie dough. Add the chocolate chips and roll out the dough into a thick disk. Chill in fridge for 20 minutes.
Step 2/4
Place 1 shortcrust pastry in the tart pan. Cut the cookie into 6 pieces and place them against the edge of the tart pan so as to leave the shape of a star in the center. Cover with the second shortcrust pastry, pressing the dough into the star shape. Bake for 30 minutes at 350 °F.
Step 3/4
Cut a star shape out of parchment paper the same size as the one in the center of the tart. Cover the parchment paper star with the 3 melted chocolates and mix well. Cover with another sheet of parchment paper, flip over and chill in the fridge for 20 minutes. After removing it from the fridge, peel the star from the parchment paper .
Step 4/4
Whisk together the remaining eggs, sugar, flour, and melted butter with 2/3 cup of dark chocolate and pour the mixture into the star in the center of the tart. Bake for 10 minutes at 350 °F. Remove from the oven and place the chocolate star in the center of the tart to melt. Slice and enjoy!