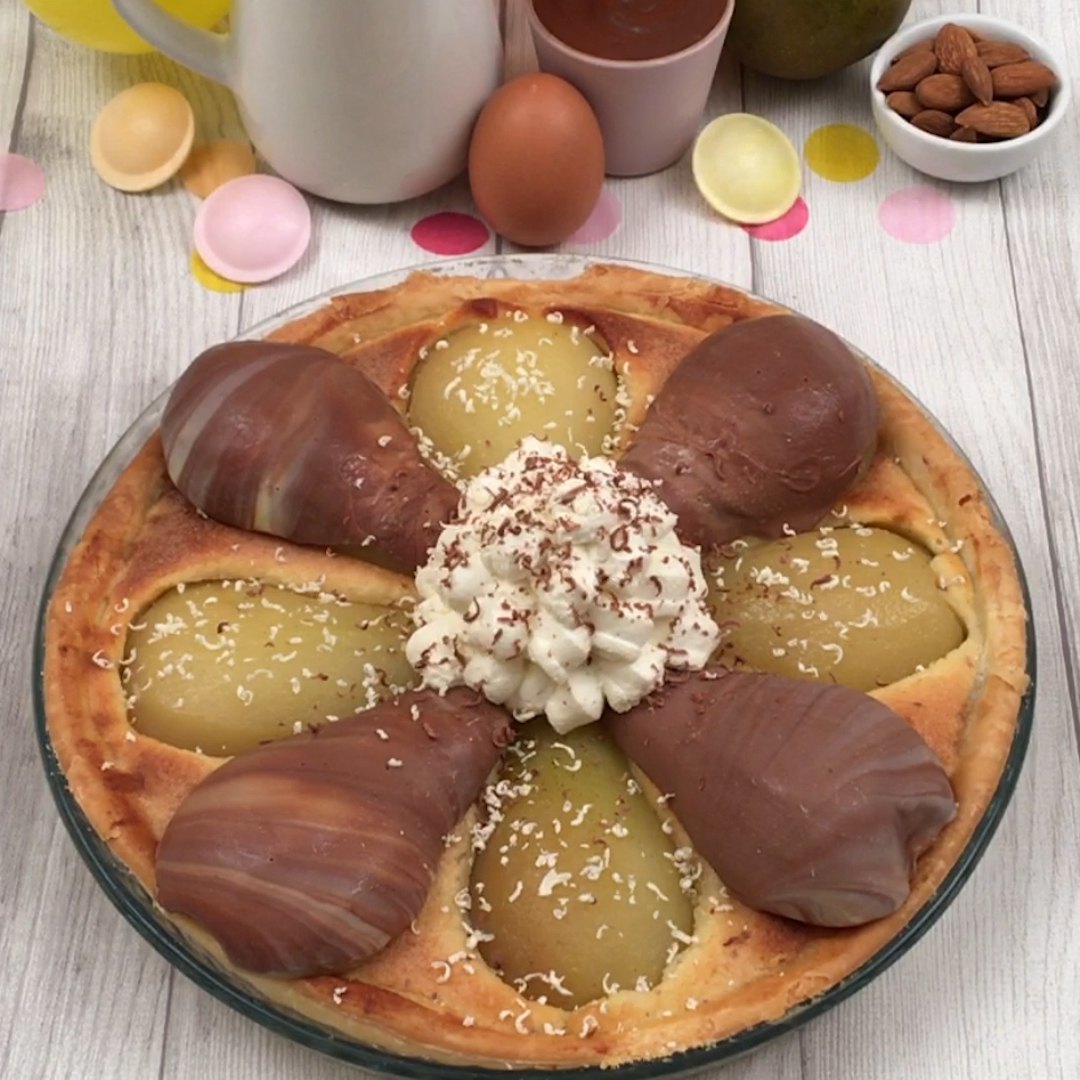 Chocolate Pear Pie
Layers and layers of flavor! 🍐🍫
Total time: 45 minutes
Ingredients for 6 people
1 1/2 bar white chocolate
1 bar dark chocolate
1 bar milk chocolate
2 discs of puff pastry
1/2 cup sugar
1 stick of butter
2/3 cups ground almonds
1/2 cup flour
2 eggs
8 canned pear halves
Dark and white chocolate shavings, for garnish
Whipped cream, for garnish
---
Tools
Tart pan
Whisk
---
Step 1/4
Cut 1 bar of white chocolate and 1 of dark chocolate in 2 crosswise, cutting slightly diagonally. Cut the longest strip of squares and remove the first square there. Place this strip on the opposite side of the half and push the parts together to reform a full bar of chocolate.
Step 2/4
Remove the chocolate from the milk chocolate package and fill it with whipped cream. Melt the chocolate in the microwave. Place 1 disc of puff pastry in the pie dish and place 2 chocolate bars in the middle, alternating the colors of the pieces. Pour the melted milk chocolate around the wafers then place in the fridge for 30 minutes.
Step 3/4
Cover the tart with the second disc off puff pastry, remove the excess from the edges and prick the top with a fork. In a bowl, Combine sugar, butter, almond powder and flour then add the eggs. Whisk well. Spread this mixture in the pie and place 4 half-pear in syrup on top. Bake for 18 minutes at 350 °F.
Step 4/4
Pour the remaining half-bar of melted white chocolate into a bowl of melted milk chocolate, then swirl together until desired desired pattern is achieved. Dip the remaining 4 half-pears into the chocolate and set aside until firm. Place the molded chocolate pears on the cooled tart in between the baked pears. Cut the bottom corner of the milk chocolate wrapper and use to pipe whipped cream in the center of the tart. Garnish tart with chocolate shavings before serving.