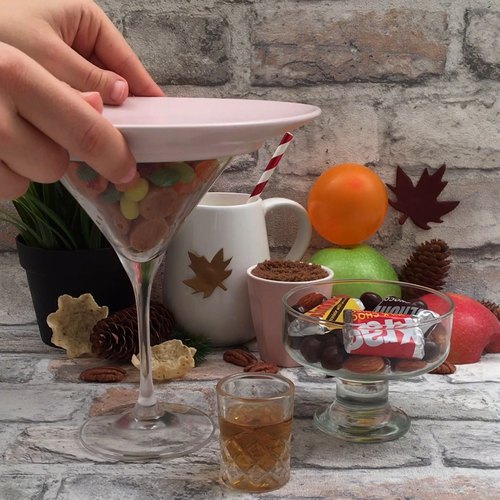 No-Skill Needed Pies
Perfect for Friendsgiving! 👯‍♀️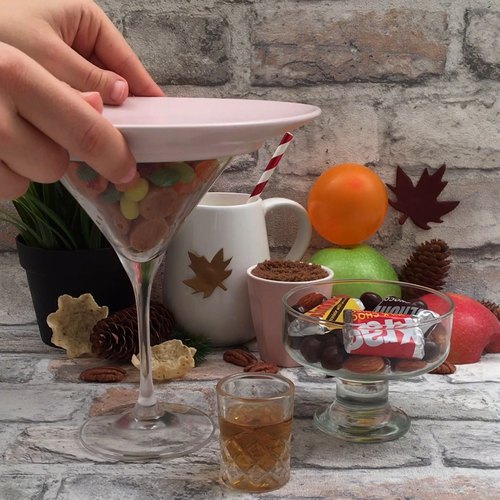 ---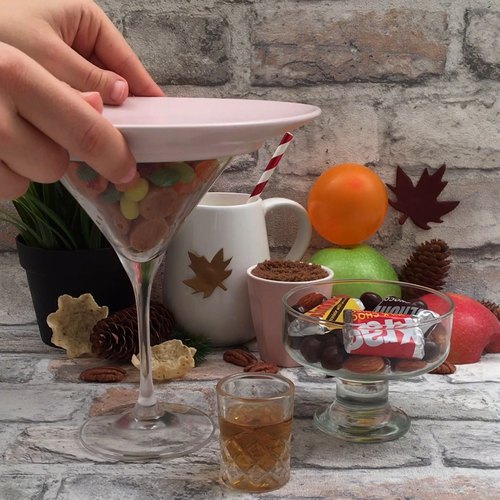 ---
Ingredients for 6 people
whiskey
mini chocolate bars
caramels
jelly beans
tostitos ®
1 1/3 cups of pecans
1/2 cup of flour
1/8 cup of sugar
1/4 cup of melted butter
1 egg
4 red apples, cooked and diced
pumpkin pie filling
spiced whipped cream
vanilla ice cream
caramel sauce
1 1/2 cups of heavy whipping cream
cinnamon
1/3 cup of cream cheese
---
Tools
Hand mixer
Melon baller
Glasses
---
Step 1/3
Fill a shot glass with whiskey and fill 3 glasses with the chocolate bars, jelly beans, and caramels. Place a plate on top of each glass.
Step 2/3
Lay around 20 Tostitos on a baking sheet. Put around 10 pecans aside and crush the rest. Mix the crushed pecans with the flour, sugar, melted butter, and 1 egg. Fill 1/3 of the Tostitos with the pecan mixture. Fill 1/3 of them with the pumpkin pie purée, and fill the remaining 1/3 with the cooked apples. Bake for 15 minutes at 350 °F.
Step 3/3
Use the hand mixer to whip together the cream cheese, whipping cream, and cinnamon. Top the mini pecan and pumpkin pies with this whipped cream, and garnish the pecan pies with a whole pecan. Use the melon baller to top the apple pies with a small scoop of ice cream and add a drizzle of caramel sauce. Enjoy!
Similar recipes from Chefclub
-
Our other recipes