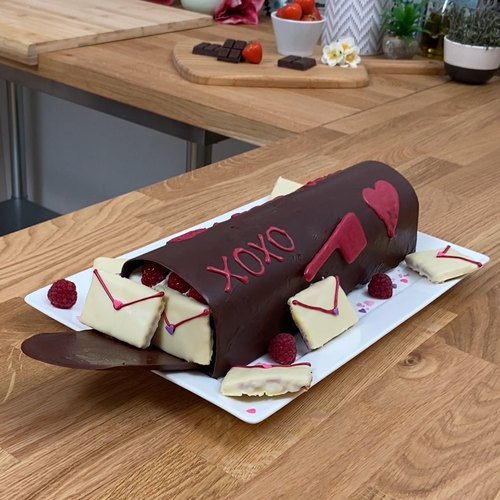 Valentine's Day Mailbox
I love you and I like you! 💘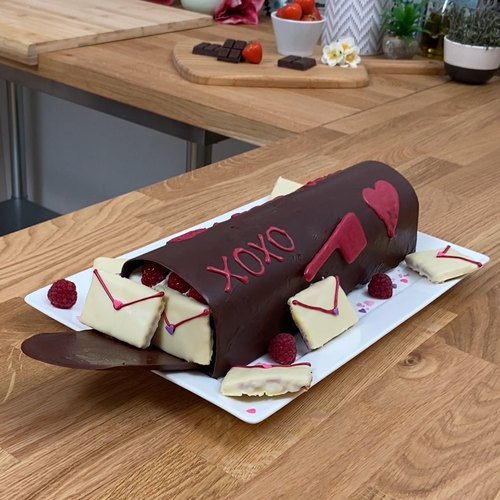 ---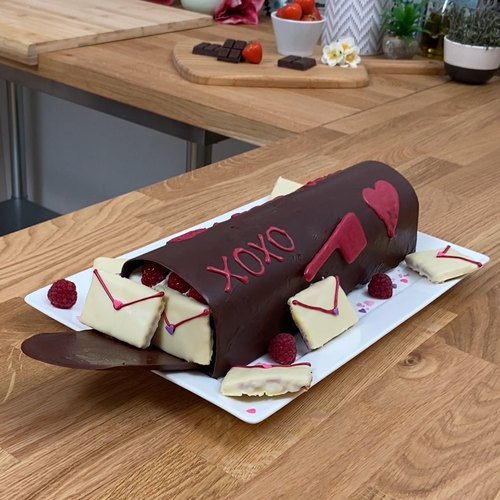 ---
Ingredients for 6 people
melted dark chocolate
2 unfrosted pop tarts
melted white chocolate
1 cup of sugar
1/2 cup of flour
1/3 cup of cocoa powder
1/4 tsp of salt
1/4 tsp of baking powder
1/2 cup of melted butter
2 eggs
loaf pan
pink food coloring
heart-shaped sprinkles
whipped cream
raspberries
---
Tools
Plastic bottle
Juice/ milk carton
Tape
Plastic sheet
Parchment paper
---
Step 1/4
Cut off a side panel and one end of the juice carton. Place the plastic bottle in the carton using tape to secure the bottle. Place the plastic sheet on a piece of parchment paper, then cover the plastic sheet with the dark chocolate, then drape the plastic sheet over the plastic bottle and let chill until harden. Cut the remaining carton into a mailbox door shape, then line with melted dark chocolate. Let chill until harden.
Step 2/4
Cut unfrosted Pop Tarts into quarters. Dip each Pop Tart piece into melted white chocolate and place on a cooling rack. Place the cooling rack into the fridge to harden. Add the food coloring to the remaining white chocolate and place in a plastic bag. Use the bag to pipe an envelope flap on the Pop Tart, then place a sprinkle in the center of the envelope flap.
Step 3/4
Mix together the flour, sugar, baking powder, salt, melted butter, eggs, and cocoa powder. Pour batter in a lined loaf pan. Bake for 25 minutes at 350 °F. When baked and cooled, remove from the loaf pan, cover with whipped cream, and top with raspberries.
Step 4/4
Remove the plastic sheet from the mailbox body, then place over the brownie, then place the mailbox door into the opening of the mailbox. On a piece of parchment paper, use the pink white chocolate to pipe a mailbox flag, let chill to harden, then attach it to the mailbox body using the white chocolate. Use the pink white chocolate to pipe decorations on the mailbox such as a heart, XOXO, and LOVE. Place the Pop Tart envelopes around the brownie and enjoy!
Similar recipes from Chefclub
-
Our other recipes