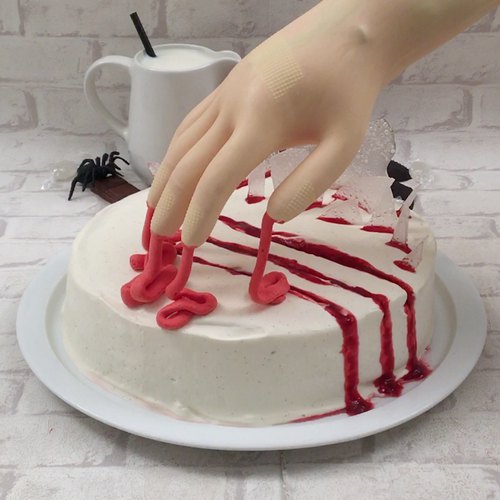 Slasher Cake
This is on villain you'll want at your Halloween party! 🔪🎂☠️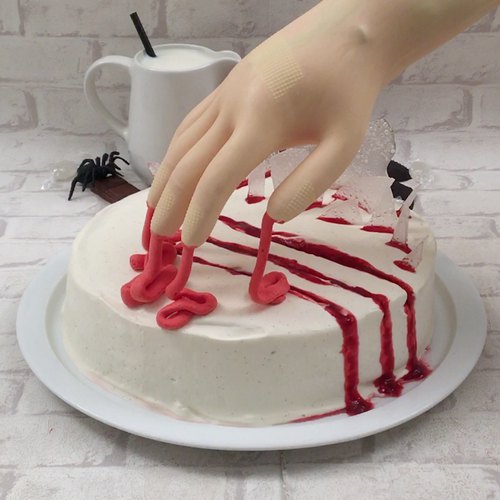 ---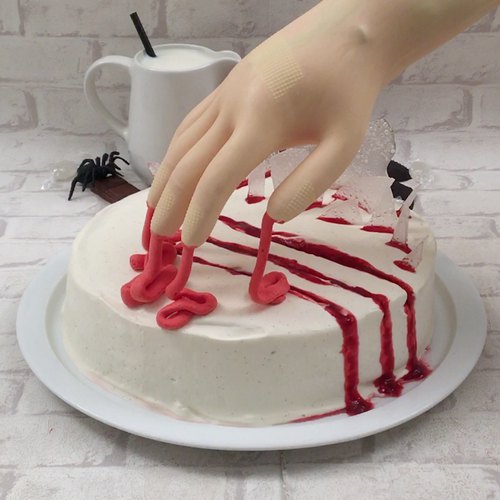 ---
Ingredients for 4 people
6 eggs
1 cup of sugar
1 1/2 cups of melted dark chocolate
3/4 cup of butter
1 1/4 cups of flour
1 tsp of baking powder
8 oz of mascarpone cheese
vanilla bean
4 cups of heavy whipping cream
red food coloring
clear candies
---
Tools
Plastic glove
---
Step 1/5
Mix the eggs and sugar together. In a separate bowl, mix the dark chocolate and melted butter. Pour the second mixture into the first, then add the flour and baking powder. Pour the mixture into a greased and floured baking dish and bake for 45 minutes at 330 °F.
Step 2/5
Whip the mascarpone cheese, powdered sugar, scraped vanilla bean, and liquid cream. Divide the whipped cream in half and add red food coloring to one of the halves.
Step 3/5
Place the clear candies on a lined baking tray covered and bake for 12 minutes at 350 °F. Remove from the oven, allow the candy disc to cool and then break it up. Add red food coloring to the broken pieces.
Step 4/5
When the cake has cooled, cover with 1 layer of red whipped cream, making sure to set some aside, and place in the freezer for 30 minutes. When out of the freezer, cover the cake with the white whipped cream. Form red slashes with the broken candy and paint them red. Cover with shards of candy and more red food coloring.
Step 5/5
Cut off the fingertips of the latex glove and fill it with the rest of the red whipped cream. Use this glove as a piping bag to pour the whipped cream over the cake. Cut into pieces and enjoy.