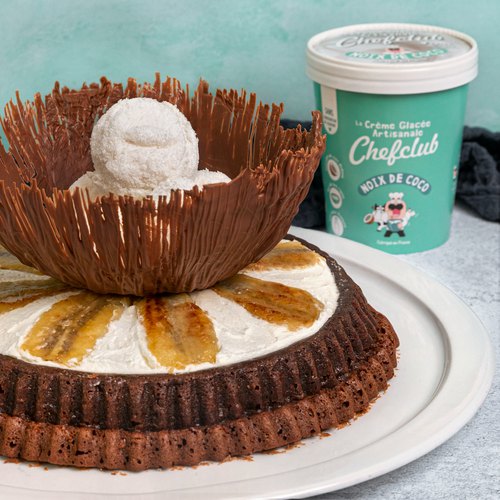 Tropical Chocolate Cake
Take your taste buds on vacation with coconuts and bananas! 🍌🥥🎂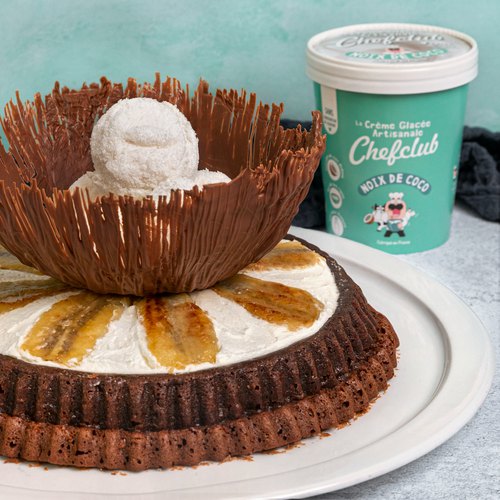 ---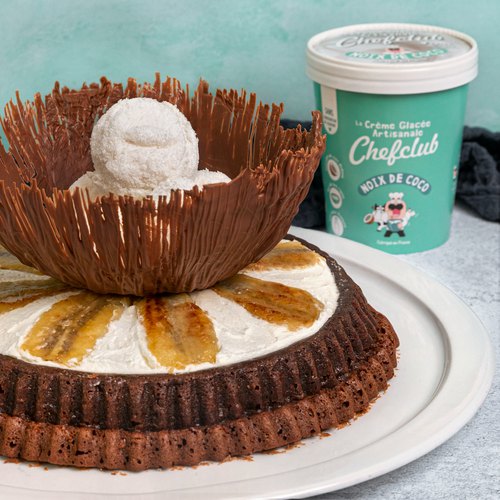 ---
Total time: 2 hours 5 minutes
Prep time: 35 minutes, Cook time: 1 hour , Rest time: 30 minutes
Ingredients for 4 people
3/4 cup of milk chocolate
3 bananas
1 cup + 2 tbsp butter
2 tbsp of raw cane sugar
1.7 fl oz of rum
1 1/3 cups of shredded coconut
1 container of chefclub coconut ice cream
1 1/2 cups of dark chocolate
5 eggs
1 1/3 cups of sugar
3/4 cup of flour
2 tbsp of mascarpone
2 tbsp of powdered sugar
1/3 cup of heavy whipping cream
---
Tools
Plastic bottle
Metal chopstick
Plate
Salad bowl
Ladle
Blowtorch
Parchment paper
Ice cream scoop
Round cake tin
---
Step 1/6
Melt the chocolate and place a plate in the freezer for a few minutes. Remove the cap from the plastic bottle and make a hole in the center with the chopstick. Pour the melted milk chocolate into the bottom of the bottle and close it.
Step 2/6
Draw lines of chocolate on the cold plate by moving the bottle back and forth while rotating the plate. Repeat until you have a plate with a thicker center and place in the fridge. Use a knife to scrape the edges of the plate and remove excess chocolate. Insert the knife under the chocolate decoration, then remove and place it on the upside down bowl to let it collapse against the bowl edges and form a basket. Chill for 30 minutes.
Step 3/6
Cut off the end of the bananas and slice them lengthwise with a knife. Cut them in the middle and place them in a pan with 2 tbsp melted butter. Sprinkle with brown sugar until they caramelize. Pour the rum into the ladle and heat the ladle with a blowtorch, then pour the rum over the bananas to caramelize.
Step 4/6
Spread a long rectangular sheet of baking paper on the work surface and sprinkle with shredded coconut. Use the ice cream scoop to place 1 scoop of Chefclub Coconut Ice Cream, then grab both ends of the sheet to lift it up, and roll the ice cream scoop over the coconut to coat it. Repeat until you have 5 coated scoops.
Step 5/6
Melt the dark chocolate, add the remaining melted butter, and stir. Mix in the eggs and sugar, then incorporate the flour. Pour the preparation into the round cake tin and bake for 1 hour at 250 °F.
Step 6/6
Whip the mascarpone with the powdered sugar and the heavy cream. Remove the cake from the pan and spread the whipped cream evenly over the top. Place the flambéed bananas in a star shape on top. Turn the chocolate bowl upside down and place it in the center of the cake, then place the coconut ice cream scoops inside. Serve and enjoy!