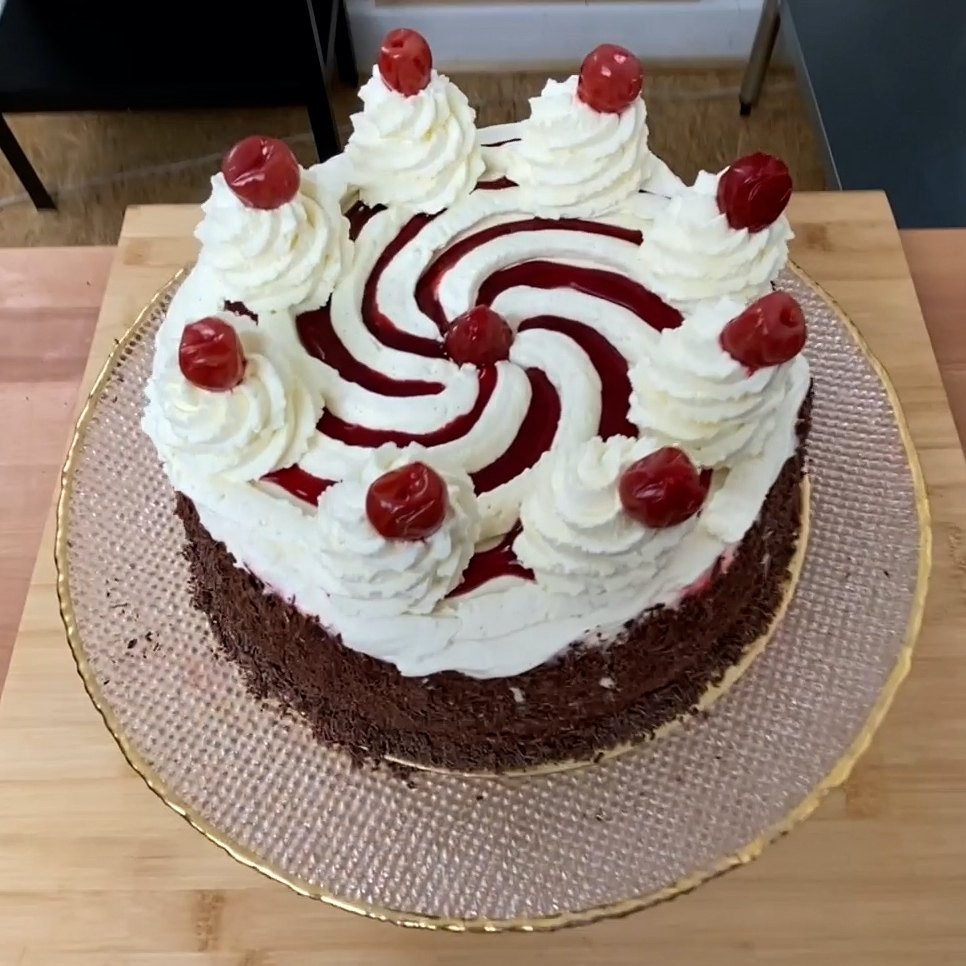 Black Forest Cake
A yummy cherry chocolate cake with ice cream 🍒🍦
Made by you!
Ingredients
2 pints Chefclub vanilla ice cream
9 eggs
1 1/4 cups sugar, divided
1 2/3 cups flour
2 cup cocoa powder
10.5 oz cherries
Dark chocolate stems
Cherry syrup
3 cups heavy cream
1/3 cup powdered sugar
Tools
Parchement paper
Toothpicks
Cake ring
2 cake pans
Sieve
Electric mixer
1. Fill the cake ring with vanilla ice cream and place in freezer. In a bowl, combine eggs and 1 cup sugar and mix. With the help of a sieve add flour and cocoa powder to the batter. Pour the batter into 2 baking pans and bake for 20 minutes at 345 °F.
2. Heat cherries in a saucepan and pour into a bowl. Mix the remaining juice with 1/4 cup sugar and pour into a pitcher.
3. Cut the 2 cakes in half with the help of toothpicks as seen in the video. To make the whipped cream, whip the heavy cream and powdered sugar with an electric mixer until stiff. Spread the whipped cream onto one layer of the cake. Then make alternating circles of cherries and whipped cream with the help of a piping bag as seen in the video. Repeat the process 3 times. Finally frost the cake with whipped cream and chill.
4. To decorate the cake, take the cake ring out of the freezer and create a spiral design by piping on the remaining ice cream. Grate dark chocolate shavings and stick to the sides of the cake. Place the ice cream circle on top of the cake and fill the gaps with cherry syrup. Top with more whipped cream and cherries. Enjoy!
Similar recipes from Chefclub