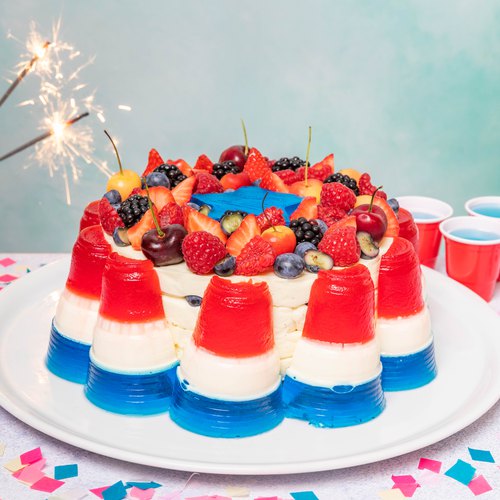 4th of July Cake
Made for a party in the USA 🇺🇸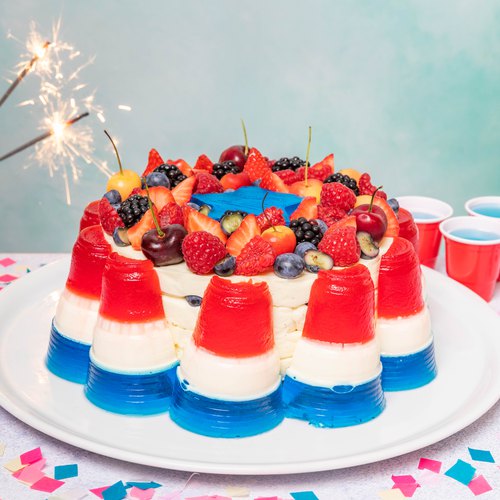 ---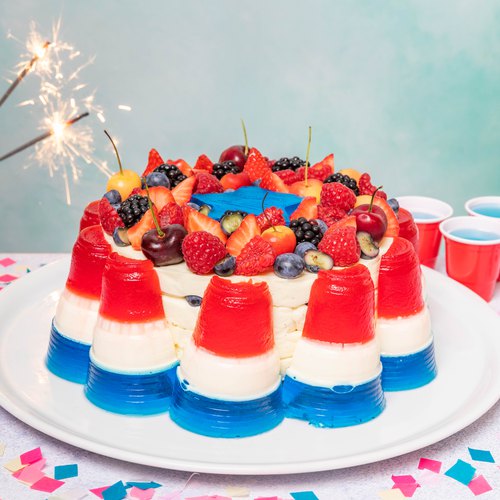 ---
Total time: 4 hours 15 minutes
Prep time: 1 hour , Cook time: 15 minutes, Rest time: 3 hours
Ingredients for 10 people
2 cups of heavy cream
1 vanilla bean
2 gelatin sheets
1 1/2 cups of white chocolate
3 oz of cherry jello
6 oz of berry blue jello
3 oz of vanilla jello
16 oz of store-bought sugar cookie dough
20 red & blue m&m's
1 1/4 cups of strawberries
15 cherries
1/4 cup of blueberries
10 blackberries
10 raspberries
---
Tools
Electric mixer
Large plastic cups
Mini plastic cups
Star cookie cutter
Parchment paper
Springform pan
Piping bag
Sparklers
---
Step 1/4
Bring half of the heavy cream to a boil in a saucepan with the vanilla bean seeds. Then add in the gelatin sheets. Place the white chocolate in a bowl and pour the hot cream over it. Mix well, add the remaining cold heavy cream, mix again, and place in the fridge for 3 to 4 hours.
Step 2/4
Cut the 5 large cups in half using scissors. Then place the mini cups inside the large cups as seen in the video. Prepare the red jello according to package instructions. Pour into the cups, filling up to the 1/3 mark. Place in the fridge for 1 hour until set. Next prepare the vanilla jello. Pour on top of the set red jello and place back in the fridge for 1 hour. Lastly, prepare the berry blue jello and pour on top of the vanilla jello. Pour the remaining blue jello into a star shaped cookie cutter lined with parchment paper. Let the cups and star set in the fridge for at least one hour.
Step 3/4
Meanwhile, place 1 single cookie dough piece on a baking sheet and grate the remaining store-bought sugar cookie dough into a parchment lined springform pan. Add in red and blue M&M's and pat down with a glass. Bake the springform pan as well as the single cookie for 15 minutes at 350 °F. Let cool. Next, remove the white chocolate ganache mix from the fridge and whip with in an electric mixer until light and fluffy. Place in a pastry bag and pipe the first layer of ganache onto the cookie. Add thin strawberry slices so the entire surface is covered and another layer of ganache, then grate the single baked sugar cookie over the ganache. Add another layer of ganache, followed by 3 tbsp blueberries, and a final layer of ganache. Smooth the surface and place in the fridge.
Step 4/4
Remove the cake and place on a serving plate. Decorate with the berry blue jello star and fresh fruit. Remove the jello from the cups and cut in half. Place the halves around the edge of the cake, serve with sparklers, and enjoy!