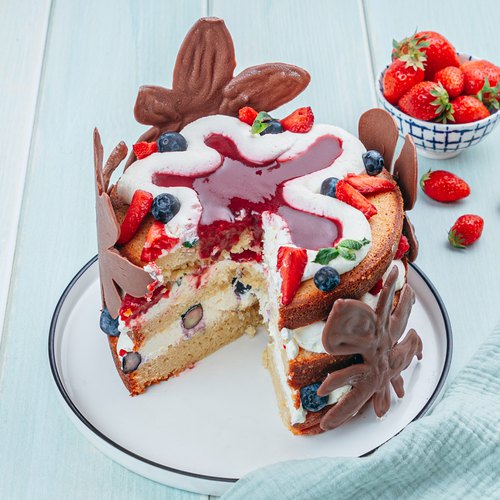 Blossom Berry Cake
Blossom Berry Cake! Fruity & chocolaty all at the same time 😁🍓🍥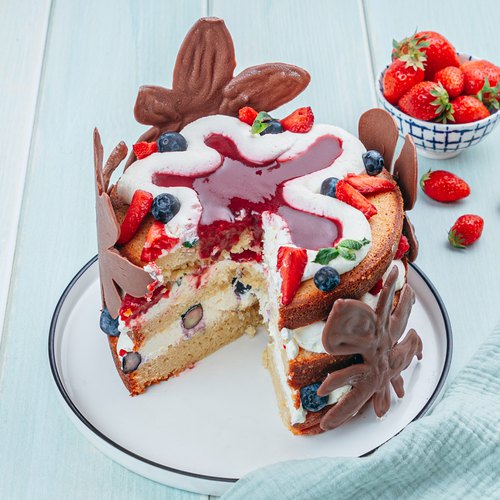 ---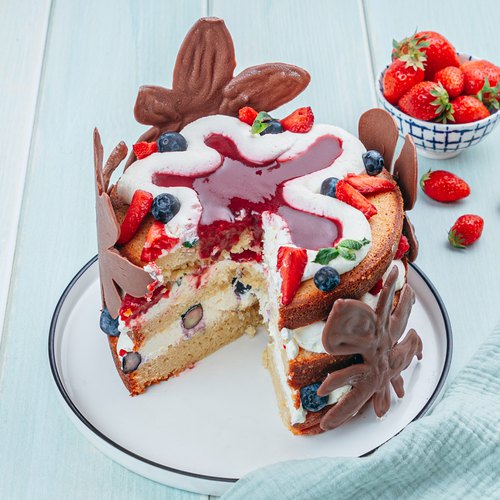 ---
Total time: 2 hours 10 minutes
Prep time: 40 minutes, Cook time: 1 hour , Rest time: 30 minutes
Ingredients for 6 people
2.1 cups of flour
0.7 cup of milk
3 egg
1/2 cup of butter
1 cup of sugar
2 1/4 tsp of baking powder
5.3 oz of milk chocolate
1 1/2 cups of heavy cream
8 oz of mascarpone
5 tbsp of powdered sugar
3 1/2 oz of raspberries
3 1/2 oz of strawberries
2 oz of blueberries
3 mint leaves
---
Tools
parchment paper
Piping bag
Ziplock bag
---
Step 1/3
Mix the flour, milk, eggs, butter, sugar and the baking powder until smooth. Pour the mixture into a buttered cake tin and bake for 1 hour at 300°F. Melt the milk chocolate, place it in a ziplock bag and cut off the bottom corner. Trace melted milk chocolate flowers on a sheet of parchment paper, place them on a vase to curve them and refrigerate for 30 minutes. Whip the heavy cream, mascarpone, icing sugar, place the whipped cream in a piping bag and set aside.
Step 2/3
Boil 1 tbsp of water, 1 oz of strawberries, 1 oz of raspberries, 4 tsp of sugar to obtain a coulis, place the red fruit coulis in a container and set aside. Cut the cake horizontally into 3 layers, sprinkle the top of the cake with powdered sugar, draw a whipped cream flower on the first layer of the cake, pour the red fruit coulis in the center of the whipped cream flower and set it aside . Draw a spiral of whipped cream in the center of the second layer, pipe dots of whipped cream around the edge of the cake, place the raspberries and set this layer aside. Repeat the process with the whipped cream on the last layer, arrange the blueberries, then replace the layers together to form the cake.
Step 3/3
Cut the strawberries into pieces. Arrange the milk chocolate flowers around the edge of the cake, place the strawberries, blueberries and mint leaves. Serve and enjoy!