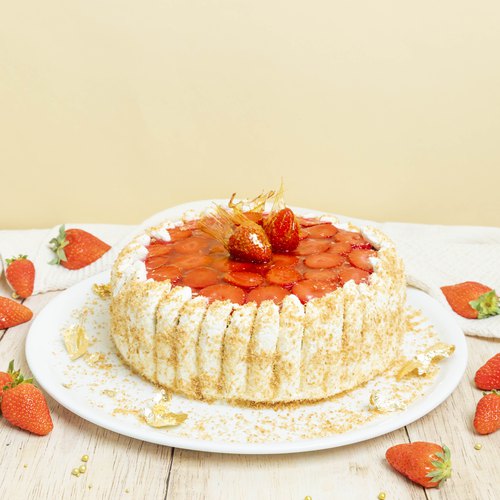 Strawberry & Coconut Ice Cream Cake
Strawberry & Coconut Ice Cream Cake! A dessert that's crunch & creamy 🍰🍓🤤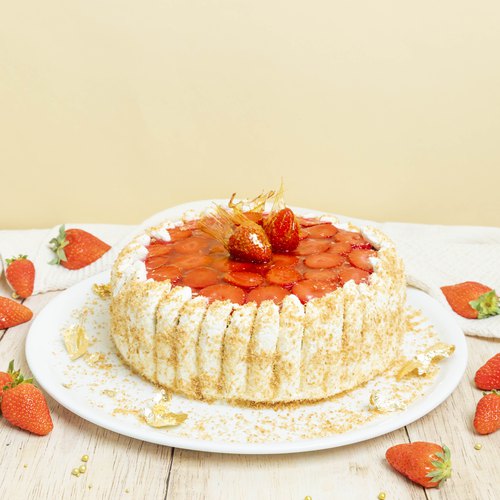 ---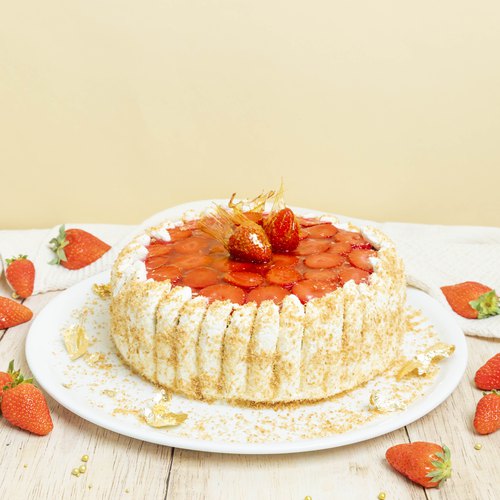 ---
Total time: 1 hour
Cook time: 1 hour
Ingredients for 6 people
16 strawberries
1 pint of chefclub coconut ice cream
1 1/2 cups of sugar
2 cups of flour
1/2 cup of butter
3/5 cup of milk
3 tsp of baking powder
3 egg
4/5 cup of heavy cream
2 3/5 oz of mascarpone
1 1/2 tbsp of powdered sugar
1 cup of shredded coconut
Strawberry jam
---
Tools
Skewers
parchment paper
Empty tin can
Ziplock bag
---
Step 1/6
Make a caramel by melting 4 tbsp of sugar in a saucepan and a little water until golden.
Step 2/6
Empty the can then cut it in the center to keep only a circle of metal. Skewer a strawberry on each skewer, then dip the metal circle in the caramel. Suspend the circle above the saucepan, then plunge the skewer into the center of the circle so that the strawberry is coated with caramel. Repeat the process with three strawberries.
Step 3/6
Set the strawberries aside and let them cool. Cut the rest of the strawberries into slices. Line the bottom of the springform pan with a circle of parchment paper and arrange the strawberry slices. Pour the strawberry jam on top and spread over the entire surface of the mold. Place in the freezer for 1 hour.
Step 4/6
Place 6 scoops of Chefclub coconut ice cream on a plate and smooth with a spatula. Place in the freezer.
Step 5/6
Mix the butter, the baking powder, the sugar and the eggs. Add the flour and the milk. Bake for 1 hour at 300°F. Allow to cool then cut the sponge cake in the center to obtain 2 discs. Place the disc of ice cream in the center and close the sponge cake. Unmold the circle of jam from the springform pan and place it on top of the sponge cake.
Step 6/6
Whip the heavy cream with the mascarpone and the powdered sugar. Place the whipped cream in a ziplock bag and cut off a bottom corner to make a piping bag. Pipe whipped cream around the cake and smooth with a spatula. Draw vertical lines of whipped cream all around the cake and sprinkle the edges with roasted coconut. Remove the skewers from the strawberries with caramel and place them in the centre. Serve and enjoy!