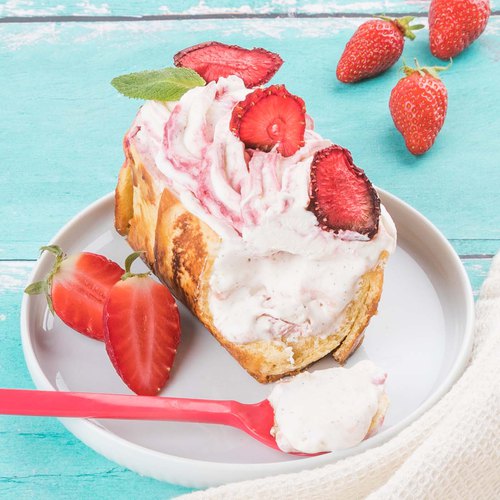 Strawberry & Brioche McFlurry
Strawberry & Brioche McFlurry! A new take on your favorite treat 😄🍨🍓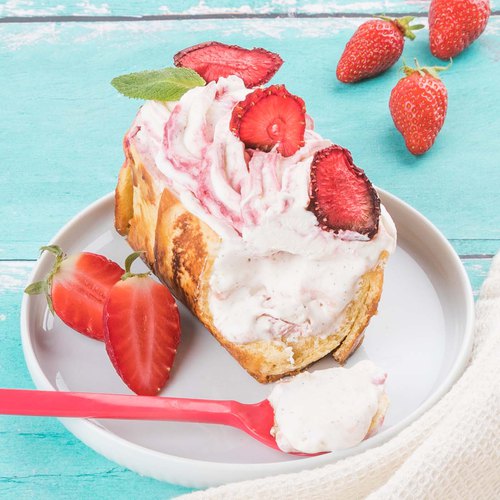 ---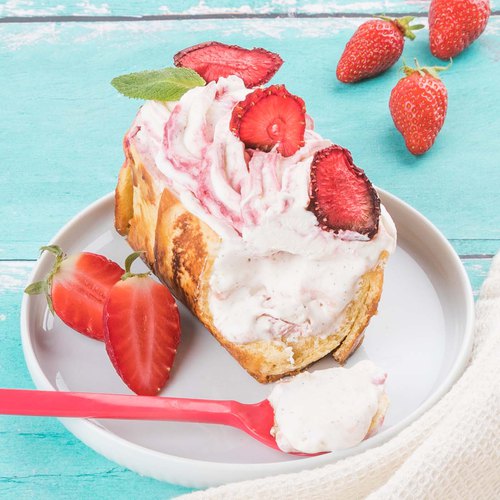 ---
Total time: 1 hour 40 minutes
Prep time: 40 minutes, Cook time: 1 hour
Ingredients for 3 people
1.9 cups of heavy cream
2 tbsp of powdered sugar
1 1/2 tbsp of strawberry coulis
1 1/4 cups of strawberries
12 slices of brioche bread
2.7 oz of mascarpone
1 1/2 tbsp of butter
1 tbsp of brown sugar
2 oz of white chocolate
---
Tools
Piping bag
Rolling pin or metal rod
Pastry brush
parchment paper
---
Step 1/3
Place ice cubes in a dish, place a salad bowl in the dish filled with ice cubes and mix 1.25 cup of heavy cream, the scraped vanilla pod, 2 tbsp of powdered sugar until you obtain a smooth texture. Place the ice cream with 1.5 tbsp of strawberry coulis in a piping bag. Cut some of the strawberries into slices. Place the slices on a baking tray lined with parchment paper, sprinkle with powdered sugar and bake for 1 hour at 300°F.
Step 2/3
Overlap the ends of 4 slices of brioche to form a square, flatten them with a rolling pin and cut off the ends. Make 2 incisions on each side without going to the end, lightly soak the brioche with water, fold the ends on each side to form a cup and remove the excess brioche. Repeat the process to have 3 cups of brioche. Whip the rest of the liquid cream, the rest of the powdered sugar and the mascarpone using an electric mixer. Place the whipped cream with the strawberry coulis in a piping bag and set aside.
Step 3/3
Superimpose 4 slices of brioche and flatten with rolling pun. Shape the slices to create a cup. Continue with the remaining brioche slices. Sprinkle the butter with the brown sugar. Butter the griddle and cook the brioche pots. Melt the white chocolate. Pour the melted white chocolate into each brioche jar and spread it over the inside of the brioche jars using a brush. Cut the remaining strawberries into chunks. Pipe the ice cream and the strawberry coulis inside the brioche cups. Add the strawberries and pipe the whipped cream with the strawberry coulis. Add the slices of dried strawberries and enjoy!