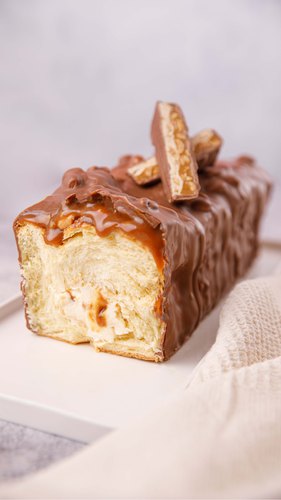 XXL Snickers
XXL Snickers! Time to amplify the flavor 🤩🍫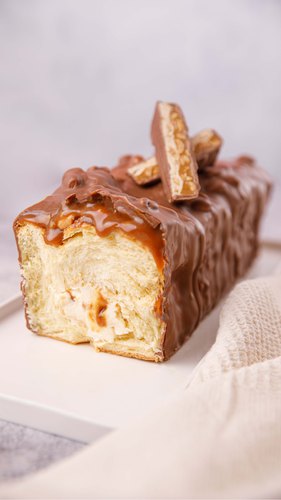 ---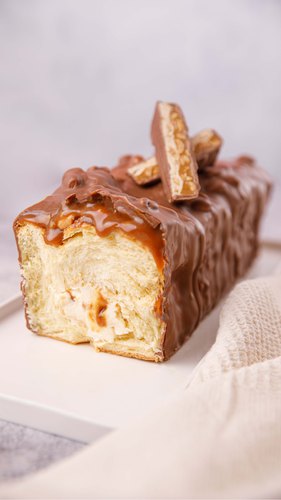 ---
Total time: 45 minutes
Prep time: 45 minutes
Ingredients for 6 people
3 snickers
2 tbsp of sugar
3 1/2 oz of caramel sauce
Peanuts
1 1/2 tbsp of butter
0.9 cup of heavy cream
2 oz of mascarpone
10 1/2 oz of milk chocolate
---
Tools
Plastic bottle
---
Step 1/4
Cut the brioche in half lengthwise. Cut a plastic bottle in half, use the top of the bottle to create 3 circles on the brioche and use the bottom to flatten the circles and create spaces. Grease the grill, place the sugar on top and fry each side of the 2 parts of the brioche to caramelize it. Place the 2 pieces of brioche on a wire rack over a baking sheet.
Step 2/4
Cut the snickers into pieces, place in a saucepan, add the heavy cream and allow to melt. Pour the mixture into a bowl and filter through the sieve to remove the peanuts and allow the mixture to cool.
Step 3/4
Melt the milk chocolate. Form 2 cones out of parchment paper, pour the caramel into one and the melted chocolate into the other. Pipe alternating dots of melted chocolate and caramel. Whip the mascarpone and heavy cream, mix the whipped cream with the snickers cream until smooth and place the whipped cream in the piping bag.
Step 4/4
Pipe the snickers whipped cream into the interstices of the bottom part of the brioche. Place the top part on the bottom part of the brioche, spread the remaining caramel mixture on top and sprinkle with peanuts. Pour the remaining milk chocolate over the brioche to glaze, place on a plate, place half a snickers on top of the brioche. Serve and enjoy!