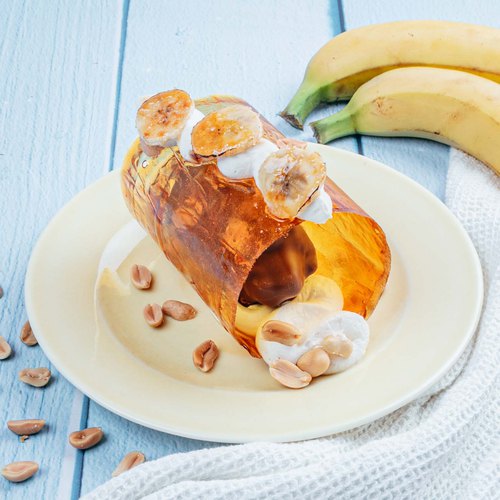 Homemade Banana Snickers
Homemade Banana Snickers! We revisited your favorite candy bar 🍌🤩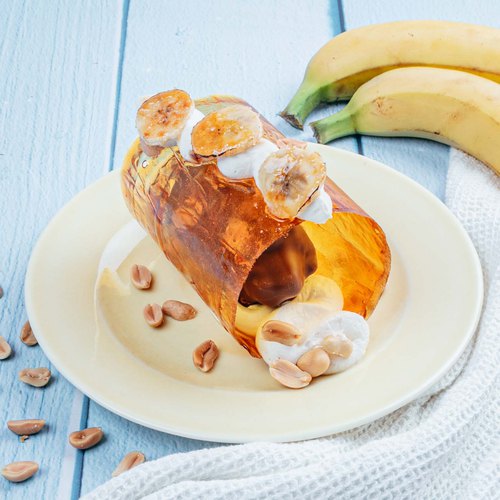 ---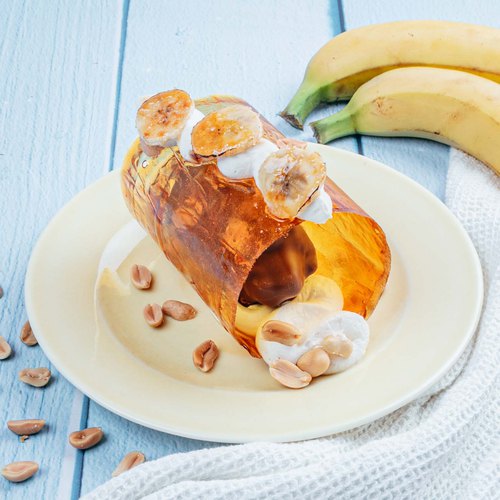 ---
Total time: 1 hour
Prep time: 40 minutes, Rest time: 20 minutes
Ingredients for 3 people
3/5 cup of sugar
2 tbsp of water
1 jar of peanut butter
1 banana
3/5 cup of heavy cream
3 1/2 oz of milk chocolate
Peanuts
1 tbsp of butter
2 tbsp of brown sugar
---
Tools
Skewers
Piping bag
parchment paper
---
Step 1/3
Peel the banana, cut it in 2 then cut half a banana in 3 and skewer each part vertically on skewers. Dip bananas in peanut butter, sprinkle with peanuts. Melt the milk chocolate, dip each banana skewer in the melted milk chocolate, place the rest of the peanuts on the chocolate-covered bananas and refrigerate for 20 minutes.
Step 2/3
Melt the sugar with the water in a pan, mixing until you get caramel. Spread a rectangle of parchment paper over the caramel, peel it off, cover the side with the caramel with another rectangle of parchment paper then wrap them around the jar of peanut butter. Allow the caramel to cool and unmold the jar of peanut butter from the caramel to obtain a caramel jar. Repeat the process to have 3. Cut the rest of the banana into slices, brown them with the brown sugar and the butter in a skillet.
Step 3/3
Whip the heavy cream and 4 tbsp of peanut butter until smooth. Place in a piping bag. Draw a line of whipped cream on a plate and place the pot of caramel vertically. Pipe a line of whipped cream inside the pot of caramel and another line on top. Place the bananas coated with chocolate inside the jar, place the rest of the peanuts and the caramelized bananas on top. Serve and enjoy!