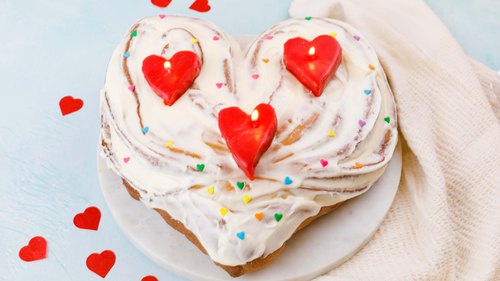 Cinnamon Rollin' Romance Rolls
Cinnamon Rollin' Romance Rolls! You will have a bunderful Valentine's with this sweet recipe 🥰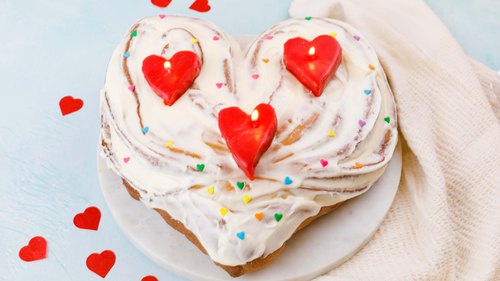 ---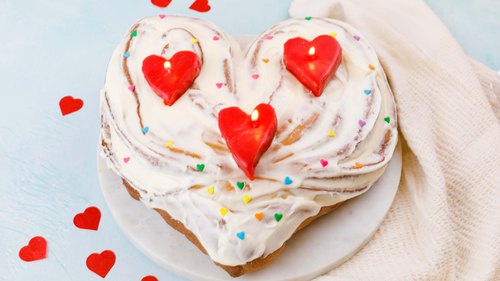 ---
Total time: 2 hours
Prep time: 30 minutes, Cook time: 30 minutes, Rest time: 1 hour
Ingredients for 6 people
5 1/2 cups of flour
1/2 cup of sugar
1 cup of milk
Sugar
Cinnamon
1/2 cup of red hots candy
1 cup of cream cheese
1 cup of butter
1/2 cup of powdered sugar
3/5 cup of water
Sprinkles
Yeast
---
Tools
Clips
Sillicone cupcake molds
Aluminum foil
Parchement paper
Kitchen twine
---
Step 1/4
In a large bowl mix together 4.5 cups of flour, sugar, and yeast. Stir in the warm milk and the eggs. Add a pinch of salt. Work the dough until it comes together and then add the butter bit by bit. Turn out the dough onto a lightly floured surface and continue to knead the dough until smooth and elastic. Place the dough into a bowl and cover. Allow the dough to rise for 30 minutes then place in the refrigerator for 30 minutes. Roll out the dough into a large rectangle. Spread with softened butter and sprinkle with cinnamon and sugar. Roll the dough up into a log. Fold the log in half with one part of the dough on top. Take a knife and cut into the fold (make sure to not cut all the through). Open the dough to create a heart shape. Place on a parchment lined baking sheet and bake for 25-30 minutes at 350°F.
Step 2/4
In a small saucepan melt the butter and the red hots candy. Once the butter is melted, remove from heat to allow the butter to infuse while it cools. When the butter has cooled slightly, strain out the candy. At this point you can add in a couple drops of food coloring if the butter is not red enough.
Step 3/4
Prepare the flour dough that will be used to seal the candle molds. Mix 1 cup of flour and water together to obtain a smooth dough. Take a square of aluminum foil and fold over and over to create a strip of foil. Tuck one end into the other. Pinch and crease the aluminum to create a heart shape. Place onto the baking sheet with the silicone baking mat. Take a small piece of dough and roll it out into a long snake. Press the dough around the heart shaped mold, pressing to seal the mold to the silicone mat. Cut the string and wrap one end around a paper clip. Spread the paper clip to create "feet" that will help anchor the string in the candle. Place the paper clip inside the heart and wrap the strip on top around a toothpick to hold the string in place while the candle sets. Carefully pour the cooled but still liquid butter into the molds. Fill almost to the top and place in the refrigerator to set completely.
Step 4/4
Whip 1 cup of butter and cream cheese until creamy. Add in the powdered sugar. Mix until smooth. If the glaze is too thick, add a small amount of milk. Spread the glaze over the cinnamon roll while still warm. Take the cinnamon butter candles out of the refrigerator and unmold. Place the candles on the cinnamon roll and light them just before serving. Enjoy!