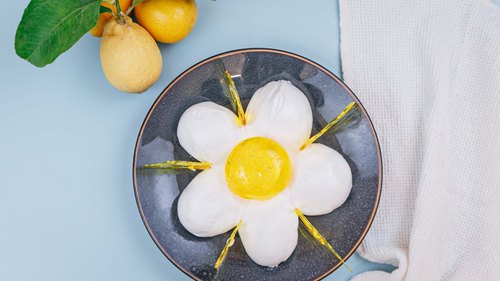 Zesty Lemon Daisy
Zesty Lemon Daisy! A surprisingly refreshing treat 🍋🌼😍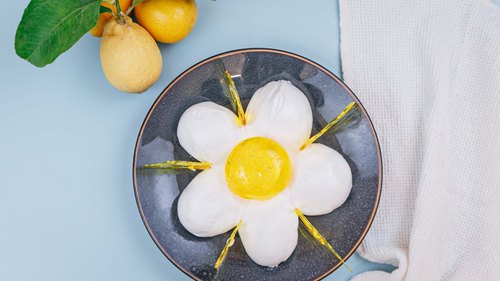 ---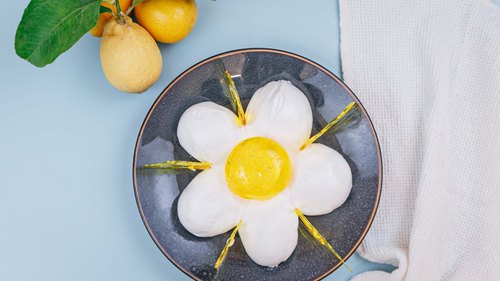 ---
Total time: 3 hours 10 minutes
Cook time: 3 hours 10 minutes
Ingredients for 5 people
2 egg whites
2.3 cups of sugar
125 cl of lemon juice
2 egg
1 cup of butter
2 gelatin sheets
5 tbsp of water
8 tbsp of almond powder
6 tbsp of flour
Yellow food coloring
---
Step 1/4
Mix flour, almond flour, 3 1/2 tbsp butter and 4 tbsp sugar to make a crumble. Bake 1 hour at 320°F. Reserve.
Step 2/4
Remove the flesh from 5 lemon halves. Set aside. Make a meringue by heating in double boiler the egg whites and 1/2 cup of sugar to 160°F. Beat into stiff peaks. Place the lemon skins on a baking sheet in the shape of a flower. Coat with the meringue and bake 2 hours at 190°F. Remove the lemon skins and set aside.
Step 3/4
Make a caramel with 1 1/4 cups of sugar, water and yellow food coloring. On a baking tray line with parchment paper make flowers with the caramel. Take a small cup and dip in the caramel. Allow to harden and unmold.
Step 4/4
Mix the lemon juice, butter, 0.6 cup of sugar, eggs, butter and melted gelatin until smooth. Place in piping bag and pipe the inside of the meringue. Add the crumble on top. Flip everything over and add the caramel decorations to make a daisy. Serve and enjoy!