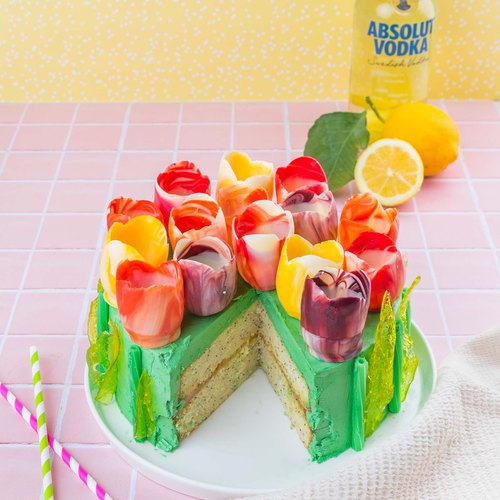 Kiss My Tulips Cake
Kiss My Tulips Cake! Celebrate spring with this lemon poppy seed cake 🥳🌷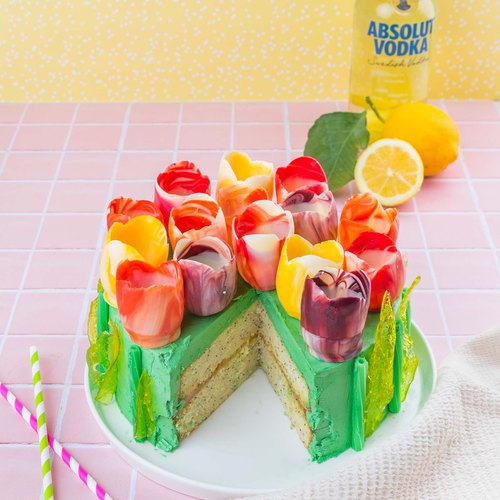 ---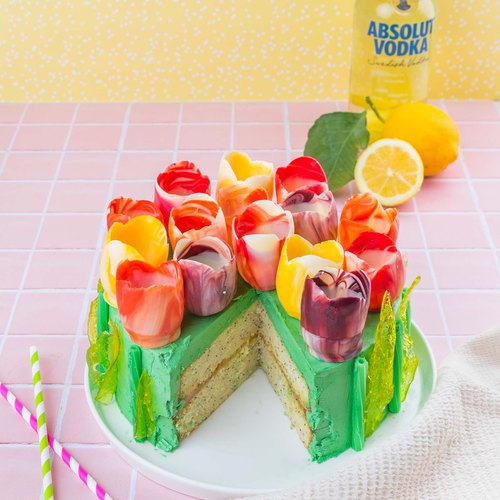 ---
Total time: 2 hours 55 minutes
Prep time: 30 minutes, Cook time: 45 minutes, Rest time: 1 hour 40 minutes
Ingredients for 6 people
2 1/2 cups of sugar
2 lemons
3 1/4 cups of butter
6 egg
1 cup of lemon juice
3 1/2 cups of flour
2 tsp of baking powder
2 tbsp of poppy seeds
5 egg whites
1 jar of lemon curd
Green food coloring
2 oz of vodka
2 oz of simple syrup
1 cup of ice
10 green jolly ranchers
5 green twizzlers
2 cups of white chocolate
Food coloring
---
Tools
Citrus press
parchment paper
Cocktail shaker
Long thin balloons
Skewers
Hand mixer
---
Step 1/5
Preheat the oven to 350°F. Prepare two cake pans, grease the pans and line the bottom of the pan with parchment paper. In a large mixing bowl, cream 1¼ cup of butter, 1½ cupf of sugar and lemon zests with a pinch of salt. Mix in the eggs one by one. Stir in ¾ cup of lemon juice, then fold in the flour and baking powder. Divide the batter evenly between the two cake pans. Bake for 25-30 minutes. Turn the cake out onto a cooling rack and allow to cool completely before frosting the cake.
Step 2/5
Over a double boiler, stirring constantly, heat the egg whites and 1 cup of sugar until the sugar has dissolved and the mixture is warm to the touch. Remove from heat and using a hand mixer, whip until light and fluffy. Once the outside of the mixing boxl feels cool to the touch begin adding 2 cups of butter little by little. Continue until all the butter has been added. Then mix in the green food coloring. Frost the two layer cake with the lemon curd in the middle. Place in the refrigerator.
Step 3/5
Take the long thin balloons and blow them up. Meanwhile melt the white chocolate and divide it in multiple bowls. Use a variety of food coloring to dye the chocolate different colors. Use wooden skewers to make a swirl pattern in the chocolate. Dip one end of the balloon into the chocolate then gently move the balloon in different directions to cover the balloon in a tulip design. Place on a cookie sheet lined with a silicone baking mat. Continue with the rest of the balloons. Place the balloons into the refrigerator to chill.
Step 4/5
On a baking sheet lined with a silicone mat, line up green jolly ranchers (unwrapped). Bake at 400°F for 4-5 minutes. Take the jolly ranchers out of the oven and allow to rest for 30 seconds. Piece by piece, take the melted candies and stretch them in order to create tulip leaves. Decorate the cake using the green twizzlers cut in half. Remove the balloon from the white chocolate tulips. Arrange the tulips on top of the cake.
Step 5/5
In the cocktail shaker, add the ice then pour in the vodka, 2 oz of lemon juice and the simple syrup. Shake the drink then pour it carefully into the chocolate tulips. Add the jolly rancher leaves around the cake. Serve and enjoy!