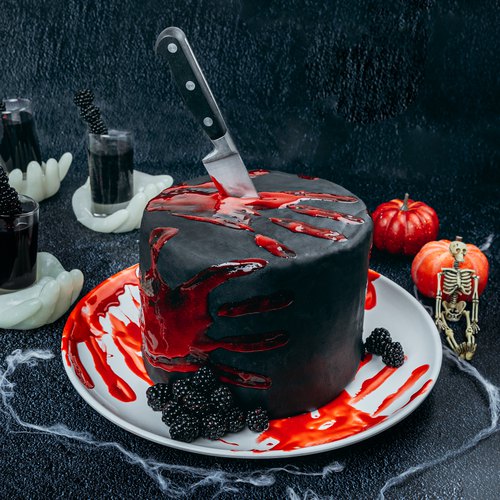 Halloween Crime Scene Cake
Halloween Crime Scene Cake! With a bloody good cocktail 🔪🩸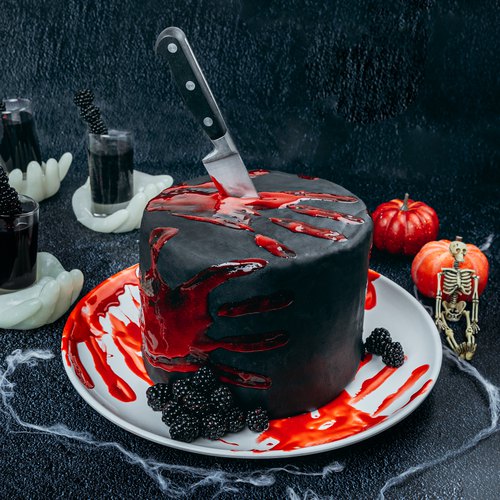 ---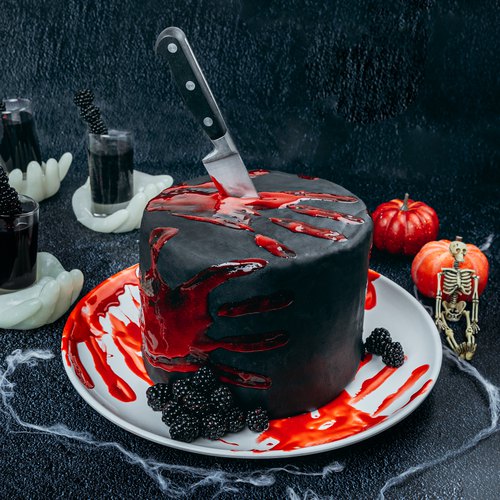 ---
Total time: 5 hours 45 minutes
Prep time: 1 hour 15 minutes, Cook time: 1 hour 30 minutes, Rest time: 3 hours
Ingredients for 10 people
3/5 cup of condensed milk
4 cups of sugar
3/5 cup of corn syrup
5 gelatin sheets
7 oz of white chocolate
Red food coloring
2.2 lbs of butter
6 egg
4.3 cups of flour
2 1/2 tbsp of baking powder
7 tbsp of cacao powder
1 black fondant
Black food coloring
9 blackberries
6 tbsp of blackberry liqueur
6 tbsp of rum
0.7 cup of grenadine syrup
---
Tools
Disposable gloves
Cocktail shaker
Rolling pin or metal rod
Straw
Immersion blender
---
Step 1/3
Place the gelatin sheets in water to rehydrate them. Heat the condensed milk, 0.4 cupl of water, 1 cup of sugar, the corn syrup, add the rehydrated gelatin sheets then pour the mixture over the white chocolate, add the red food coloring and mix using an immersion blender.
Step 2/3
Mix 2.6 cups of butter, 3 cups of sugar, add the eggs, flour, baking powder and cacao powder. Divide the dough into 3 buttered molds and bake them for 1 hour at 320°F. Heat the egg whites and the rest of the sugar in a double boiler to 160°F, whisk the mixture to bring the temperature down to 90 or 95°F. Cut the remaining butter into pieces, add it to the mixture and whisk again to obtain a smooth cream. Add the black food coloring and mix to obtain a black buttercream. Allow the cakes to cool, stack them, form a space in the center, spread the buttercream between each layer and on the outside. Refrigerate it for 1 hour. Fill the space with icing, roll out the black fondant using a rolling pin and cover the cake with the black fondant. Dip hands in red icing and decorate cake.
Step 3/3
Fill the gloves with water, place a glass on the glove to maintain the shape and refrigerate it for 2 hours. Repeat the process to have 3. Skewer 3 blackberries on each straw. Pour the ice cubes into the shaker, add the blackberry liqueur, rum, grenadine syrup and mix. Pour the cocktail into the glasses, place them in the frozen gloves and enjoy!