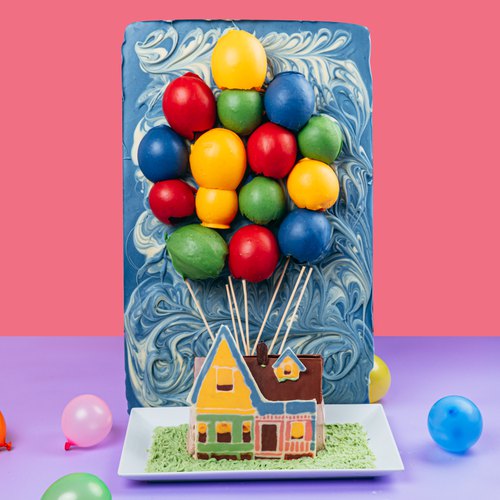 Up Adventure Cake
Up Adventure Cake! Paradise Falls is waiting, so get baking 😁🎈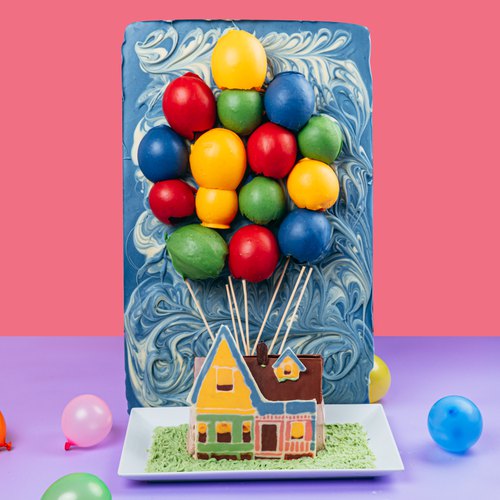 ---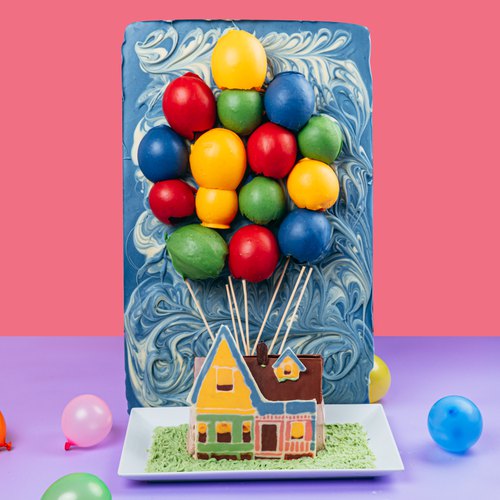 ---
Total time: 46 minutes
Cook time: 16 minutes, Rest time: 30 minutes
Ingredients for 3 people
18 oz of white chocolate
5.3 oz of dark chocolate
5.3 oz of milk chocolate
1 1/2 cups of flour
3/5 cup of butter
2 tbsp of water
1 egg yolk
4 tbsp of powdered sugar
Blue food coloring
Yellow food coloring
Red food coloring
Green food coloring
---
Tools
Balloons
Plastic sheet protector
---
Step 1/4
Mix flour, egg yok, powdered sugar, butter and water together to until smooth. Bake for 16 minutes at 350°F. Cut to create the shape of a house.
Step 2/4
Place the image of the house in a plastic sheet protector. Pipe the different colored chocolates to decorate the house. Place on the baked house.
Step 3/4
Inflate small balloons and coat them with different colored chocolates. Allow to set for 30 minutes in the fridge. Pour blue chocolate on a plate. Add dots of white chocolate to create the sky. Allow to set.
Step 4/4
Place the house on a plate with the sky behind it. Add the chocolate balloons to the sky and pipe white chocolate to make the balloon strings. Serve and enjoy!