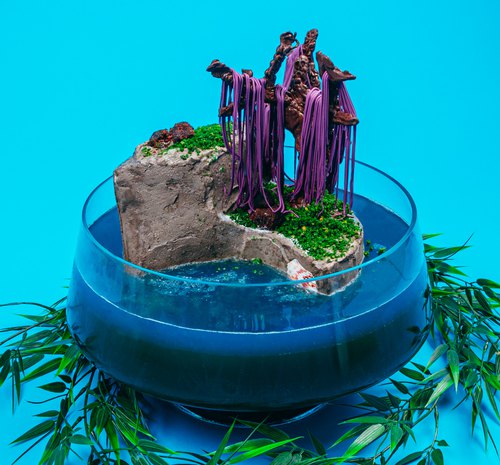 Tree Of Souls Cake
Tree Of Souls Cake! Join the Na'vi clan in this dessert 🌳🎂✨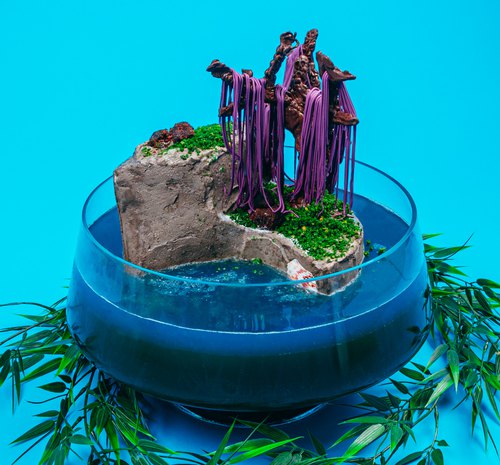 ---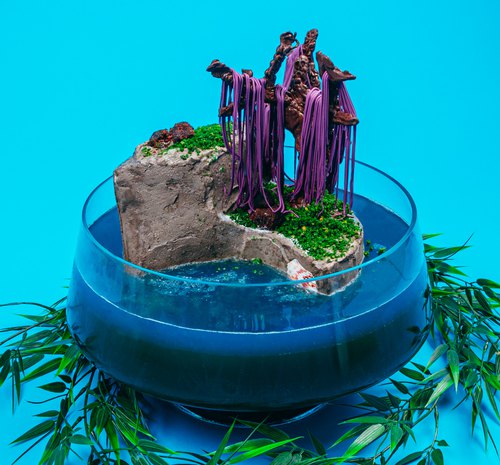 ---
Total time: 2 hours 30 minutes
Prep time: 1 hour , Cook time: 30 minutes, Rest time: 1 hour
Ingredients for 8 people
14 oz of dark chocolate
2.2 cups of butter
5 egg
2 1/4 tsp of baking powder
1 cup of brown sugar
2 oz of fondant
1 1/4 cups of egg whites
1 cup of sugar
3 l of 7 up
5 tsp of agar agar
5 oz of butter cookies
Black food coloring
Purple food coloring
Green food coloring
---
Tools
Ziplock bag
Large sponge
Seashells
---
Step 1/5
Melt 10 oz of dark chocolate and 0.8 cup of butter then mix them together. Add the eggs, flour and brown sugar, then mix until you obtain a smooth batter. Pour the mixture into a buttered mold and bake for 30 minutes at 350°F.
Step 2/5
Fill a bowl with cold water and ice cubes. Melt 3.5 oz of dark chocolate, pour it into a Ziplock bag, cut off the end and form the chocolate tree on the ice water. Allow to set and place it on a plate. Dye the fondant purple and pass through the pasta press to create strings. Place on the chocolate tree and set aside.
Step 3/5
Heat the egg whites and the sugar in a double boiler. Whip the mixture using a food processor to bring the temperature down. Cut 1¼ of butter into pieces, add it to the preparation and whisk again. Divide the cream in two, add the black coloring in one part to obtain a gray cream and put it in a piping bag.
Step 4/5
Unmold the cake, cut it into three equal parts and layer them, spreading the uncolored cream between each layer and on the outside. Keep some cake, crumble and form small balls to create rocks. Refrigerate the cake for 1 hour. Cut a quarter of the cake in half and place the piece of cake on top. Cover the cake with gray buttercream, add powdered sugar and a sponge. Decorate it with shells, starfish and chocolate rocks. Crumble the cake and mix them with green food coloring.
Step 5/5
Mix the soda with the agar agar. Place the cake in the glass container, pour the soda preparation. Place the chocolate tree on the cake, cover with the green mousse and enjoy!