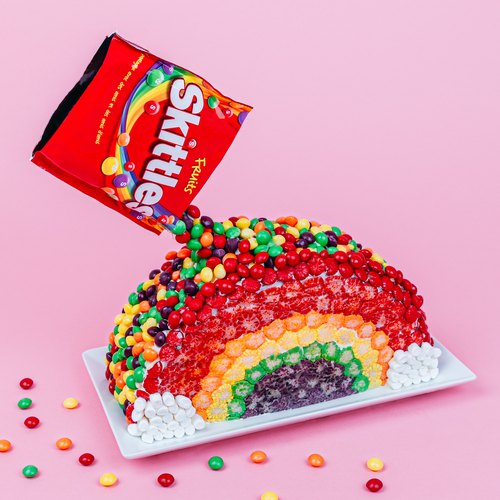 Skittles Rainbow Cake
Skittles Rainbow Cake! This colorful cake will bake your day 😀🌈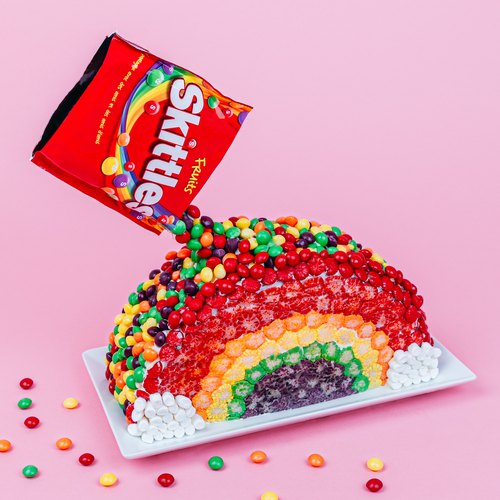 ---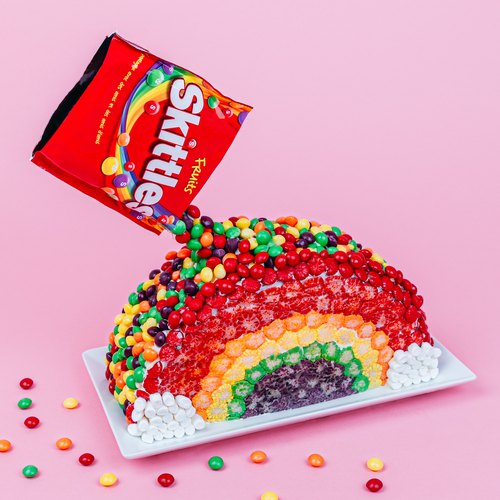 ---
Total time: 1 hour 40 minutes
Prep time: 10 minutes, Cook time: 1 hour 30 minutes
Ingredients for 4 people
1 3/4 cups of flour
3 1/2 cups of sugar
6 egg
White chocolate
4 cups of butter
2 tsp of baking powder
4 egg whites
2 packages of skittles
---
Tools
Blowtorch
---
Step 1/4
Make the sponge cake by whisking 1¼ cups of soft butter and 1½ cups of sugar. Add the eggs and continue mixing. Add the flour and baking powder. Bake for 1½ hours at 320°F.
Step 2/4
Make the buttercream by heating the egg whites and the sugar in a double boiler at 160°F. Pour in a stand mixer and allow to cool to 95°F. Add the cubes of cold butter and whisk until smooth. When the cake has cooled, cut it in 2 and even it out. Coat with buttercream and glue the 2 parts to make a half circle.
Step 3/4
Add a straw on top of the cake with some melted white chocolate. Stick the candy wrapper to the straw. Glue the candies to the cake with the melted white chocolate.
Step 4/4
Make the decoration by placing the candies in a circle (respecting the colors of the rainbow). Heat the candies with a blowtorch and lay parchment paper on top. Crush them with a glass. Cut the candy circle in 2 to make 2 rainbows. Glue the rainbows with buttercream on the sides of the cake. Serve and enjoy!