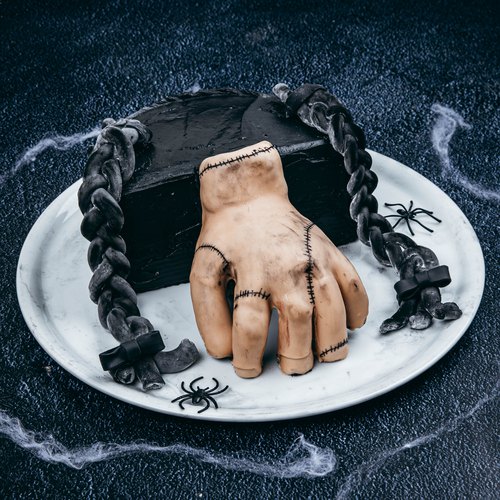 Wednesday & Thing Cake
Wednesday & Thing Cake! A treat that's scary good 🎂👌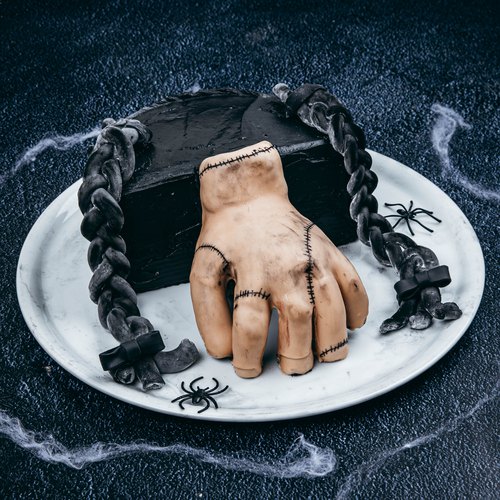 ---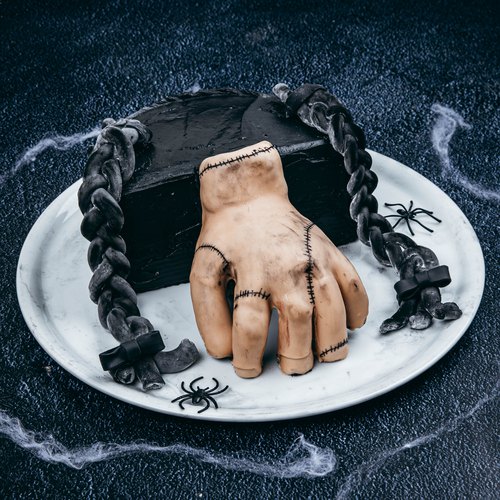 ---
Total time: 7 hours 15 minutes
Prep time: 45 minutes, Cook time: 30 minutes, Rest time: 6 hours
Ingredients for 8 people
11 oz of dark chocolate
2.2 cups of butter
7 egg
Gelatin sheets
Black food coloring
0.4 cup of water
2 1/4 cups of sugar
0.4 cup of egg whites
3 tbsp of cornstarch
2 tbsp of powdered sugar
9 tbsp of flour
1 cup of brown sugar
1 oz of black fondant
1 oz of milk chocolate
7 oz of white chocolate
---
Tools
Piping bag
Disposable gloves
Electric hand mixer
---
Step 1/4
Whisk 2 egg whites and soak the gelatin sheets in a bowl filled with water. Heat 1¼ cups of of sugar and 0.4 cup of water to 250°F, then add the drained gelatine leaves off the heat and mix everything together. Pour the syrup over the egg whites, add the black food coloring and mix everything together. Put the marshmallow mixture in a piping bag, pour the cornstarch and icing sugar on a baking sheet, then pipe 6 strips on the baking sheet. Allow to harden for 6 hours at room temperature.
Step 2/4
Mix the melted dark chocolate and 0.8 cupf of melted butter and mix them. Add 5 eggs, the flour and the brown sugar, then mix until you obtain a smooth batter. Pour the mixture into a buttered cake mold and bake for 30 minutes at 350°F.
Step 3/4
Form two braids with the marshmallow and add the fondant to make bows. Unmold and cut the cake in half, mix half and put it in the glove then place it in the freezer. Remove the glove and place the hand on a wire rack. Mix the melted white chocolate and milk chocolate then cover the hand and allow to harden. Brush the hand with food coloring and decorate it with the food marker.
Step 4/4
Heat the egg whites and 1 cup of sugar in a double boiler. Whisk the mixture to bring the temperature down to 100°F. Cut 1¼ of butter into pieces, add it to the preparation and whisk again to obtain a smooth cream. Divide the cream in two, add the black coloring in one part to obtain a gray cream and put it in a piping bag. Coat the cake, place the braids on the cake, add the hand and enjoy!