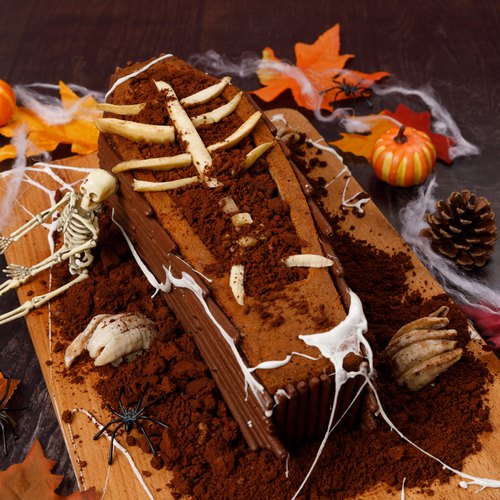 The Halloween Coffin
The Halloween Coffin! RIP old chocolate bones 🍫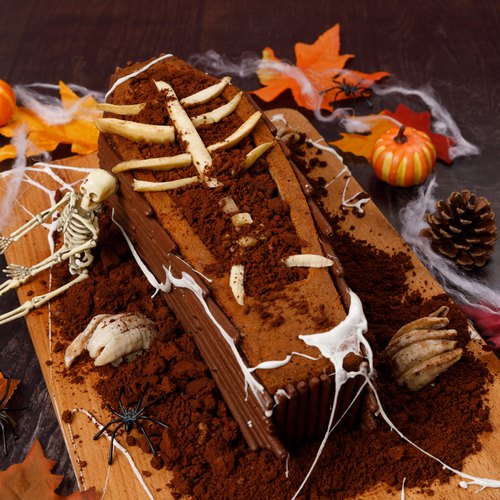 ---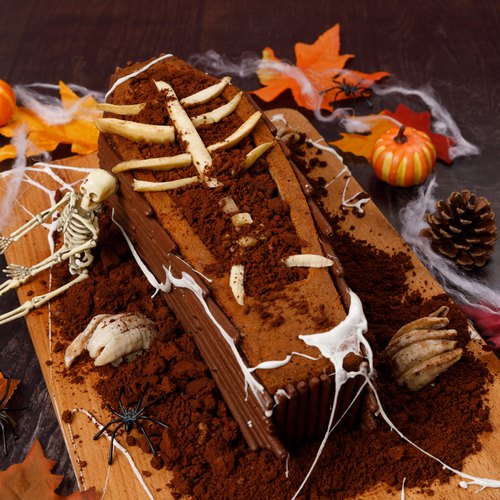 ---
Total time: 1 hour 40 minutes
Prep time: 40 minutes, Cook time: 1 hour
Ingredients for 5 people
1/4 cup of butter
2 egg
1 cup of sugar
2 tsp of baking powder
1 1/4 cups of flour
7 tbsp of cacao powder
0.3 cup of chefclub chocolate spread
2 containers of chocolate pocky sticks
6 bananas
3 1/2 oz of white chocolate
4 marshmallows
Vanilla extract
---
Tools
Foil
parchment paper
Cardboard
Hair dryer
---
Step 1/4
Peel 3 bananas and mash them with a fork. Separate the egg whites from the yolks. Beat the yolks with the sugar until smooth. Melt the butter in a pan and add to the mixture, along with the flour, baking powder, a pinch of salt and vanilla extract. Add the mashed bananas to the dough. Beat the egg whites and add to the mixture gradually, until you get a smooth batter.
Step 2/4
Shape the coardboard into a coffin shape and cover it with foil. Grease a cake pan with butter and place the aluminum coffin inside. Pour the dough into the coffin, make a cardboard lid covered in aluminum and place it on top of it. Bake for 1 hour at 330°F. Meanwhile, place a row of chocolate pocky sticks between two sheets of parchment paper and heat them with a hairdryer to weld them together. Reserve.
Step 3/4
Unmold the banana cake onto a plate. Lightly dig the the center with a fork to hollow it out. Sprinkle 4 tbsp of cocoa powder on the crumbs and mix well to give an earthy appearance. Crumble the reserved part of the cake, mix with the rest of the chocolate powder and sprinkle around the cake. Spread the Chefclub spread all over the side of the cake and glue the chocolate pocky sticks on top.
Step 4/4
Cut a banana into pieces and place them on the cake, forming a skeleton. Melt the white chocolate and cover the banana pieces. Place in the fridge to set. Cut a cross in the ends of the bananas, cover them with the rest of the melted white chocolate and set aside in the fridge. Melt the marshmallow in the microwave to make cobwebs and pour over the cake. Place the banana bones in the coffin. Enjoy and happy Halloween!