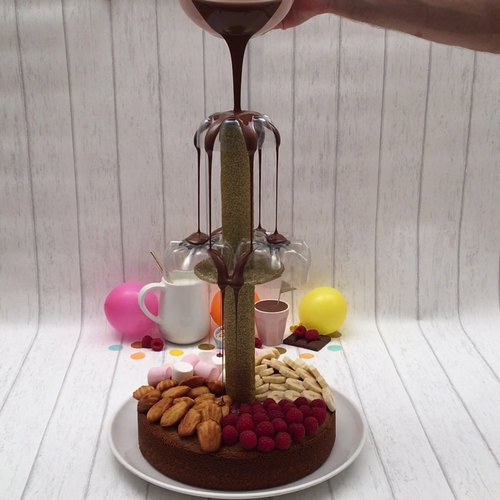 No-Machine-Needed Chocolate Fountain
One part ingenuity, one part chocolate! 🤪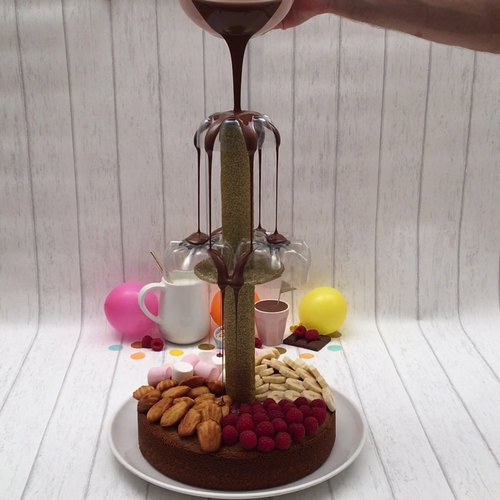 ---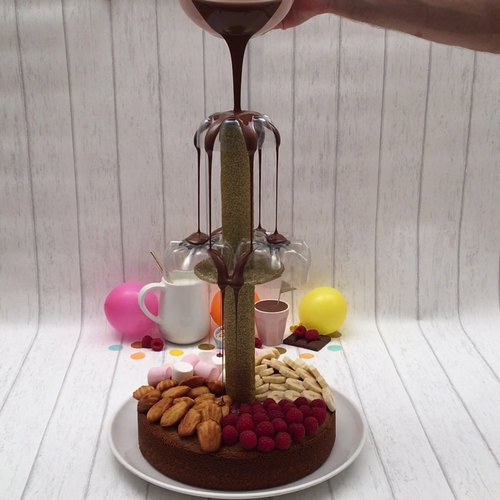 ---
Ingredients for 8 people
2 cups of sugar
5 eggs
1 1/4 cups of yogurt
1 1/4 cups of vegetable oil
5 1/2 cups of flour
4 tsp of baking powder
2 bananas
30 raspberries
20 mini madeline cookies
15 marshmallows
1 lb of milk chocolate
1 lb of white chocolate
1 lb of dark chocolate
---
Tools
Plastic bottles
Paper towel rolls
Tape
Golden paper
Double-sided tape
Plastic wrap
Cardboard
Glue
Spring-form pan
---
Step 1/4
Cut off the bottoms of 4 plastic bottles and remove a 3 cm wide strip from the sides of 3 of them. Glue the 2 rolls of paper towels together lengthwise. Wrap the rolls with gold paper and secure with double-sided tape. Wrap one end of the roll with plastic wrap.
Step 2/4
Cover a cardboard disc with golden paper using glue to secure. Remove a disc the same size as the paper towel roll in the center of the disc. Place the disc in the center of the roll and glue the 3 notched bottle ends upside down. Glue the last bottle end upside down to the end of the roll without any plastic wrap.
Step 3/4
Mix the sugar, eggs, yogurt, vegetable oil, flour and baking powder and pour into the spring-form pan. Bake for 25 minutes at 350 °F. When the cake comes out of the oven, and has cooled, place the film-covered end of the roll in the center of the cake.
Step 4/4
Top the cake with sliced bananas, raspberries, mini madeleines, and marshmallows. Pour the melted milk chocolate over the fountain, then the melted white and dark chocolate. Enjoy.
Similar recipes from Chefclub
-
Our other recipes