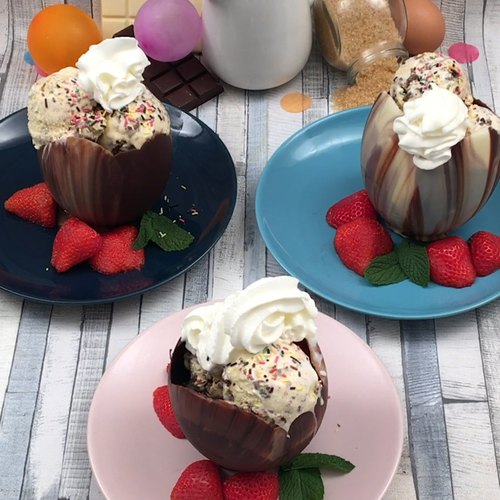 Lava Cake Ice Cream
You're going to melt for this.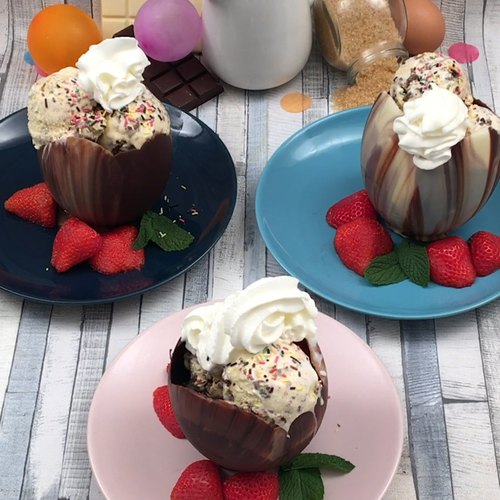 ---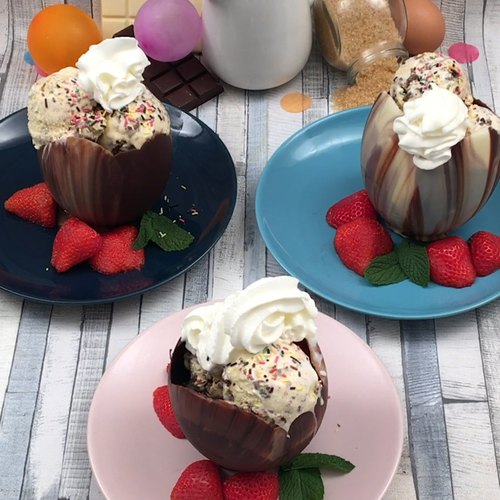 ---
Ingredients for 6 people
7 oz of milk chocolate, melted
14 oz of dark chocolate, melted
7 oz of white chocolate, melted
3 eggs
1/2 cup of sugar
3 1/2 tbsp of butter, melted
1/2 cup of flour
1 qt heavy cream
1 1/2 tbsp of condensed milk
1 vanilla bean
multicolored sprinkles
whipped cream
---
Tools
Balloons
Salad bowl
Parchment paper
Cake pans
Ice cream scoop
---
Step 1/4
Pour the milk, white, and half the dark chocolates into a bowl without mixing. Inflate the balloons, dip the bottom in the melted chocolate, and place them on parchment paper. Refrigerate for 15 minutes. Remove from the refrigerator and puncture the balloons to make chocolate cups.
Step 2/4
Mix the eggs, sugar, remaining melted dark chocolate, melted butter, and flour and pour this mixture into one of the cake pans. Bake for 10 minutes at 350 °F.
Step 3/4
Whip the heavy cream into a whipped cream, then add the condensed milk, and scraped vanilla bean. Crumble the half-baked cake and mix it with the whipped cream. Place the mixture in the second cake pan and freeze for 2 hours.
Step 4/4
Remove from the freezer, scoop with the ice cream scoop, and place them in the chocolate cups. Sprinkle with multicolored sprinkles, add whipped cream, and enjoy!