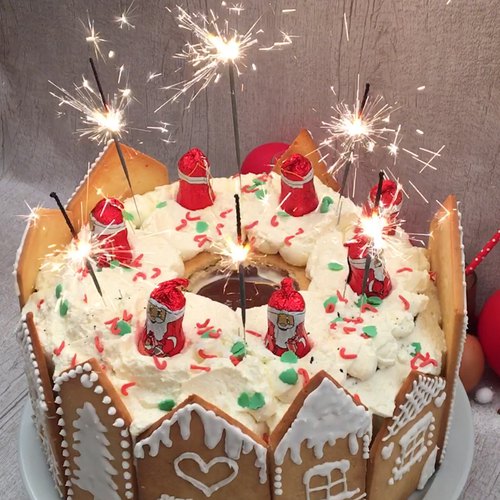 "Surprise Me" Cake
With a holiday twist! 🎉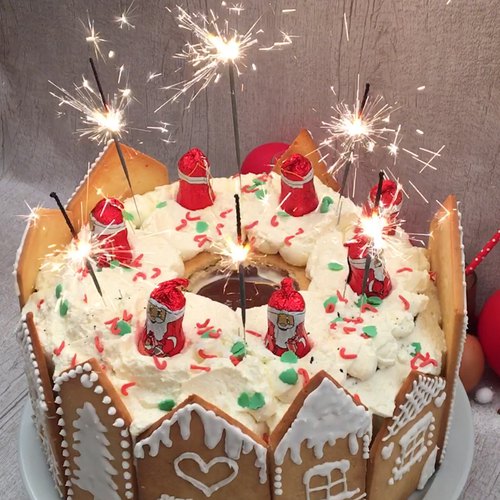 ---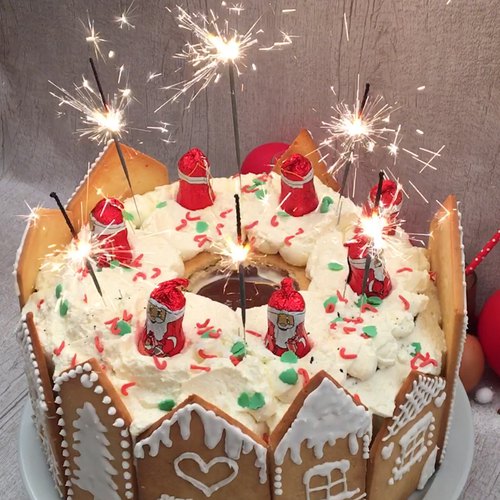 ---
Ingredients for 6 people
3 sheets of shortbread dough
whipped cream
santa chocolates
sprinkles
2 layers of cake
2/3 cup of dark chocolate, melted
2/3 cup of white chocolate, melted
---
Tools
Plastic bottles
Wine corks
Money
Tape
Candles
Piping bag
Glass
---
Step 1/4
Cut the top and bottom off of the plastic bottles and cut these cylinders vertically into 3 pieces. Roll and tape the pieces, creating 7 tubes, and set 1 tube aside. Cut 6 corks in half and insert a cork piece into the end of the 6 plastic tubes. Add money and seal the tubes with the other cork halves. Then, insert a candle into one end of each tube.
Step 2/4
Cut 4 house shapes from each sheet of shortbread dough and bake for 15 minutes at 350 °F. Remove from the oven. Use a piping bag filled with melted white chocolate to decorate the house pieces.
Step 3/4
Place a layer of cake on a cake plate. Use a glass to remove the center from the other cake layer, and place it on top of the first layer. Use the seventh plastic tube to remove 6 cylinders of cake from the top layer. Insert the 6 sealed plastic tubes with the candle side up.
Step 4/4
Cover the cake with whipped cream and stick the house pieces around the side. Decorate the top with Santa chocolates and sprinkles. Fill the center hole with melted dark and white chocolate. Light the candles, slice, and enjoy!