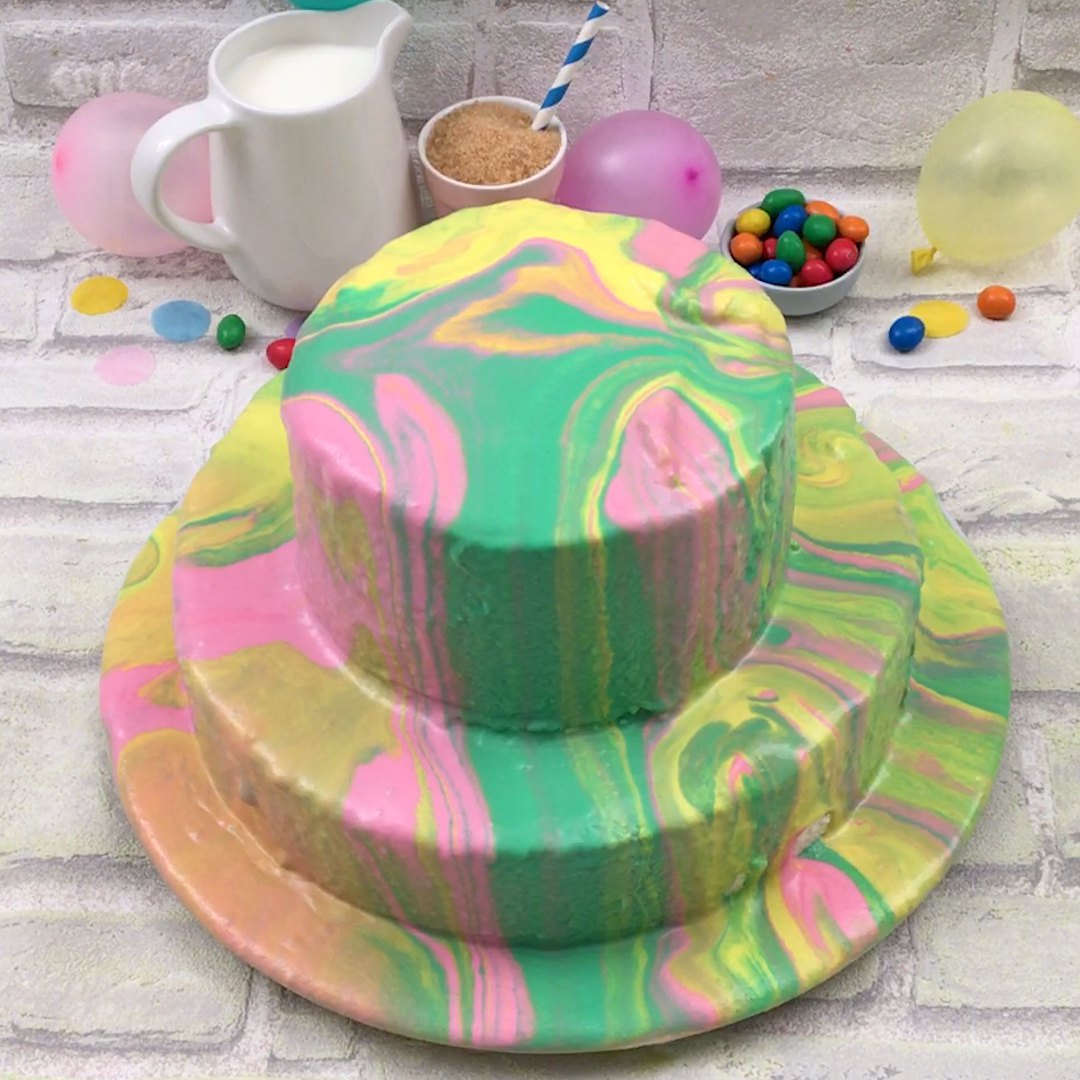 Color Explosion Cake
Slice to reveal a rainbow of sweet surprises! 🌈😄
Total time: 45 minutes
Ingredients for 8 people
2 3/4 cups sugar
14 eggs
4 3/4 cups flour
2 bags M&M's ®
1 bag Skittles ®
1 qt heavy cream
2/3 cup powdered sugar
Whipped cream
Food coloring
---
Tools
1 plastic bottle
1 electric hand mixer
2 springform pans (1 small & 1 large)
1 glass
---
Step 1/4
Cut the top and bottom off of the plastic bottle to make a long cylinder.
Step 2/4
Whisk 1 3/4 cups of sugar with 8 eggs, then add 3 cups of flour and pour this mixture into the large springform pan. Bake for 40 minutes at 350 °F. Do the same with the rest of the eggs, sugar and flour and pour into the small pan. Bake for 30 minutes at 350 °F.
Step 3/4
Demold the large cake, flip it over and dig a hole out of the center with the glass. Demold the small cake, flip it over and place it on top of the large one. Use the glass to make a hole in the center of the cake to extend the hole in the large cake. Pour the M&M's ® and Skittles ® into the hole, seal the hole with cake and ice the cakes with whipped cream.
Step 4/4
Whip 1/3 of the heavy cream and icing sugar with the red food coloring agent. Do the same with the green and yellow food coloring. Place the bottle cylinder on the cake, pushing it slightly into the hole, and fill with the 3 colored whipped creams at the same time. Remove the bottle to cover the cake and enjoy!