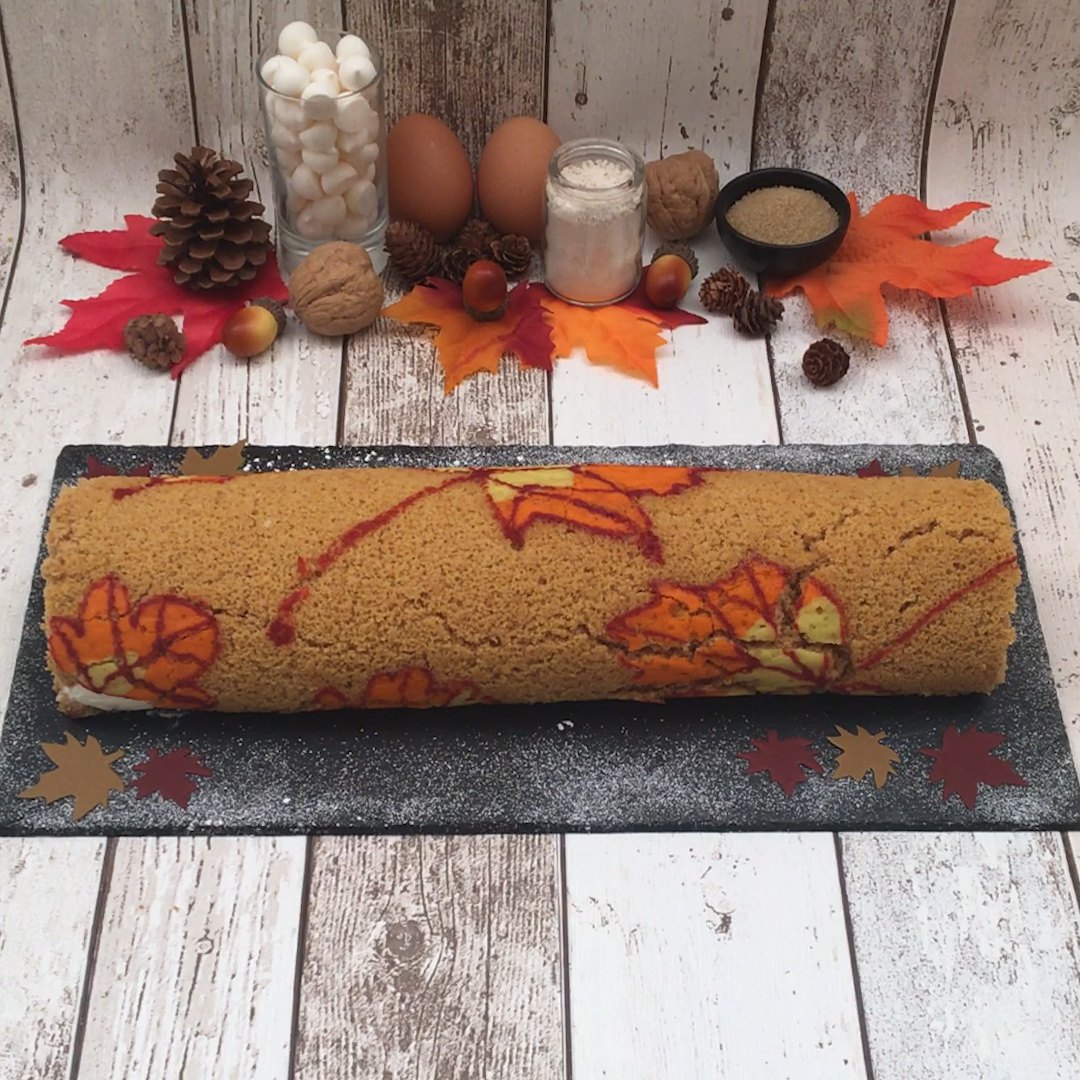 Fall Foliage Roll
Fall Foliage Roll!
Total time: 35 minutes
Ingredients for 6 people
1 cup butter, creamed
1 egg white
1 1/4 sugar, divided
1 2/3 cup flour, divided
Orange, yellow, & brown food coloring
6 eggs
2/3 cup chestnut flour
1 vanilla bean
1 cups whipped cream
Candied chestnuts
Meringue
---
Tools
Fall leaves
Parchment paper
3 small piping bags
1 electric hand mixer
---
Step 1/3
Arrange the leaves on a table and lay a sheet of parchment paper on top. Mix the egg white with the creamed butter, and add 6 1/3 tbsp sugar and 2/3 cup flour. Divide the mixture in 3 and add a food coloring to each part.Fill 3 piping bags with the batters. With the brown batter, draw the outline of the leaves and their grooves on the baking paper. Color the inside of the leaves with the other 2 colors, yellow in the middle and orange near the edges. Freeze for 30 minutes.
Step 2/3
Mix the eggs with 1 cup of sugar and whisk with an electric whisk until the mixture lightens in color. Add the chestnut flour and the rest of the flour while stirring. Place the baking paper with the drawn leaves on a baking tray and pour the batter overtop to form a large rectangular cake. Bake for 15 minutes at 350 °F.
Step 3/3
Whip the remaining sugar, the seed of the vanilla bean, and the whipping cream until smooth. Cover the slightly cooled cake with the whipped cream. Sprinkle with the crumbled chestnuts and meringue and roll into a log using the parchment paper. Slice and enjoy!