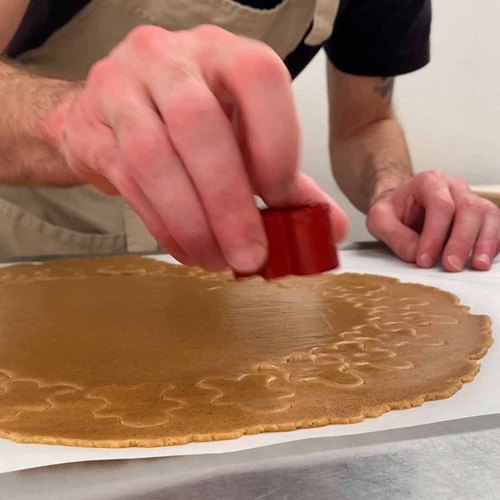 Surprise Melting Snowman Cake
Bursting with holiday spirit! 🎂☃️❄️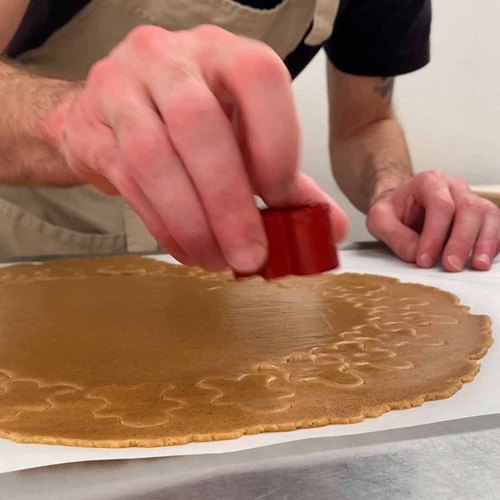 ---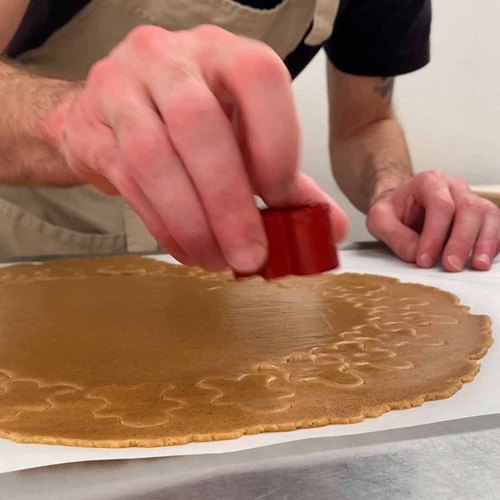 ---
Ingredients for 8 people
vanilla boxed cake mix, prepared
vanilla buttercream
2/3 cup of butter
3/4 cup of raw can sugar
1 tsp of baking soda
2/3 cup of brown sugar
1 tsp of vanilla extract
1/2 tsp of salt
egg
1/2 tbsp of ground cinnamon
1 tsp of ground nutmeg
1 tsp of ground ginger
1 tsp of grund cloves
melted white chocolate
orange food coloring
milk chocolate
toothpick
1/2 cup of heavy whipping cream
1 1/2 cups of white chocolate
---
Tools
Cake pans
Parchment paper
Rolling pin
Mini gingerbread man cookie cutter
Small metal bowl
---
Step 1/5
Divide the cake mix batter into three round cake pans. Bake according to package instructions. When baked and cooled, frost and stack each layer. Surround the entire cake with buttercream. Let chill.
Step 2/5
Use a mixer to mix the butter with the cane sugar. Add brown sugar, vanilla, and salt, followed by baking soda, flour, and spices. Use hands if needed to mix the dough. Roll out the dough between two pieces of parchment paper. Use the cookie cutter to cut out mini gingerbread men. Place on a lined baking sheet and bake for 10 minutes at 350 °F.
Step 3/5
Coat the inside of a metal bowl with melted white chocolate and pour out any excess. Chill until solid. Fold a piece of parchment paper into a cone and fill with orange white chocolate. Chill until solid. When the gingerbread men are baked and cool, use melted white chocolate to draw a face and buttons. Draw 9 circles with melted milk chocolate on parchment paper making sure that 5 are slightly smaller than the others. When solid, use a toothpick to carve buttonholes in two of the large circles.
Step 4/5
Place the gingerbread men standing up on top of the cake. Remove the white chocolate dome from the bowl and place it upside down covering the gingerbread men. Use melted white chocolate to glue the milk chocolate buttons on the cake and the remaining circles on the done to create eyes and a mouth. Use the melted milk chocolate to attach the orange cone to be the nose.
Step 5/5
Bring the heavy whipping cream to a boil and pour over the white chocolate. Mix to make a white chocolate sauce. Pour the sauce over the dome to melt the snowman and reveal the gingerbread men. Enjoy!