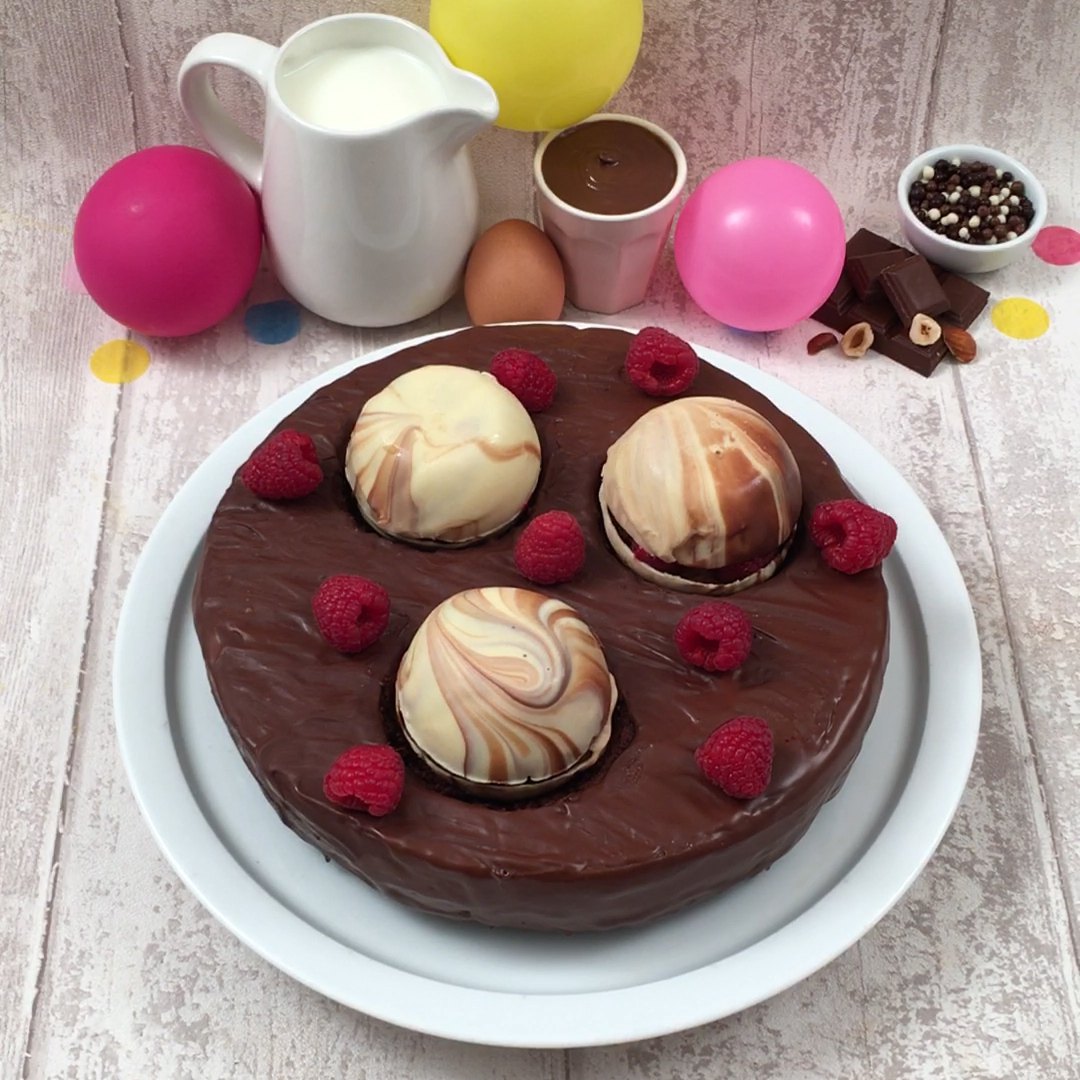 Chocolate Mousse Cake
The mousse is playing hide-and-seak... but not for long!
Total time: 40 minutes
Ingredients for 8 people
1 1/4 cups white chocolate
1/3 cup milk chocolate
27 rasberries
1 container chocolate mousse
3 3/4 cups dark chocolate
1 1/3 cups butter
6 eggs
1 cup sugar
3/4 cup flour
Caramel sauce
---
Tools
6 small bowls
6 small spoons
1 springform cake pan
---
Step 1/4
Fill the bowls with water and place a spoon in each. Place bowls in freezer until water is fully frozen.
Step 2/4
Melt the white chocolate. Pour swirls of melted milk chocolate into the white chocolate to create a pattern. Remove the ice from the bowls and dip the domed side into the melted chocolate. Let the chocolate harden and remove the ice from the 6 chocolate domes. Fill 3 of the chocolate domes with Michel et Augustin ® Incredible dark chocolate mousse and top with 6 raspberries.
Step 3/4
Melt 2 1/2 cups of the dark chocolate with the butter. Whisk together the sugar, eggs and flour. Add the melted chocolate to the mixture. Wrap 3 bowls with aluminum foil and place them upside down in the springform pan. Pour the batter into the pan and bake for 20 minutes at 350°F.
Step 4/4
When the cake comes out of the oven, turn it upside down and separate the springform pan. Remove the bowls and cover the cake with the remaining melted dark chocolate. Place the chocolate domes filled with mousse in the holes left by the bowls and cover them with the remaining 3 chocolate domes. Drizzle the cake with caramel sauce, decorate with the remaining raspberries and crumbled chocolate, and enjoy.