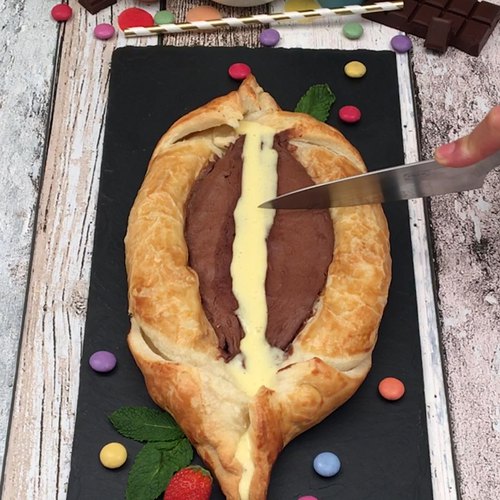 Sexy Chocolate Cake
Have you seen a more a-peeling dessert? 🍌🍫🍌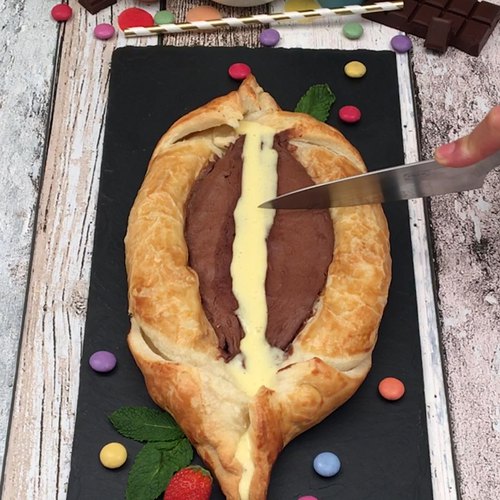 ---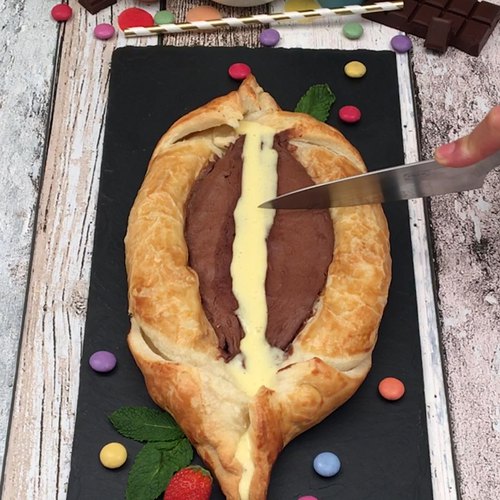 ---
Ingredients for 4 people
1 puff pastry
2 bananas
5 1/3 oz of dark chocolate
1 cup of flour
3 eggs
2 1/3 tbsp of sugar
2 1/2 tbsp of butter, metled
1/2 cup of custard
---
Tools
Aluminum foil
Baking tray
Parchment paper
---
Step 1/4
Place the bananas face to face in the center of the puff pastry so that they form an oval. Roll the edges of the puff pastry over the bananas to fit their shape.
Step 2/4
Form a rigid rectangle the length of the space between the bananas with aluminum foil and place it upright between the bananas to form 2 compartments.
Step 3/4
Mix the melted chocolate, flour, eggs, sugar, and 1 3/4 tbsp of melted butter and divide this mixture between the 2 compartments. Brush the dough with the remaining melted butter, place the cake on the baking tray lined with parchment paper and bake at 350 °F for 25 minutes.
Step 4/4
When baked, remove the aluminum foil and pour the custard into the slot. Cut into pieces and enjoy!