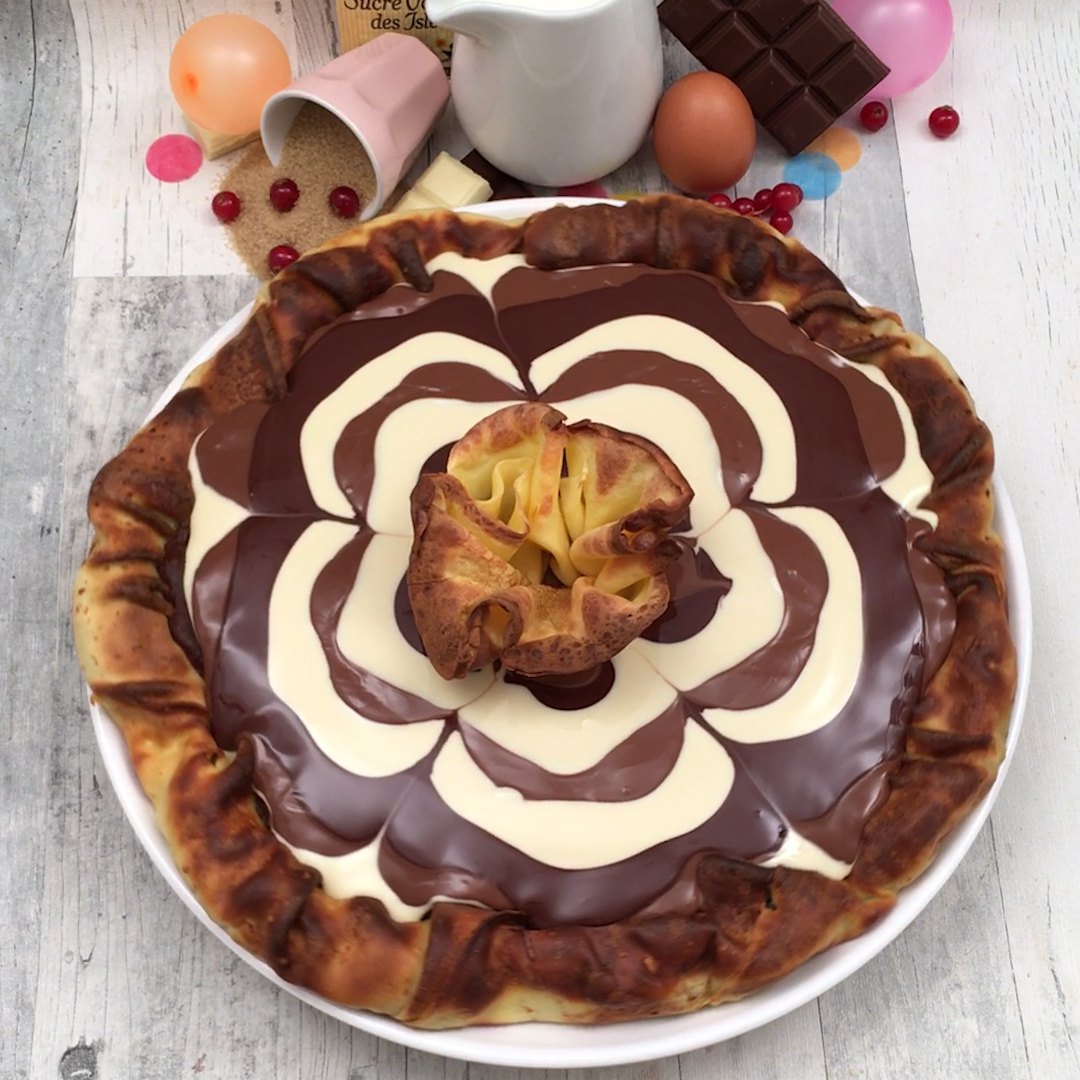 A Very Moist French Crepe Cake
Chocolate and banana for president!
Total time: 40 minutes
Ingredients for 6 people
9 eggs
2 packets vanilla sugar
2 3/4 cups flour
2 cups milk
5 bananas
1 1/4 cups sugar
1 cup butter
3 3/4 cups dark chocolate
2 1/3 tsp baking powder
1 1/4 cups white chocolate
1 1/4 cups milk chocolate
---
Tools
1 empty plastic bottle
1 ramekin
---
Step 1/3
Beat 4 eggs with vanilla sugar and 2 cups of flour. Add milk and mix to make a crepe batter and cook 9 crepes. Arrange 7 crepes, overlapping them, to form a large circle. Place the bananas in a circle on the circle of crepes and fold the edge of the crepes over the bananas to form a rim.
Step 2/3
Whisk together the remaining eggs, sugar, melted butter, 2 1/2 cups melted dark chocolate, baking powder and remaining flour. Place 1 extra crepe in the center of the banana circle and pour the cake batter into it. Bake for 25 minutes at 350 °F.
Step 3/3
Cut off the bottom of the plastic bottle. Place the remaining crepe in the ramekin forming a flower like shape and bake for 15 minutes at 350 °F. Remove the crepe cake from the oven and place the bottom of the bottle upside down in the center. Pour the melted white chocolate, melted milk chocolate, and melted dark chocolate over the bottle. Repeat a second time to make a flower pattern. Remove the bottom of the bottle and replace it with the baked crepe. Slice and enjoy!