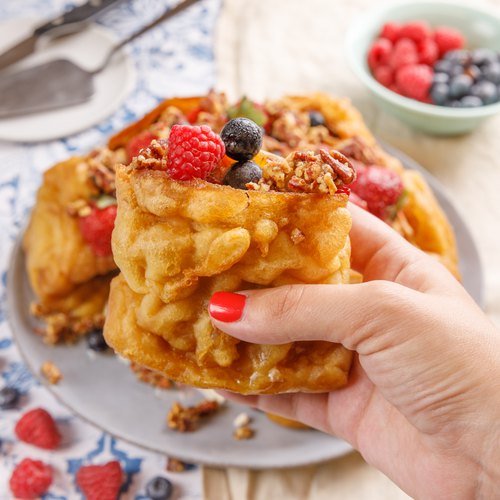 Fried Banana Pancake Pockets
America's favorite breakfast, on the go 🥞🍌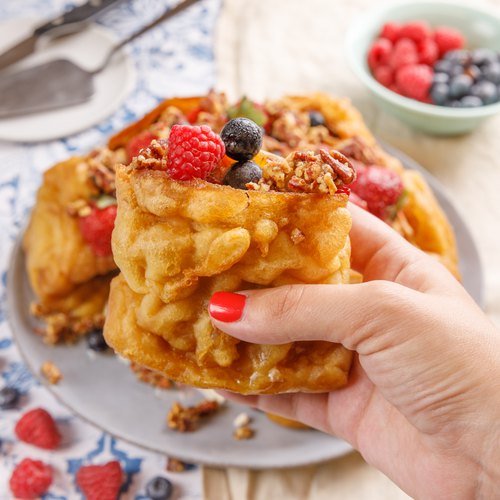 ---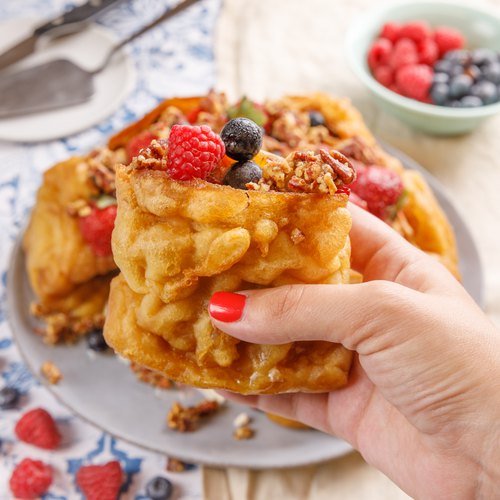 ---
Total time: 55 minutes
Prep time: 20 minutes, Cook time: 25 minutes, Rest time: 10 minutes
Ingredients for 4 people
1 cup of flour
2 tsp of baking powder
1/3 cup + 1 tbsp sugar
1/4 tsp of salt
2 eggs
1 1/3 cups of milk
5 tbsp of butter
1 tsp of vanilla extract
3 bananas
1/2 cup of pecans
1/4 tsp of cinnamon
1 cup of white chocolate
1 cup of peanut butter
1/4 cup of strawberry jam
1 cup of strawberries
1/2 cup of blueberries
whipped cream
maple syrup
sunflower oil
---
Tools
Square baking dishes
Metal spatula
Whisk
Plastic bag
Paper towels
---
Step 1/3
Prepare the pancake batter by mixing the flour, baking powder, sugar, salt, eggs, milk, 4 tbsp melted butter, and vanilla extract in a bowl. Place 3 bananas and the pecans on a baking sheet and bake for 10 minutes at 350 °F. Meanwhile, begin making the pancake pockets by dipping the metal spatula into the hot oil and patting try with a towel. Dip into the pancake batter, then fry in the oil once light brown. Dip in the batter and fry a second time, then set aside on a plate (repeat a third time if necessary). Continue until all of the batter is gone.
Step 2/3
Remove the peels from the roasted bananas, mash them, and place them in a bag. Toss the roasted pecans in 1 tbsp melted butter, 1 tbsp sugar, and cinnamon. Set aside for later. Next, prepare a square baking dish with boiling hot water and place a second dish on top with the white chocolate. Stir with a whisk until completely melted, drizzle melted peanut butter on top followed by strawberry jam, and mix with a skewer as seen in the video. Garnish with 1/4 cup blueberries and 1/2 cup chopped strawberries and let chill in the fridge for 10 minutes.
Step 3/3
Remove the chocolate from the fridge and cut into 9 squares. Cut off the bottom corner of the bag of banana mash and pipe into the pancake pockets, then add 1 square of white chocolate into each pocket. Serve with whipped cream, the candied pecans, and remaining berries. Enjoy!