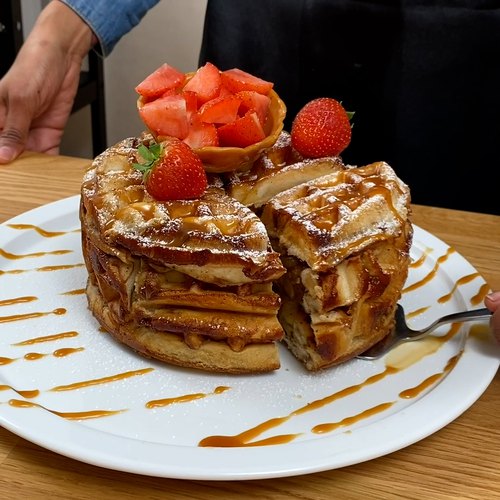 Cinnamon Roll Waffles
Stuffed with apple pie filling!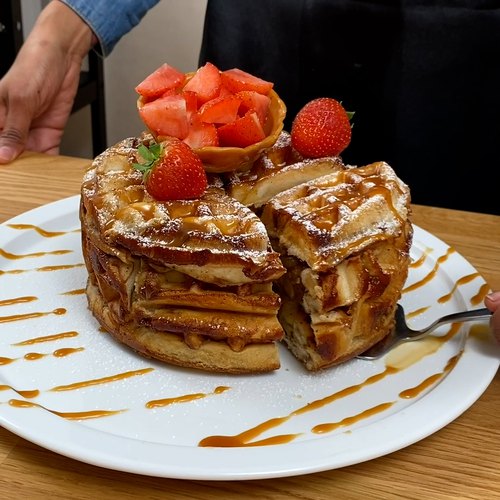 ---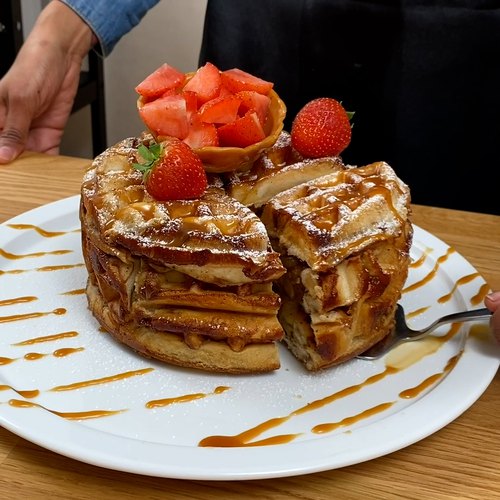 ---
Ingredients for 4 people
3 granny smith apples
1/2 cup of sugar
2 tbsp of cinnamon
2 tsp of nutmeg
2 tbsp of lemon juice
8 werther's original hard caramels
cooking spray
12 unbaked cinnamon rolls
strawberries
powdered sugar
caramel sauce
---
Tools
Nonstick silicone baking mat
Waffle iron
Springform pan
---
Step 1/4
Make apple pie filling by cooking the peeled and diced apples, lemon juice, sugar, nutmeg, and cinnamon until the apples are soft. Set aside.
Step 2/4
Optional: Place 8 Werther's Original Hard Caramels in the shape of a flower on a nonstick silicone baking mat. Bake in the oven for 5 minutes at 350 °F. Remove from the oven and carefully mold the caramel to the shape of a small bowl as seen in the video. Trim away any uneven edges before the caramel hardens. Set aside.
Step 3/4
Heat the waffle iron and coat with cooking spray. Place a cinnamon roll in each section of the iron and cook until done. Repeat 2 more times. Place a waffle in the bottom of the springform pan. Cut another waffle into strips to make a ring inside of the pan. Fill with apple pie mixture. Place another waffle on top and press firmly. Bake for 10 minutes at 350 °F. Let cool.
Step 4/4
Remove the waffle cake from the springform pan and garnish with the caramel bowl, strawberries, powdered sugar, and caramel sauce. Serve and enjoy!