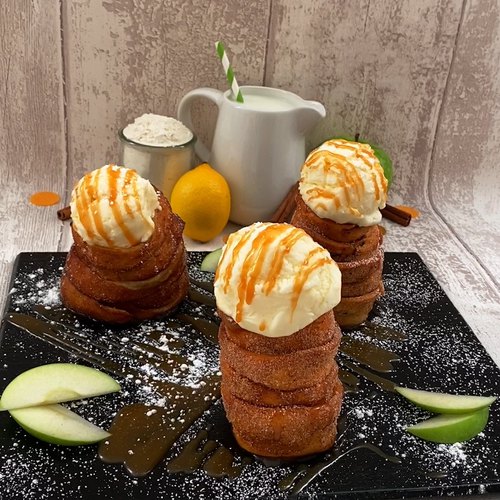 Pie Cones
This is what decadence looks like!!! 🥧🍦🍏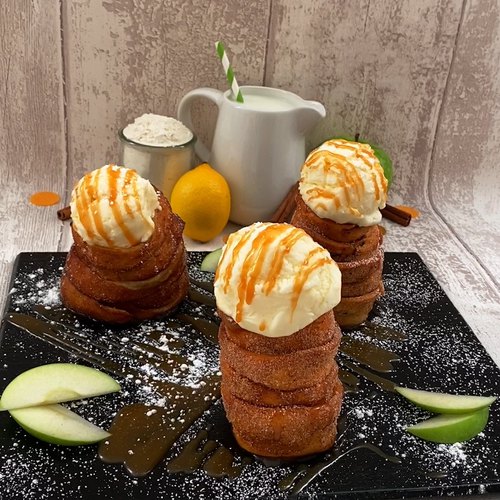 ---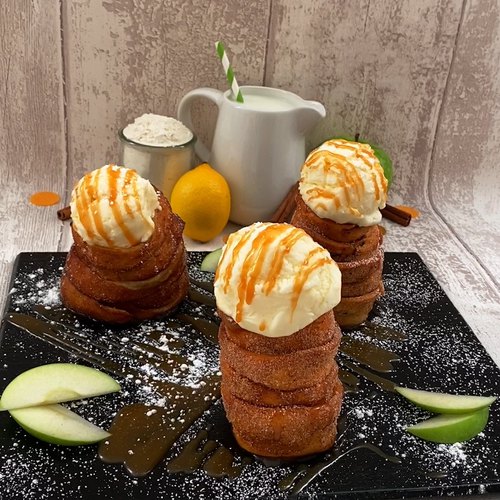 ---
Ingredients for 4 people
4 granny smith apples
raw cinnamon rolls
1 tbsp of ground cinnamon
3 tbsp of lemon juice
1/2 cup of sugar
1/2 tsp of cornstarch
vegetable oil
vanilla ice cream
caramel sauce
---
Tools
Champagne flutes
Cooking spray
---
Step 1/3
Spray champagne flutes with cooking spray. Set aside. Unravel the cinnamon rolls and wrap one around each flute. Freeze until solid.
Step 2/3
Peel, core, and cut the apples into small pieces. Make the apple pie filling by cooking the apples, 2 tbsp lemon juice, and 1/4 cup of sugar. When the apples are tender, mix cornstarch with 1 tbsp of lemon juice in a small bowl until smooth. Pour into the apples and cook until thickened. Let cool.
Step 3/3
Mix 1/4 cup of sugar and 1 tablespoon of cinnamon together. Set aside. Unmold the cinnamon rolls and fry in hot oil until golden brown. Roll in cinnamon sugar mixture while still warm. Place on a serving tray and fill with the apple filling. Top with a scoop ice cream and a drizzle of caramel sauce. Enjoy!