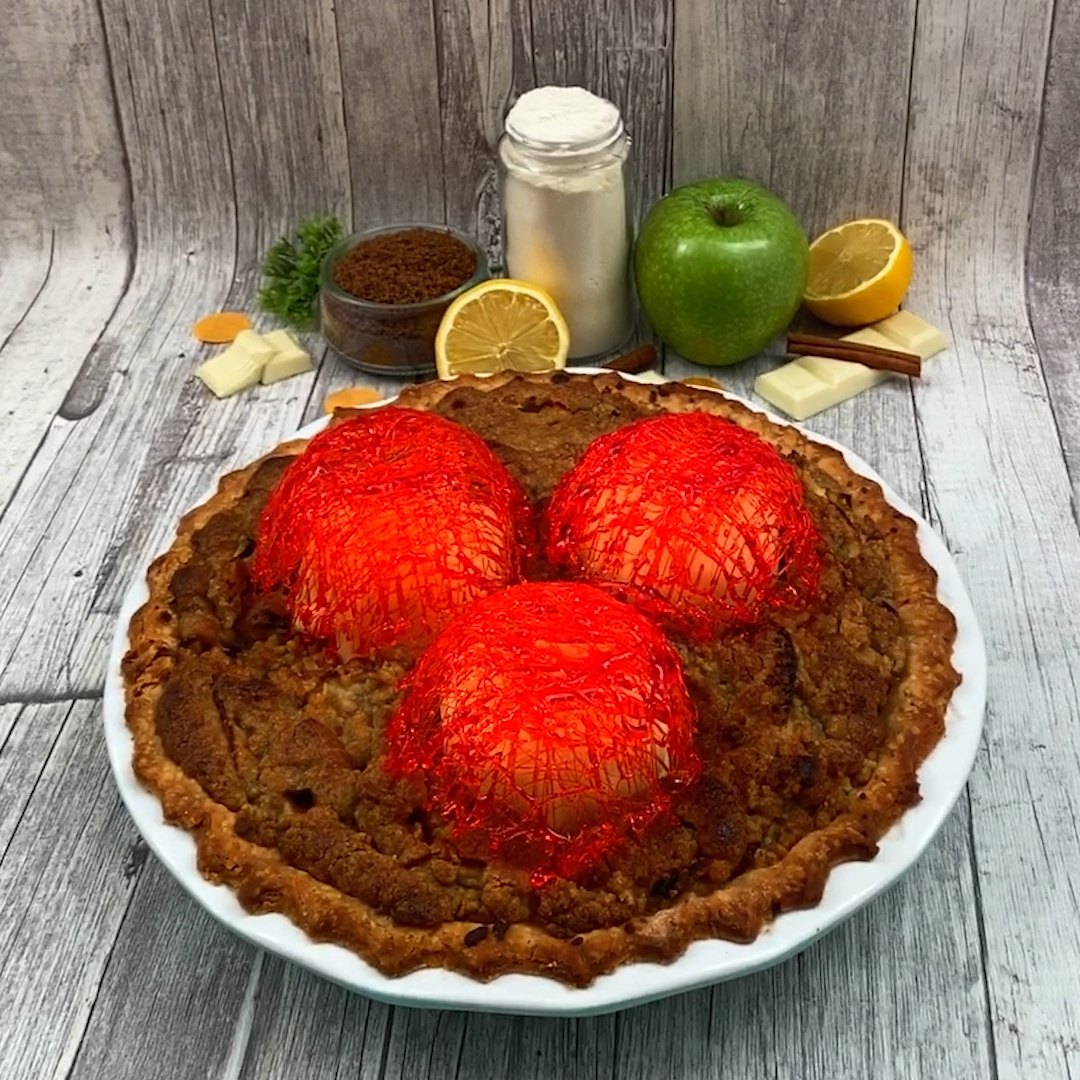 Candy Apple Pie
With a hidden ice cream surprise! 🍎🍦⭐️
Total time: 60 minutes
Ingredients for 8 people
Chefclub vanilla ice cream
Caramel sauce
Pie dough
7 Granny Smith apples, peeled and sliced.
3 cups plus 1/2 cup sugar, divided
1 cup plus 1/4 cup flour, divided
1 tsp ground cinnamon
1/2 lemon, juiced
3/4 cup brown sugar
1 cup water
1/2 cup corn syrup
Red food coloring
Melted white chocolate
---
Tools
2 small plastic soda bottles
Pie plate
3 small glass jars
3 small glass bowls
Parchment paper
Skewers
---
Step 1/5
Cut off the bottom off of the plastic bottles. Fill the bottle bottoms with ice cream ensuring that the tops are smooth. Using the top portion of the bottle with the cap still on, press into the centers of the ice cream creating a crater. Fill each crater with caramel sauce. Freeze to set. When the caramel has set, remove the ice cream from the mold and place on the upside down on the other to form an apple. Fill in the sides with more ice cream, then freeze to set.
Step 2/5
Place pie dough into a pie plate. Place your thumb and index finger on the edge of the pie dough. Use the thumb on the other hand to push the dough towards the pinched fingers ultimately creating a crust design. Place three small jars on the pie dough. Mix together the apple slices, 1/4 cup of sugar, flour, cinnamon, and lemon juice. Layer the apple mixture around the small jar in the pie dough.
Step 3/5
With your hands, mix together butter, 1 cup of flour, and brown sugar until a crumble forms. Sprinkle over apples. Bake for 50 minutes at 350 °F. Once cooled. remove glass jars.
Step 4/5
In a small saucepan over medium heat, mix together water, 3 cups of sugar, and the corn syrup. When the syrup turns golden brown, stir in red food coloring. Place three bowls upside down on parchment paper. Drizzle the red caramel generously over the bowls. Let harden.
Step 5/5
Poke a skewer into the top of the ice cream apple then dip it entirely into white chocolate. Place the ice cream apples into the spaces left by the jars in the apple pie. Cover the apples with caramel domes. Enjoy!