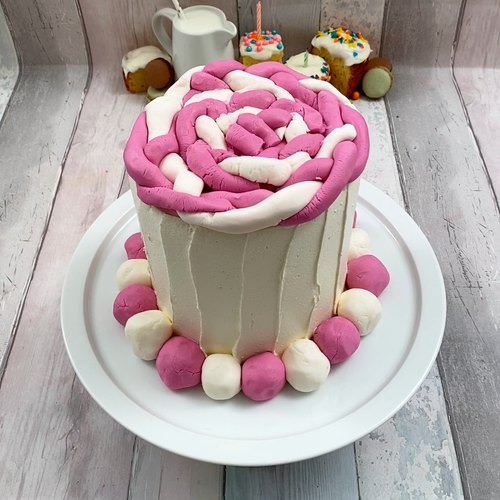 No-Skills-Needed Cake Decorating
Easy ideas for the cake artist in us all! 🎂😁🎨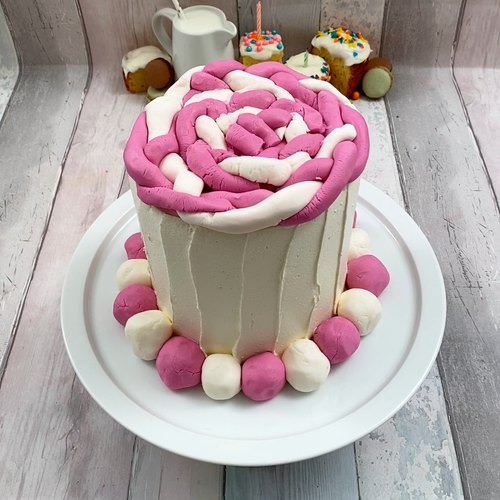 ---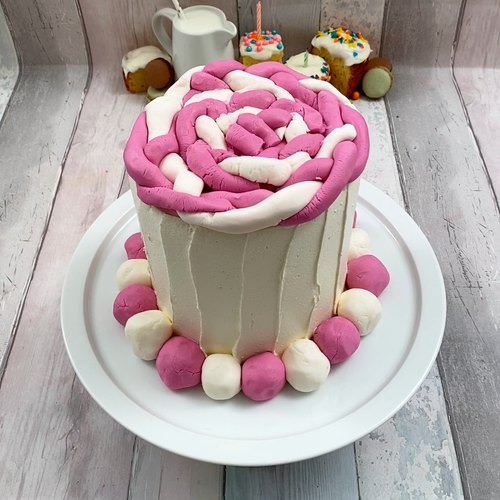 ---
Ingredients for 8 people
vanilla frosting
food coloring
vanilla buttercream
ice water
2 cups of melted white chocolate
3 cups of sugar
1 1/4 cups of water
1 cup of corn syrup
mint leaf
chocolate pocky stick
candy melts
4 1/2 cups of powder sugar
---
Tools
Serrated knife
Small spray bottles
Frosting spatula
Piping bags
Forks
Wooden spoons
Plastic wrap
Baking dish
Potato peeler
Hair dryer
---
Step 1/6
COLOR-CHANGING CAKE- Frost a sheet cake. Using a serrated knife, make deep grooves on the frosting by sliding the knife across the surface. Set aside. Take two small spray bottles and place a few drops of blue coloring in one and pink in the other one. Fill with water and shake. Spray the cake in one direction with blue, turn the cake and spray pink in the other direction.
Step 2/6
CANDY APPLE CAKE- In a saucepan, bring to a boil 1 1/4 cup of water, 3 cups of sugar, and the corn syrup. When the syrup reaches 225 ° F. Add red food coloring. Boil until it reaches 300° F. Grease the handles of two wooded spoons and place the handles hanging over the edge of the counter. Using a fork, create sugar strands by waving the forkful of caramel back and forth over the handles. Repeat until you have enough strands to cover the cake. Wrap the strands around a frosted cake. Garnish with fresh mint and a Pocky stick to resemble an apple.
Step 3/6
NO TIP PEONY- Color two portions of buttercream two different shades of pink. Fill a piping bag with both colors and a layer of white buttercream. Cut the tip of the bag on the diagonal and, starting at the edge of the cake, pipe around in a spiral to form a flower. Pipe a few small green leaves. Fill in the center of the cake with brown M&M candy.
Step 4/6
DRIPPY CAKE- Melt three different colored candy melts. Line a baking dish with plastic wrap. Pour the first color in the dish and freeze to set. Followed with the second and third color. After the candy melts are solid, shave the chocolate on top of a frosted cake. Melt with the hairdryer to create a drip effect. Garnish with macarons.
Step 5/6
RAINBOW BIRTHDAY CAKE- Frost a cake with vanilla frosting. Color a small amount of buttercream in each color of the rainbow. Place a small amount of each color on a frosting spatula. Drag the spatula across the surface of the cake in a semi-circle so that it resembles a rainbow. Set aside. Prepare a bowl of ice water. Fill the piping bag with melted white chocolate. Pipe the chocolate into the ice water to form cloud shapes. Place the clouds at the ends of the rainbow. Garnish the base of the cake with sprinkles.
Step 6/6
CLASSY CAKE- Add food coloring to vanilla frosting. Gradually add 4 1/2 cups of powdered sugar to the frosting until it reaches a Play-doh like consistency. Set aside. Repeat a second time without food coloring. Roll three long logs and braid them together. Wrap the braid in a spiral on the top of a frosted cake. Make balls with the remaining dough and place in alternating colors around the base of the cake.