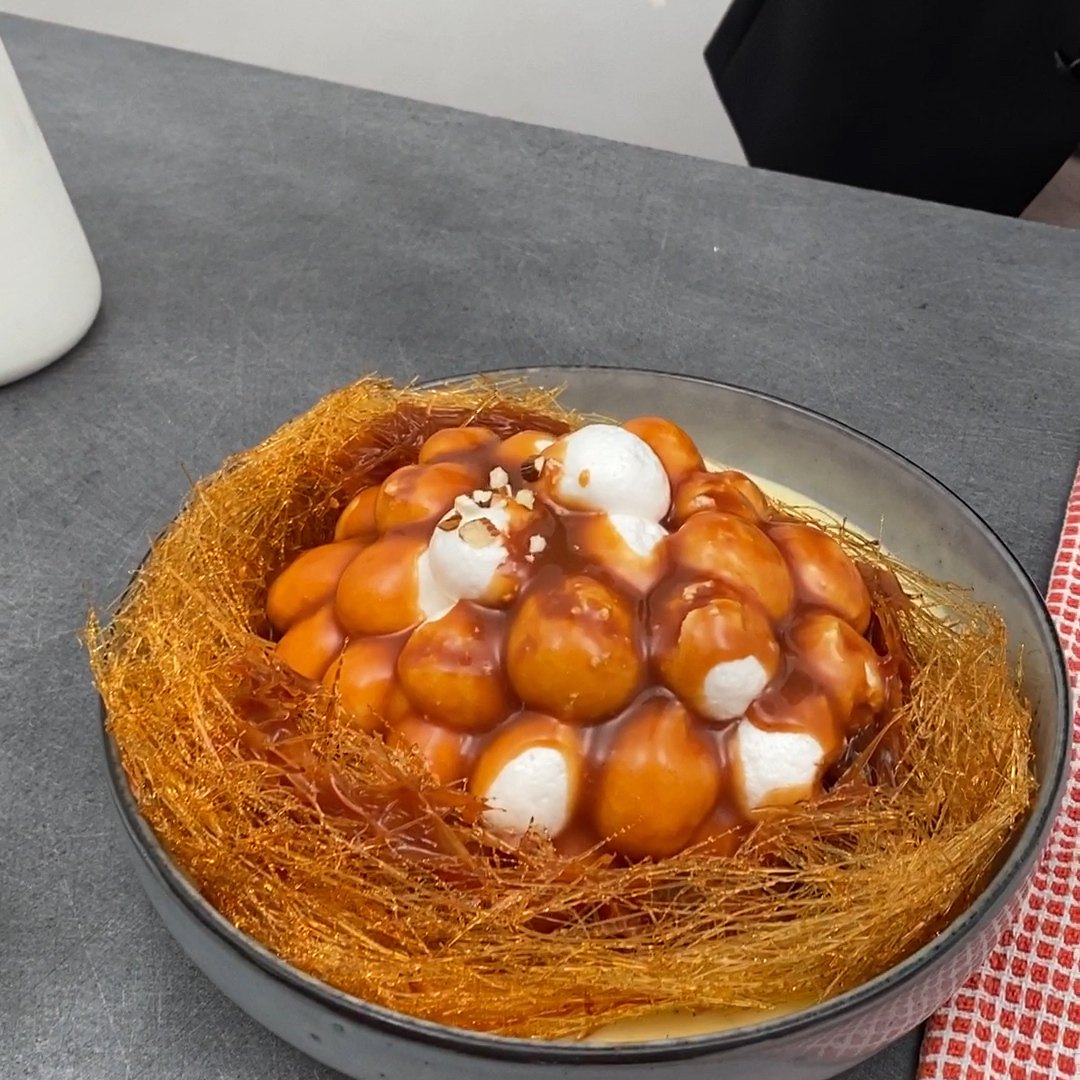 Floating Island Dessert
A cloud of sweetness!
Total time: 25 minutes
Ingredients for 4 people
1 cup water
4 eggs
1 3/4 cups sugar
4 1/8 cups milk
Vanilla bean
1/4 cup almonds
Caramel sauce
Ice
---
Tools
2 bowls
Ziplock bag
Parchment paper
Skewers
---
Step 1/5
Separate the whites from the yolks. Mix the yolks with 1/4 cup of sugar. Boil the milk with the scraped vanilla pod. Pour half of the milk into the egg yolk mixture, then pour this mixture into the milk pan. Cook the mixture over medium heat until the custard thickens.
Step 2/5
Fill one of the bowls with ice cubes and place the second bowl on top. Pour the cream into the second bowl through a sieve. Cover with plastic wrap and place in a cool place.
Step 3/5
Whisk the egg whites with 1/3 g of sugar. Form a nest shape on a plate with half of this mixture and then pour custard into the nest. Place the rest of the egg white mixture in the freezer bag and cut off 1 of the bottom corners to make a piping bag. Cover the nest with small snowballs using the bag. Place 1 minute in the microwave.
Step 4/5
Boil 1 cup of water with the remaining sugar until a brown caramel is obtained. Immerse the bottom of the pan in ice water. Place skewer in a drawer sticking out at the same height. Place parchment paper on the floor under the skewers. Dip the end of a fork into the caramel, then move it back and forth quickly it in very fine filaments over the skewers, moving from one to the other. Once a thick layer of filaments hangs between the spikes, gather them into a large nest.
Step 5/5
Place the floating island nest in the large caramel nest and serve with custard. Pour caramel sauce over it, sprinkle with crushed almonds, and enjoy!