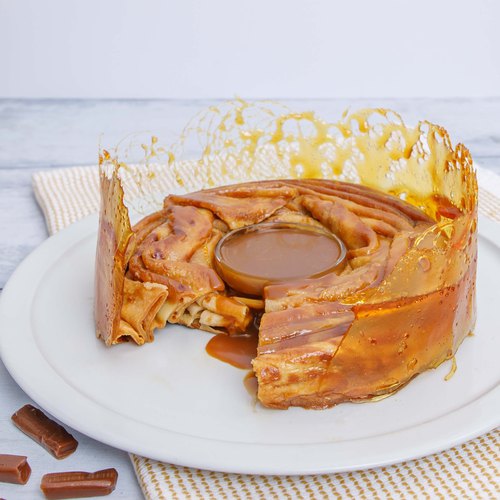 Caramel Pancake Cake
Caramel Pancake Cake! You'll flip for this delicious stack 😋🍰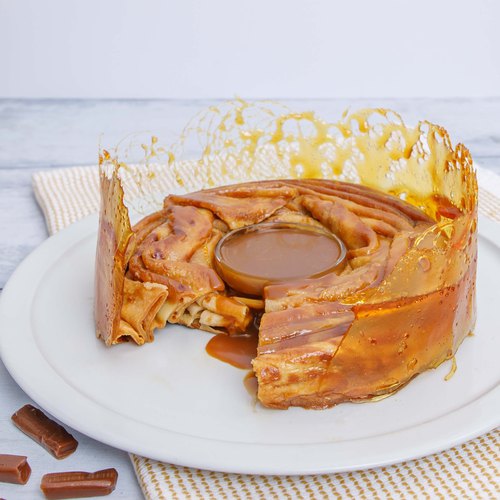 ---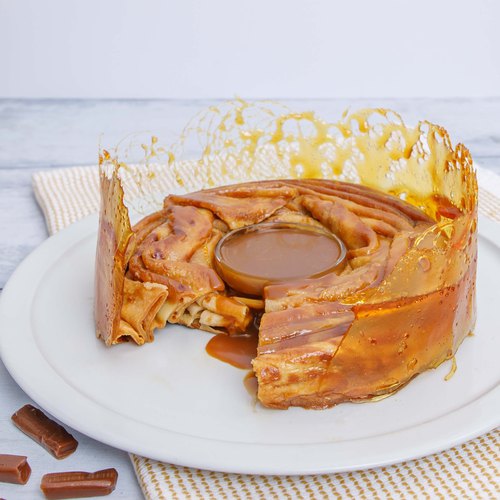 ---
Total time: 50 minutes
Prep time: 35 minutes, Cook time: 15 minutes
Ingredients for 5 people
3 4/5 cups of milk
8 egg
3 3/4 cups of sugar
3 cups of flour
1 1/2 tbsp of butter
2 tbsp of brown sugar
2 1/2 tbsp of salted caramel sauce
---
Tools
parchment paper
sauce bottles
---
Step 1/3
Mix 1.9 cups of milk, 4 eggs, 4 tbsp of sugar and 1½ cups of flour until you obtain a smooth pancake batter. Set aside. Melt 1 cup of sugar to obtain a caramel, add the rest of the milk and mix until you have a smooth batter. Add the remaining eggs and the rest of the flour to obtain a caramel pancake batter. Place the pancake batter and the caramel pancake batter in sauce bottles. Pour the 2 pancake batters at the same time into the pan, forming a spiral to give the pancakes a stripped effect. Cook 5 pancakes.
Step 2/3
Melt the rest of the sugar to make caramel. Place a dish upside down in the center of a Pyrex dish, pour some of the caramel into the bottom of the Pyrex dish. Fold the pancakes like a fan and place them around the dish. Cut the butter into pieces, sprinkle with brown sugar and place on the pancakes. Bake for 15 minutes at 320°F.
Step 3/3
Pour the rest of the caramel onto a strip of parchment paper through a slotted spoon to form a spiral pattern. Wrap the parchment paper with the caramel around a mold and let it cool. Unmold the crepe cake and place it upside down on the plate. Fill the cup in the center with the salted butter caramel and place the caramel crown around the cake. Serve and enjoy!