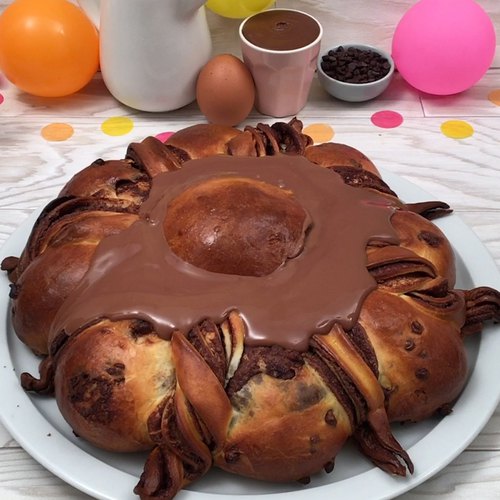 Extra Chocolate Bread
Extra Chocolate Bread! Melt for me 🍫🍞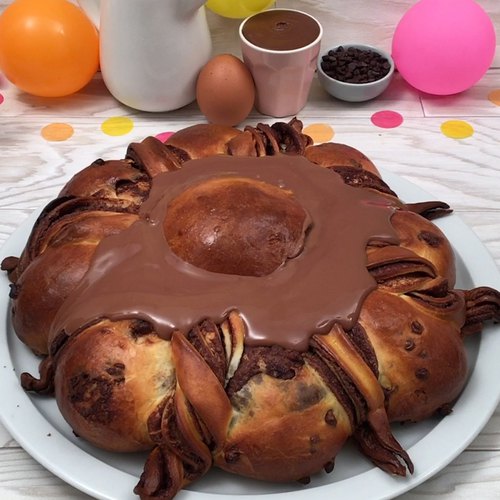 ---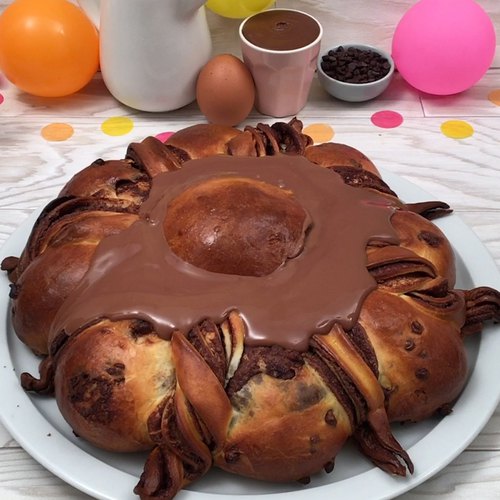 ---
Total time: 4 hours 40 minutes
Prep time: 10 minutes, Cook time: 45 minutes, Rest time: 3 hours 45 minutes
Ingredients for 8 people
4 3/4 cups of flour
6 egg
2 tsp of salt
4 tsp of yeast
0.4 cup of milk
1/2 cup of sugar
1 cup of butter
0.4 cup of chocolate hazelnut spread
1 1/4 cups of chocolate chips
3 1/2 oz of milk chocolate
1 scoop of vanilla ice cream
---
Tools
parchment paper
Rolling pin or metal rod
Ziplock bag
---
Step 1/5
Mix the flour, eggs, salt, yeast, sugar, milk in a bowl then add the butter. Cover with a tea towel then allow to rest for 3 hours in the fridge. Pour 6 tbsp of chocolate spread into a ziplock bag and cut off a lower corner to make a piping bag. Draw 8 small discs on a sheet of parchment paper then leave for 30 minutes in the freezer.
Step 2/5
Divide the dough into 3 balls of different sizes. Roll out the medium ball into 1 large rectangle then divide it into 3 widthwise. Spread the chocolate spread on 1 part then cover it with the 2nd part. Add the chocolate spread again and place the 3rd part on top. Place in the fridge for 15 minutes. Take out of the refrigerator, flatten the rectangle using the rolling pin then cut it into 12 triangles.Twist 2 by 2 together 8 of these triangles.
Step 3/5
Roll out the largest ball of dough into a large rectangle then sprinkle with chocolate chips. Integrate the chips into the dough by rolling the rolling pin over them. Roll into a large ball. Divide this ball into 8 small balls and insert one of the discs of chocolate spread from the freezer.
Step 4/5
On a baking tray lined with parchment paper, arrange the 8 balls around the last ball of dough. Place the triangles around the central ball, above the balls, the base towards the center, alternating twisted and flat. Leave to rise for 30 minutes in the oven at 100°F. Brush with egg yolk and bake for 45 minutes at 350°F.
Step 5/5
Cut off the top of the central ball and form a large hollow inside. Pour in the melted milk chocolate and place the scoop of vanilla ice cream on top. Close with the top of the ball to let the chocolate flow over. Serve and enjoy!