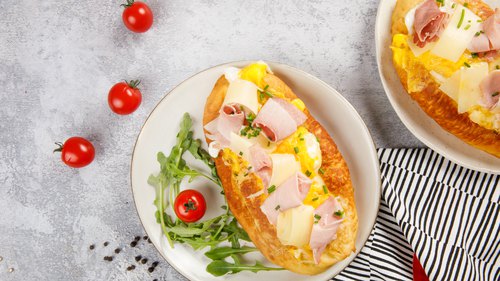 Aboarable Grilled Ham & Cheese
Aboarable Grilled Ham & Cheese! It's sow time with this new recipe 😎🐷🥪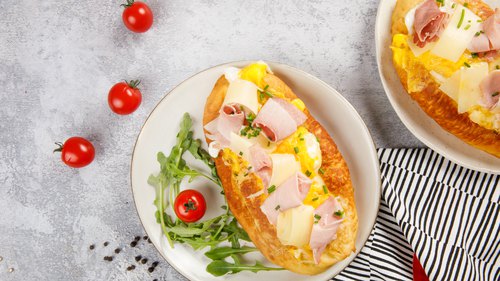 ---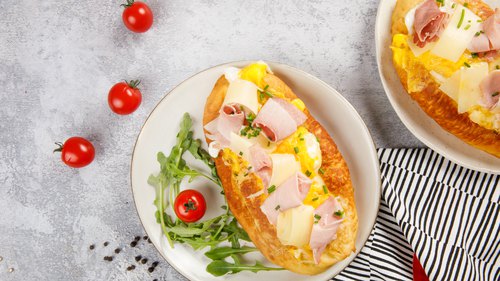 ---
Total time: 13 hours
Cook time: 30 minutes, Rest time: 12 hours 30 minutes
Ingredients for 6 people
4 3/4 cups of flour
9 3/4 cups of milk
3 tsp of yeast
8 egg
1/2 cup of sugar
1 tsp of salt
8 tbsp of butter
3/5 cup of comté cheese
5 oz of ham
3 zucchinis
Spices
Vegetable oil
---
Step 1/3
Mix the yeast with the slightly warmed milk. Add flour, sugar and salt. Knead. Add 2 eggs and knead again. Add 5 tablespoons of cold butter cut into small cubes and knead again until you obtain a smooth dough. Allow to rise for 30 minutes. Degas and refrigerate for 12 hours.
Step 2/3
Heat frying oil. Separate the dough in 3.5 oz pieces. Stretch the dough and fry on one side. Turn the dough over and open the middle with scissors. Add an egg and allow to cook. Remove from the oil and place on paper towels. Add strips of Comté cheese and ham chiffonade on top.
Step 3/3
Cut the zucchini into thick rounds. Create a crosshatch pattern on each piece. Put a small piece of butter and spices over each zucchini. Bake for 15 minutes at 350°F. Remove from the oven and serve with the sandwiches. Enjoy!